100architects activates uae beach corniche
Along the stretch of the Beach Corniche in the UAE, 100architects positions Winding Breeze — a conceptual bustling community hub for both the local community and tourists of the emirates. The project proposes a system of vibrant elevated pathways, looping across the corniche to contain pocketed plazas hosting a range of leisure amenities. Wound within are entertainment spaces, sports and play areas, beach facilities and restaurants and cafes that enliven the coastline. A new trendy outdoor lifestyle hub, Winding Breeze's cluster of high-quality entertainment activities aims to enhance visitors' experience in the public realm, providing a place to reconnect with nature and the community. The architects intend for the hub to become an urban landmark not only in the UAE, but also beyond.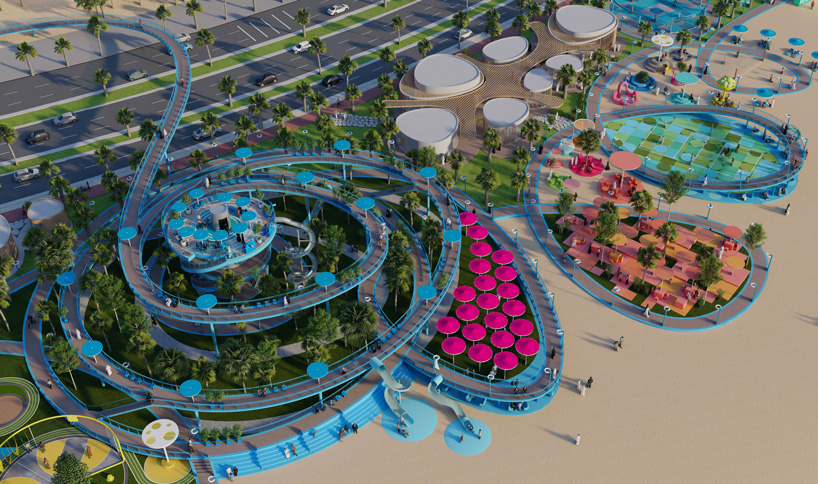 all images courtesy of 100architects
swirling pathways pocket vibrant entertainment plazas
Aiming to build a new urban landmark in the UAE, the Shanghai-based firm brings together a series of a vibrant outdoor lifestyle facilities positioned along the idyllic coastline, forming relaxing and enlivened spaces where visitors can reconnect with nature and the community. In a sweeping abstract expression of the wind, Winding Breeze takes form as vibrant, swirling, elevated pedestrian paths. Creating a microclimate underneath, the resulting plazas host a shaded park and a beach skywalk that offers panoramic views across both the beach and city. The complex also facilitates a pedestrian connection to the urban settlement across the road that is currently separated from the coast.
'The conceptual proposal intends a bold architecturalization of that unique feeling of the sea breeze caressing the skin when arriving at a bespoke tourist destination on holiday', comments 100architects. The elevated 'breeze loops' of Winding Breeze spiral along the beach and disrupt the expansive rectilinear promenade into smaller human-scale sections. Formed by these revolving paths are a series of 'pocket plazas', each hosting specific functions and features that encourage dynamics of social interaction through leisure and play, encouraging visitors to slow down and indulge in memorable experiences. Allocated within the contained plaza platforms are leisure spaces, lush nature, and a wide variety of sport facilities, accompanied by a shaded retail and dining area as an architectural buffer to the busy road behind.
In response to the client's initiative to activate a large portion of the newly inaugurated UAE Beach Corniche to attract both local and international visitors, 100architects' concept proposes a new urban landmark not only in the UAE but also beyond. The intervention enhances and stimulates, both visually and functionally, the experience of visitors in all senses, turning this section of the emirates' coastline into one of the main catalyzers of social life in the emirate.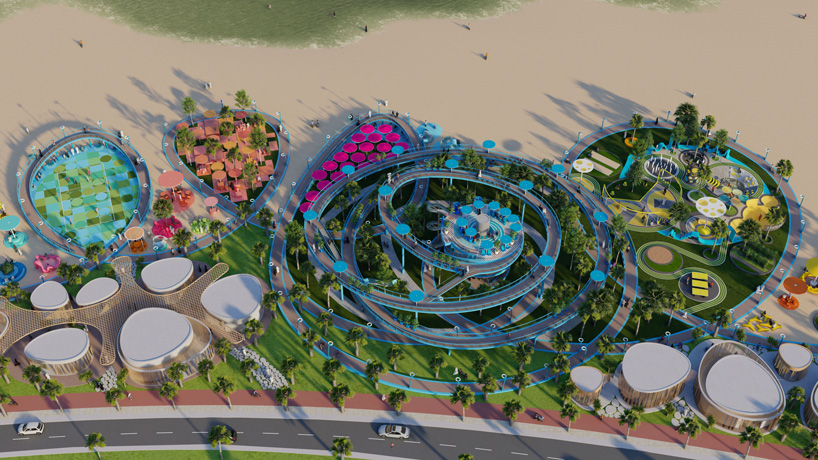 the colourful swirling paths are a sweeping abstracted expression of the wind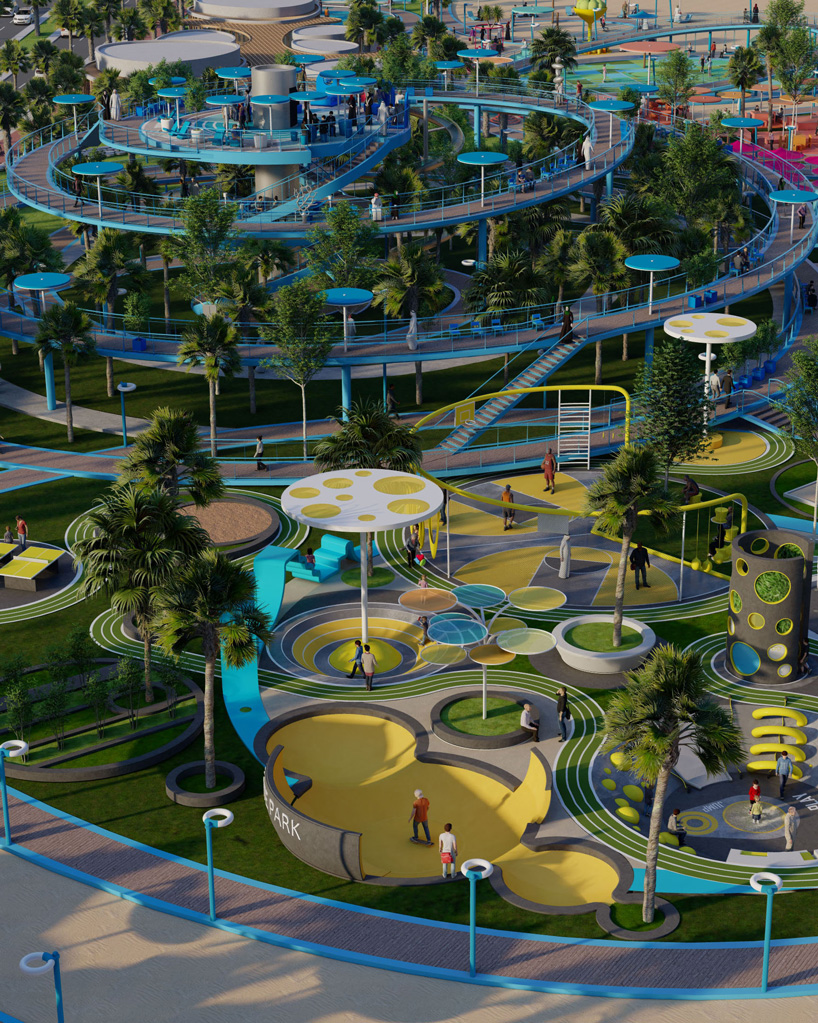 pocketed plazas within the pathways hosts a range of leisure amenities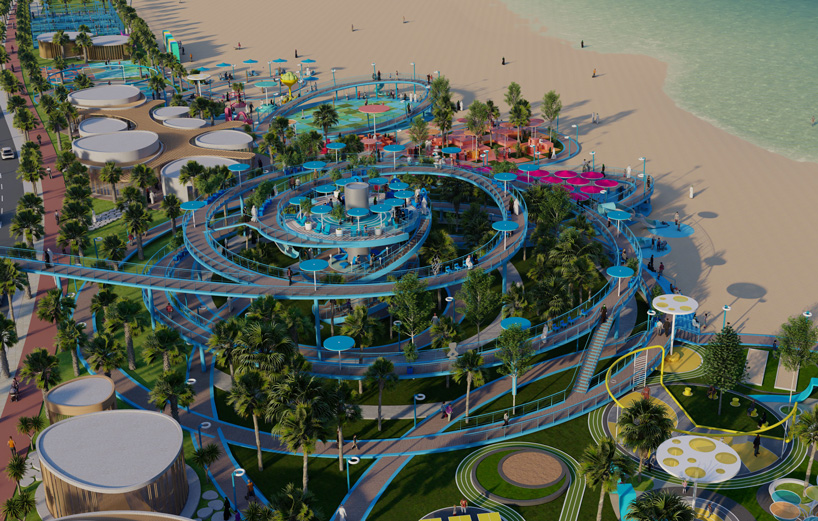 the complex also facilitates a pedestrian connection to the urban settlement across the road