'anaia villa': a tropical, wellness-entertainment escape 
Located on the secluded and tropical island of Koh Pha Ngan in Thailand is 'Anaia Villa,' a luxury micro resort combining entertainment, nature, and wellness-based experiences. The project, completed by Sicart & Smith Architects, spans 1,000 sqm on 4,300 sqm of land. 'This property aims to be a modern wellness resort made with vernacular materials, using site conditions and existing topography to its advantage as an energy-efficient and sustainable building,' shares the architecture practice.
The journey around the property is a sight for sore eyes. Reaching it, new-time visitors are met by an 'opus incertum' stone cladding with a white porch and a large timber pivot door, opening them up to a world of serenity. The dining and kitchen areas make for a communal space, leading toward the infinity pool set against a lush tropical garden backdrop peppered with palm trees.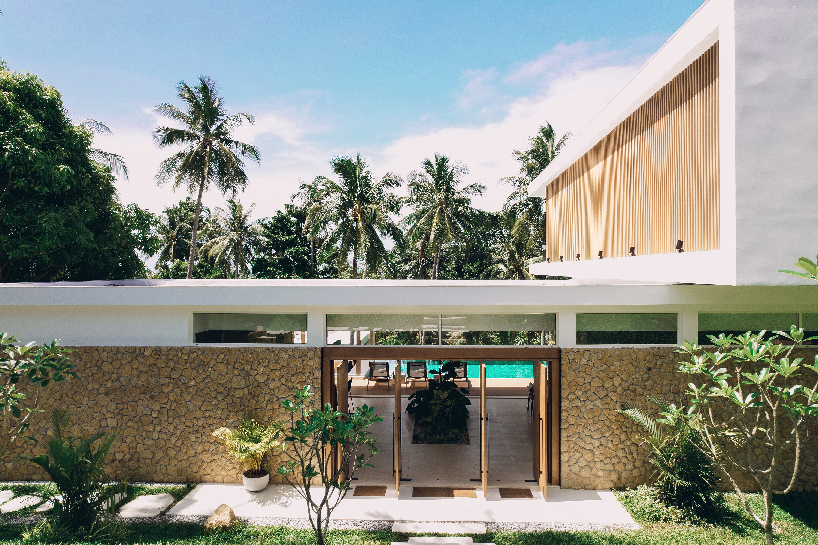 images courtesy of SSA and Anaia Villa 
The main building in 'Anaia Villa' comprises two stacked perpendicular blocks, with the cantilevered block supported by a signature 'V' column. This volume composition ensures shading and rain protection for the pool. Furthermore, floating slabs arching over both ends of the infinity pool hold a pool bar on the right and a sunken pool lounge on the left. These spaces are covered with fabric gazebo atop timber posts, mimicking the sensation of boats on still sea.
'The modern and rectilinear forms of the resort serve as a brilliant canvas for more fluid forms within the property, such as the black spiral staircase within, the random pathways, the hammam, and the plunge pool with a natural rock waterfall. This deviation encourages its guests to be at ease, relax and indulge. It makes this project a physical manifestation of Yin & Yang,' elaborates the team at Sicart & Smith Architects.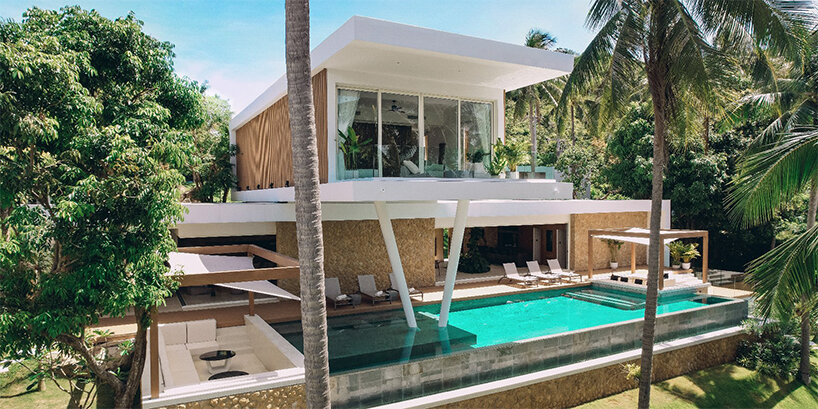 a wellness-entertainment micro-resort set amid a tropical context
Local materials, local actors
The topography of unmovable rocks found on site defines the planning of spaces in 'Anaia Villa'. Specifically, the rock bed around the main building supports the sharp upper volume while incorporating parts of immovable boulders into the interiors, acting as a partition. The yoga shala, plunge pool, and waterfall feature also take advantage of that naturally occurring rock bed for its footing to exude a therapeutic ambiance. On the other hand, smaller stones collected on-site are used for wall cladding, a process carried out by local artisans and builders, forming an ever-present artwork that took six months to complete.
Complementing the 'hard material' is a lush landscape of mango, frangipani, gooseberry, and cashew trees which the property weaves into and around. The existing palm trees, meanwhile, are integrated into the design, creating a unique vista from the main building. 'This tree cover blends in with the landscape and pathway design to create hidden spaces, an added incentive for exploration to the guests,' notes the practice.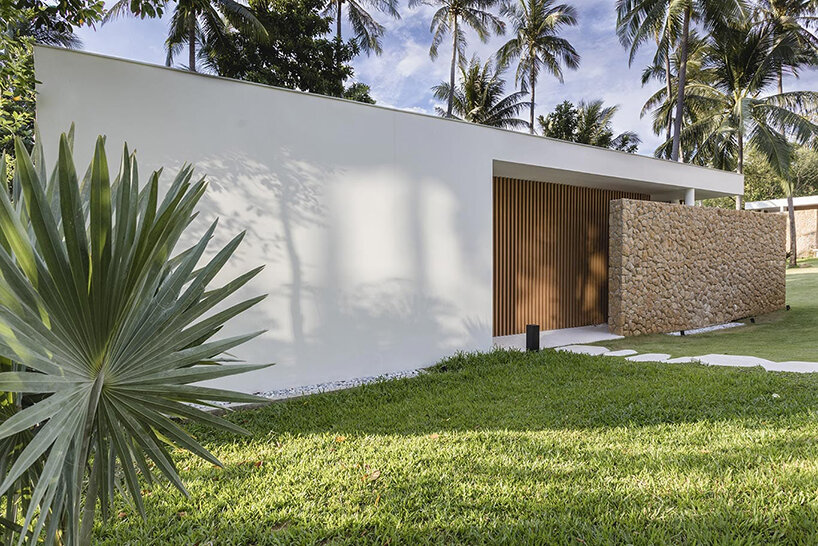 stone wall cladding led by local artisans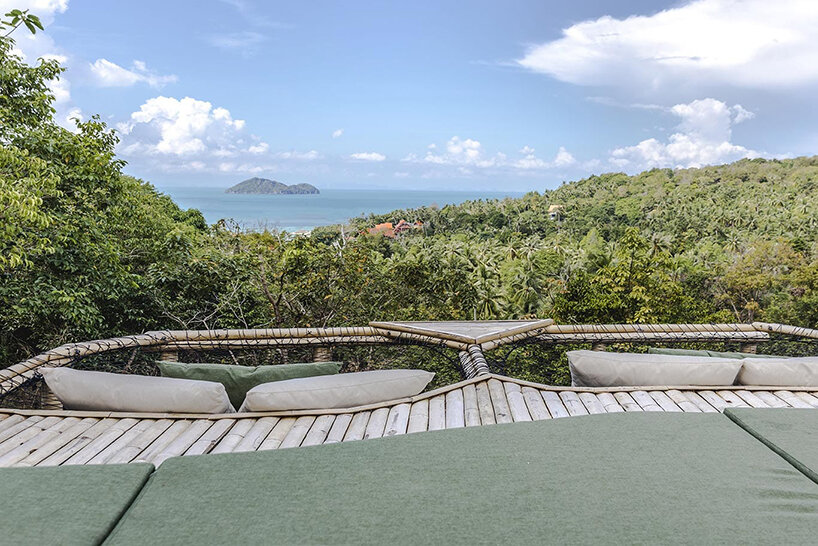 earth-toned interiors deeply connecting to the surroundings
As for the interiors, the architects settle for a minimalist setup featuring earthen finishes, a neutral color palette with black accents, custom-made decorative lighting, and bespoke furniture. These elements impart a serene, decluttered environment as soon as guests walk in. Upon exploring further, a hidden door leads them to a lounge and cinema room. Unlike the more somber interiors, this space reveals a colorful, maximalist design. This space provides a sweet escape from daily life, with its bright custom mahjong sofas set against a dark backdrop and a desaturated nature-inspired wallcovering.
Two additional pavilions below the main building, built atop the expansive land, serve as an open gathering space. It features four guest bedrooms, each fitted with an en-suite bathroom connected to the surrounding nature. Open-sky and open-air bathtubs or outdoor tropical showers complement these rooms, enabling a sensorial healing experience with clutter-free and customized terrazzo washbasins.