acro suites: a dream retreat on crete
While wellness spaces are carved out of natural caves, stepping terraces and infinity pools are nested atop the cliffy coastline of the Greek island of Crete. These moments are among many which define the Acro Suites, a wellness and yoga resort which integrates itself into the idyllic landscape.
The hotel was founded by sisters Danae and Konstantina Orfanake, and designed together with Greek architecture studio Utopia Hotel Design. It takes its name from the Greek term akros/akron which means 'on the edge' — an appropriate title considering its perch atop a sheer drop-off and its gaze toward the blue Aegean Sea below.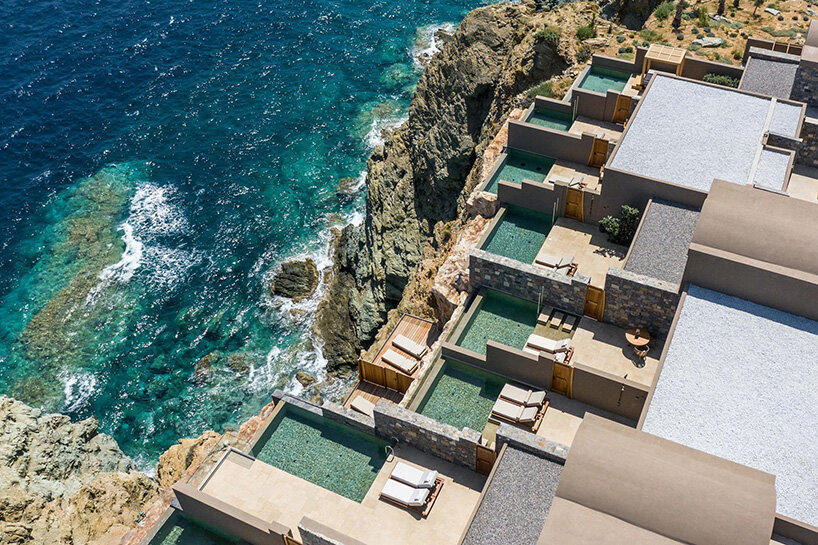 the villas and 'cave suites'
Crete's Acro Suites hotel comprises forty-nine breezy villas, each of which peers out toward the sea through a wall of glazing. Among these units are the Cave Suites which occupy caverns within the rocky cliffs that had been carved-out by Cretan sculptors. Inside visitors are enveloped by heavy, textured stone which suggests a naturally-eroded feature of the landscape. Meanwhile, the ocean views are framed by the rugged mouth of the cave.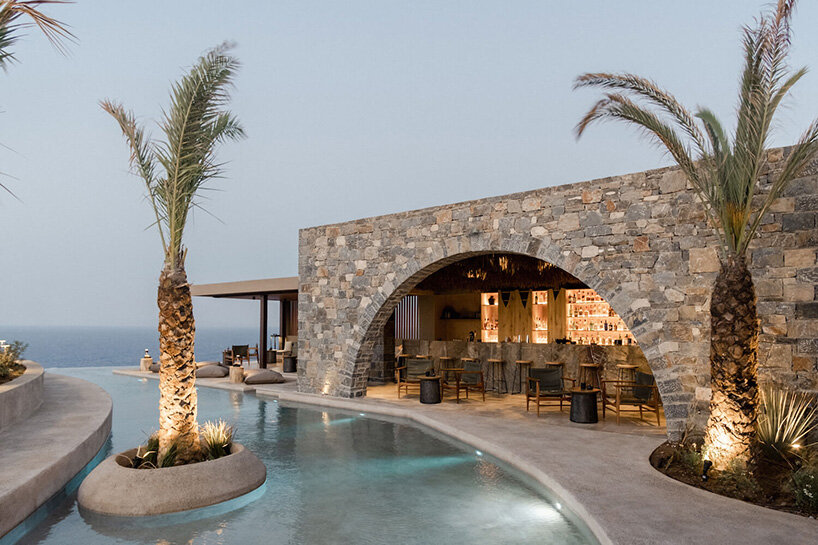 designed with the spirit of wellness
The focal point of Crete's Acro Suites hotel is the spirit of well-being. A £500 per-night stay includes an entire wellness lifestyle — yoga and fitness classes are held beneath the dramatic, vaulted bamboo roof of the Asana Yoga Shala building. A hamman-style Bath House integrates a sauna, treatment rooms, two swimming pools, and spa.
Communal areas are designed to exude serenity, simplicity, and tranquillity. Interior designer Manos Kipritidis worked closely with the owners of the Cremnos restaurant and cocktail bar, The Circle, to integrate the local design and surroundings — the result is at once minimalistic and pure, with meticulous attention to detail.