an 'iconic landmark' sculpted with simplicity
In Chongqing, Aedas sculpts its newly completed office tower with a simple, twisting gesture. The studio notes that the building's expressive form took influence from the dancing curves of the northern lights. Rising 180 meters (590 feet) and thirty-nine stories over the Chinese city, the work takes shape with a facade of doubly-curved surfaces — the gentle curves of its minimalistic form exaggerated by the vertical lines of its gridded panels. Meanwhile, the refractions of its reflective glass further emphasize the project's celebration of light and use of light as a driving design tool.
While the tower occupies the city's largely developed Jiangbei District, the design team notes the challenge of introducing a work of architecture which both integrates into its existing urban context, and stands out as 'an iconic landmark.' Design Principal Ken Wal comments: 'As an open public space, the tower has all the credits to be a city icon, especially the significant twisting of the façade is remarkable.'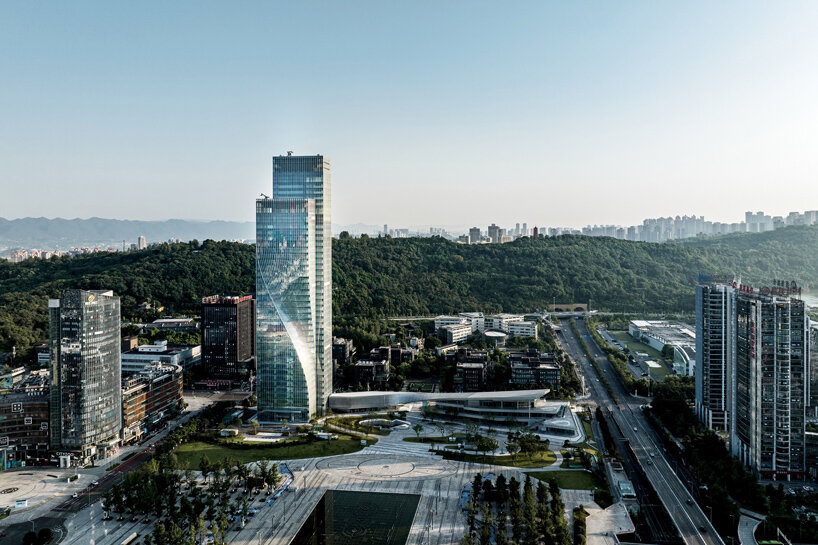 images by Arch-Exist | @archexist
the ever-changing 'dance of light' by aedas
Aedas describes its Chongqing office tower as a 'dance of light,' with its facade suggesting sinuous motion. This 'dance' is expressed with the tower's contrasting straight and doubly-curved surfaces. The result lends an ever-changing profile which shifts along with the viewers' perspective. What's more, the building transforms with the changing light. The architects note that the structure shines like a beacon of light with the rising sun, and showcases 'reflections that allude to the dancing figure of a ballerina' upon nightfall.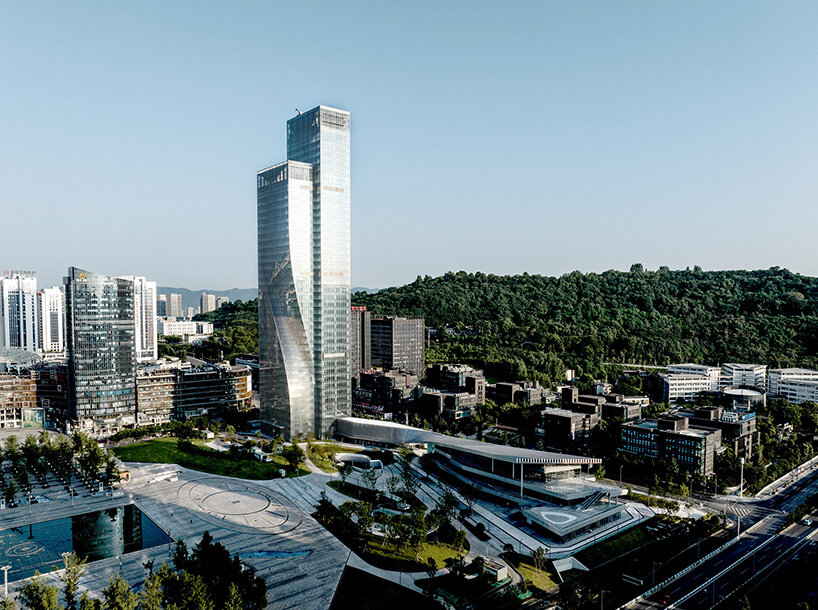 chongqing's 'most twisting tower in the world'
Aedas constructs the Chongqing tower's doubly-curved glass facade with the use of cold form glass. The team thus achieves a truly smooth surface, rather than a faceted surface which would have resulted from a standard paneled assembly. The architects claim that the project is expected to be among 'the most twisting towers in the world,' as the 'maximum twisting angle is up to 8.8 degrees per floor,' and citing a 2016 issue of the CTBUH journal to claim that this angle 'surpasses the existing super high-rise tower in the world by nearly 1.5 times.'
The group continues: 'Innovative façade technology from façade engineer RFR empowers the precise execution of such challenging design. The area of the hyperbolic curtain wall is about 8,000 square meters, and the number of hyperbolic curtain wall panels is as many as 1,709.'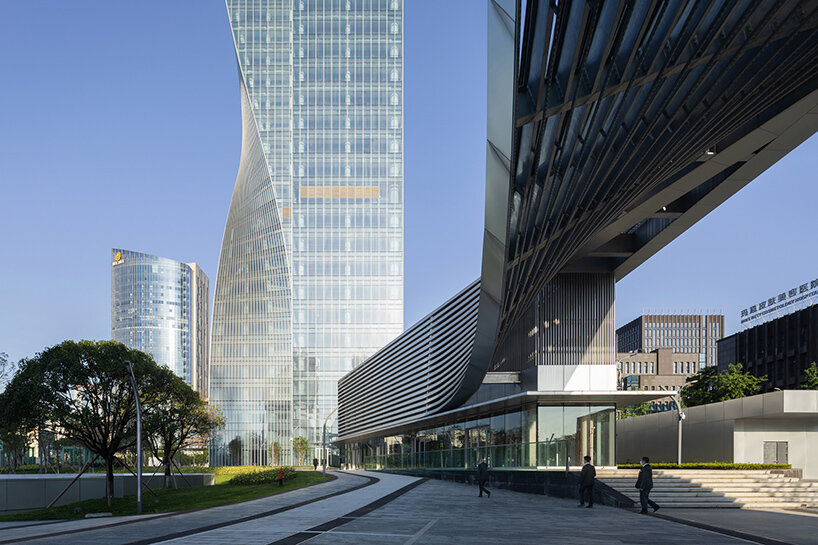 a complex facade: the structural solution
The facade is designed with a 'high double-curvature ratio,' which lends the tower's unique twisting yet creates a significant challenge for the facade system on the whole. Aedas and RFR work together to 'leverage the cold bend glass technique and BIM on complex geometry façade for a magic solution.' This process seeks to 'adapt to the changing geometric parameters and dimensions while fulfilling requirements on safety, waterproof and thermal performance. It also ensures a consistent façade construction in line with BIM simulations.'
The group describes its structural solution: The system of cold bend glass on the 3D frame façade component enables a maximum of 86mm in glass deviation between floors, realizing a record-breaking design in China. From overall geometry analysis, façade component modeling & clash- checking, LOD400 detail component modeling, automotive data exporting and auditing, 3D BIM has been utilized throughout the entire façade design process. Through value engineering, a portion of the hyperbolic glass with flat glass is successfully replaced that achieved savings in construction costs.'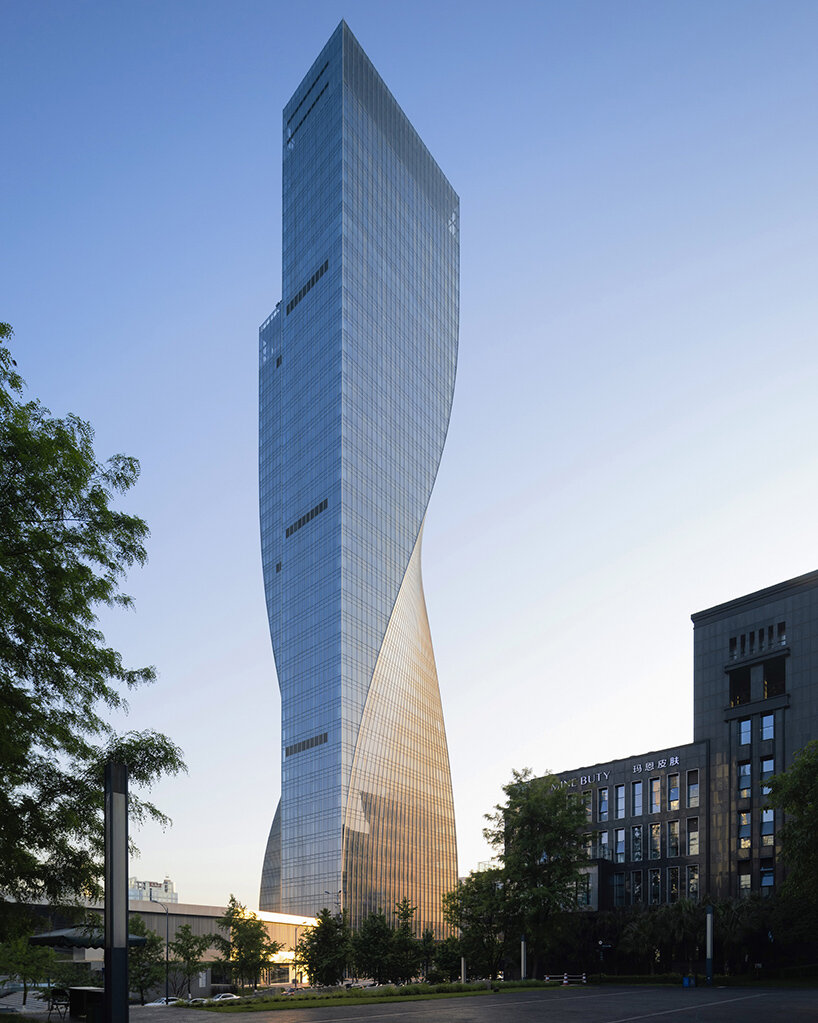 the ever-changing profile shifts along with the viewers' perspective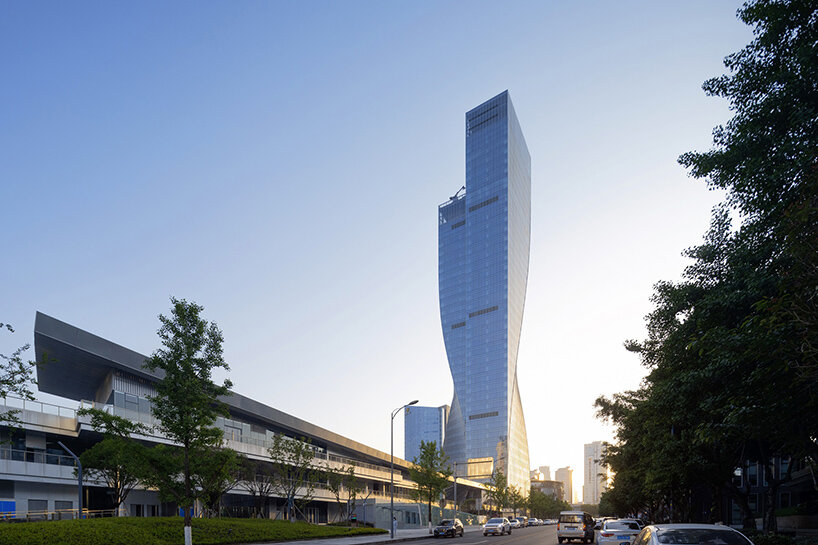 the team notes that the structure shines like a beacon of light with the rising sun