Ryvid launches limited edition 'anthem' e-bike
Taking advantage of its aerospace background, California-based company Ryvid developed 'Anthem', a fresh take on EV mobility that blends innovative engineering and sleek future-forward design. Dubbed a 'first-of-its-kind, customizable motorcycle,' the Anthem boasts a height-adjustable Ergo-Easy seat, an ultra-lightweight stainless steel chassis, and a removable 4.3 kWh battery. Preorders for this eccentric model start on Sunday, August 14, 2022 and only 1,000 units of the Launch Edition will be produced.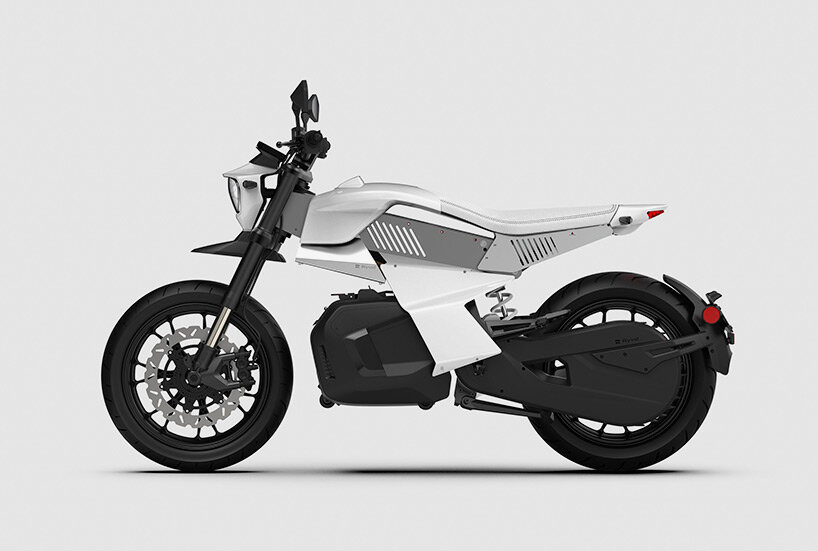 all images courtesy of Ryvid
adjustable Ergo-Easy seat and ultra-lightweight chassis
One of Anthem's standout features is its adjustable seat, ranging from 30 to 34 inches. 'This proprietary technology brings confidence-inspiring reach to shorter riders and comfort to those of taller stature.' shares Ryvid. In addition, the California-based company uses a custom stainless steel chassis that can weigh as little as 12 pounds, making the total mass more comparable to an electric bicycle than an EV motorcycle. The result sees a vehicle that's agile, simple to handle, and incredibly responsive since that weight is distributed closer to the ground.
A variable-ratio, final drive allows drivers to choose between quicker around-town acceleration or high-speed cruising comfort. while placing the motor at the back of the vehicle simplifies design and decreases parts. 4.9-inch TFT display panel, which was created for maximum clarity and efficiency, makes it possible to see important data like speed and charge level quickly.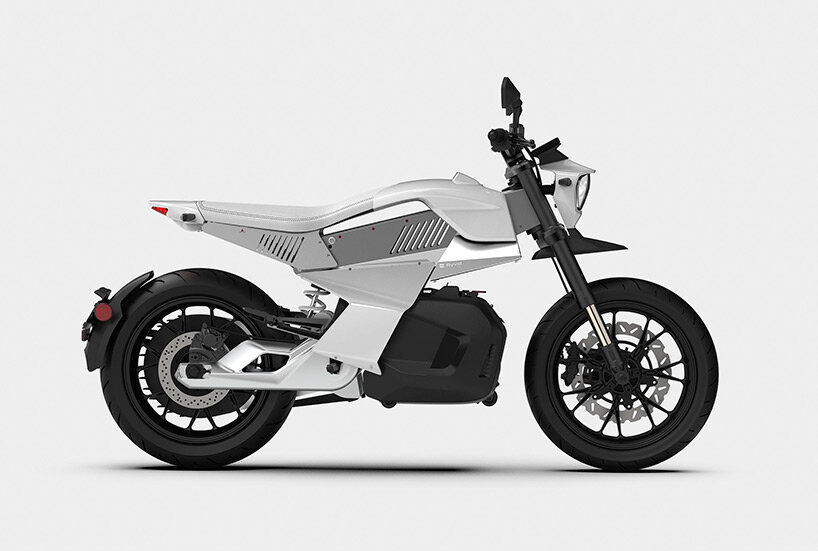 transforming how the world rides 
Anthem is powered via a 72-volt air-cooled brushless DC motor running off a 4.3 kWh lithium-ion battery, which can be quick-swapped for instant fill-ups or brought indoors for ultimate charging flexibility. 250 lb-ft, or 338 Nm, is the claimed maximum wheel torque, while charging time is said to be three hours on 220V and six hours on 110V. Range is reportedly 75+ miles, or roughly 50 miles in Sport mode. The top speed is over 75 mph.
According to Ryvid, the unique feeling of riding the Anthem comes from the instant thrust of the electric motor and a variable-ratio, final drive that transforms electrons into speed with whip-snap ease. 'The bike corners intuitively and cleanly, thanks to a low center of gravity, leaning in with confidence-inspiring grip. Best of all the Anthem's athleticism feels potent but discreet. Thanks to its whispery operation, all you hear is the whir of the belt drive and the pounding of your heart.' shares the company. 'A premium product at an accessible price point, our launch bike blazes the trail for a lineup that will transform how the world rides.'