blade house: design driven by function
Australia-based studio Tecture designs its Blade House in Albury as a celebration of concrete. The design of the dwelling was largely informed by the client's request for a five-car garage, which the team aimed to conceal with an elegant design solution. With this in mind, the facade is characterized by a vertical timber screen spanning nearly the full width of the house, punctuated by a concrete wall leading to the western entrance.
A second challenge arose with the south-facing rear yard, as the southern states of Australia receive sunlight from the north. The large, sloping site allowed the team to overcome this tricky orientation by considering 'the layers and extruded program.'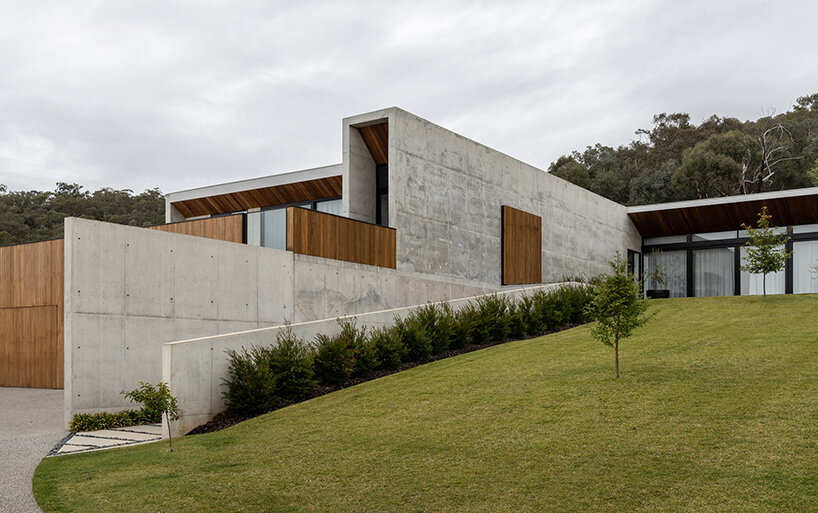 images © Timothy Kaye | @timothykaye
interiors organized around a concrete spine
The architects at Tecture realize the house as a series of concrete 'blades' at varying scales — the largest occupying the foreground to hide the row of garage doors and mark the descending entranceway. Upon entering the home through the tunnel-like threshold, interiors are suddenly opened widely into a double-height space. Here, the main level is finished with a concrete whose 'presence becomes overwhelming and remarkable.'
The interior north-south axis is marked as a ribbon of concrete to create a material connection between the main bedroom suite to the north and the living and dining area to the south. Referred to as the 'spine' of the house, the concrete passage is exaggerated by lofty ceilings.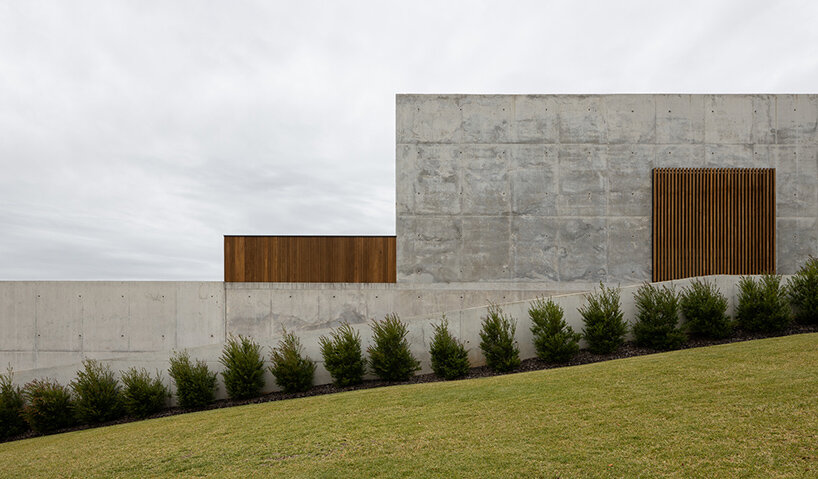 The design by tecture
To optimize the southern orientation of the Blade House, Tecture opens the living space broadly with glazing on both sides. This strategy connects the preferred northern views and the otherwise shaded southern yard. A north-facing 'winter terrace' further draws in the natural Australian sunlight. Meanwhile to the south, a 'summer terrace' with its outdoor fireplace joins an elevated terrace overlooking the pool and the forest beyond.
The design is complimented with locally crafted furniture pieces. The team writes: 'The project became a journey and exploration of materials and gave Tecture the opportunity to provide an outcome that reflects our strong philosophies of minimalism and clean lines, on a much higher level.'