BIO27: Super Vernaculars – Design for a Regenerative Future
From 26 May to 29 September 2022, the 27th edition of BIO Ljubliana, one of the oldest design biennials in the world, brings together innovative and environmentally responsible designers, architects, thinkers, and researchers from across the globe. Curated by Jane Withers -winner of THE DESIGN PRIZE 2018 in the 'Experimentation' category- BIO27 addresses 'Super Vernaculars' as its theme, referring to a movement that 'takes inspiration from vernacular and indigenous architecture and design traditions around the world to shape a radical vision for a more resilient and equitable future.'
The Super Vernaculars exhibition shows how designers are using traditional practices and value systems largely overlooked in the modern world to develop innovative solutions to current concerns like water scarcity, waste, and biodiversity loss. Prioritizing localism, connection to nature, and ecological resilience, the projects in BIO27 include a city-wide nature-based water management system, low-energy alternatives to air conditioning, zero-waste food systems, and design that supports local communities and landscape regeneration. 
Based at the Museum of Architecture and Design (MAO) and created in cooperation with, the Centre for Creativity Slovenia (CzK), this year's BIO27 Design Biennial features a vast collection of works by Ant Studio, Marjan van Aubel, DnA Design and Architecture, Isla Urbana, Kellenberger-White, Fernando Laposse, Atelier LUMA, Enzo Mari, Bruno Munari, and many more.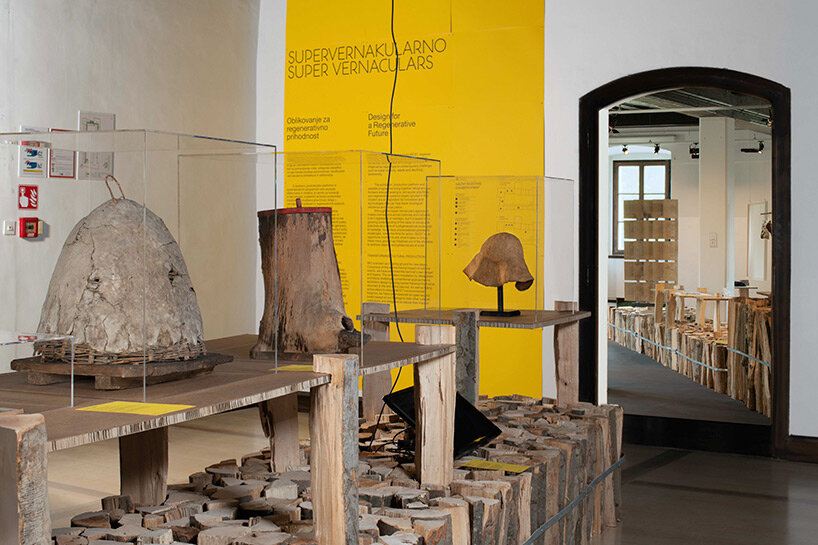 all images courtesy of Urban Cerjak/MAO, unless stated otherwise
revisiting Forgotten Vernaculars and negotiating traditions
The first part of the exhibition, titled 'Forgotten Vernaculars,' introduces the Super Vernaculars theme and looks into the concepts that guide this modern movement. It is a collection of items and concepts from many historical periods and cultural backgrounds that demonstrates how traditional methods of doing things may inspire modern innovations and serves as a reminder of more environmentally conscious lifestyles. It also sheds light on the underappreciated yet significant interaction between vernacular and 20th-century designers.
After this cohesive introduction, visitors to BIO27 (see more here) find 'Negotiating Traditions', which examines the various ways that designers are reinventing traditional knowledge to address contemporary needs and challenges. Creatives from all around the world are utilizing the inherent qualities of natural materials in inventive new applications, modernizing familiar forms with low-impact materials, and leveraging digital media as a tool to construct new communities of practice and establish knowledge-sharing networks. Featured projects include a terracotta facade designed to cool buildings without relying on energy-intensive air conditioning,  paper made from invasive Japanese knotweed to provide a productive use for unwanted biomass, and a sausage of the future adapted to climavore diets and regenerative agriculture.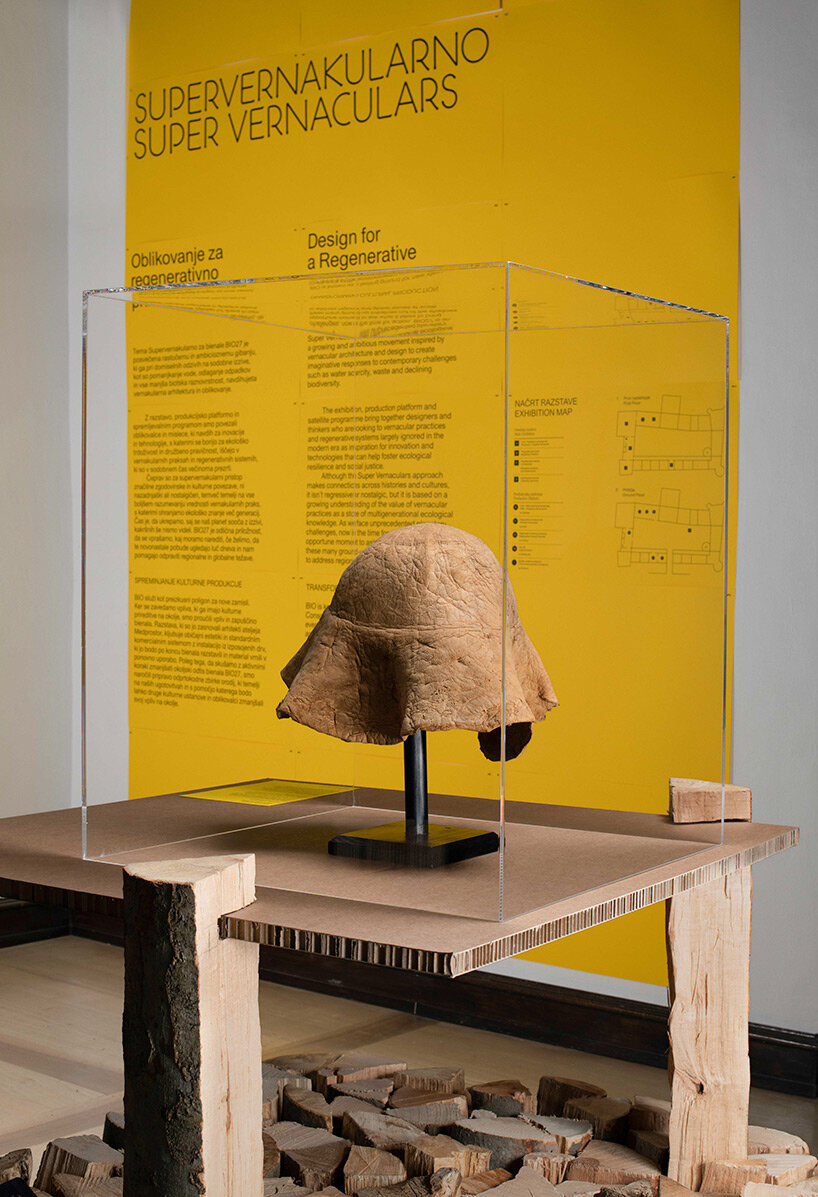 When asked why looking to the past is so important for today's context, Jane Withers explains: 'I think it's something that's quite possible to empower and for people and designers to adopt and to grow. It's interesting because it's kind of ground-up. Often, these things are still sort of memories within culture that are so easily resurrected.'
'The reason I'm interested is because I saw so many people doing it — it's not my invention, it's out there and happening. We just tried to bring it together and thought: Is it a useful forum to interrogate? Are these ideas viable? What works? What doesn't? How can we help empower it? It's more to do with an observation of what's happening.' the London-based curator and writer tells designboom.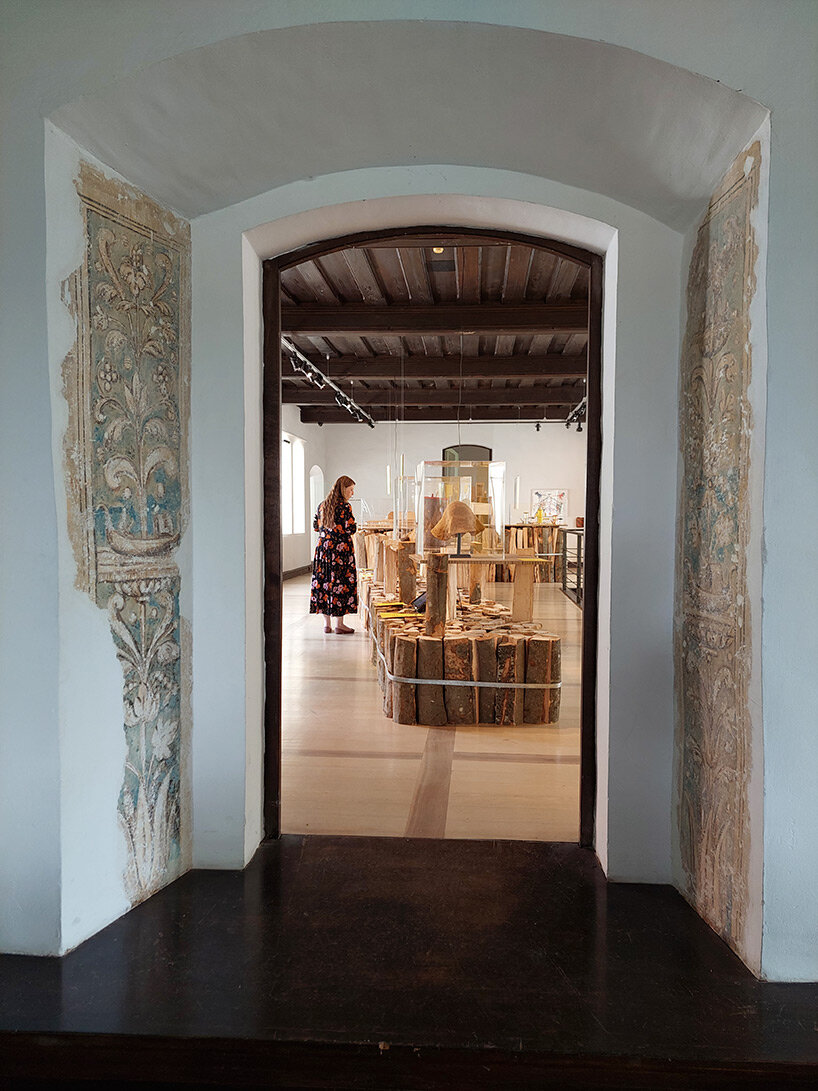 image © designboom
Reimagining Systems and Infrastructures
Visitors are next introduced to the 'Reimagining Systems and Infrastructures' section of the exhibition, which illustrates how vernacular design ideas are motivating the redesign of manufacturing methods, infrastructure, and technologies. More specifically, the exhibition explains that new circular and regenerative systems can be effectively modeled by nature-based systems. When contemporary technology and fresh scientific understanding are integrated, it is possible to build scalable infrastructures that perform at the same level as highly engineered industrial equivalents without having a negative impact on the environment.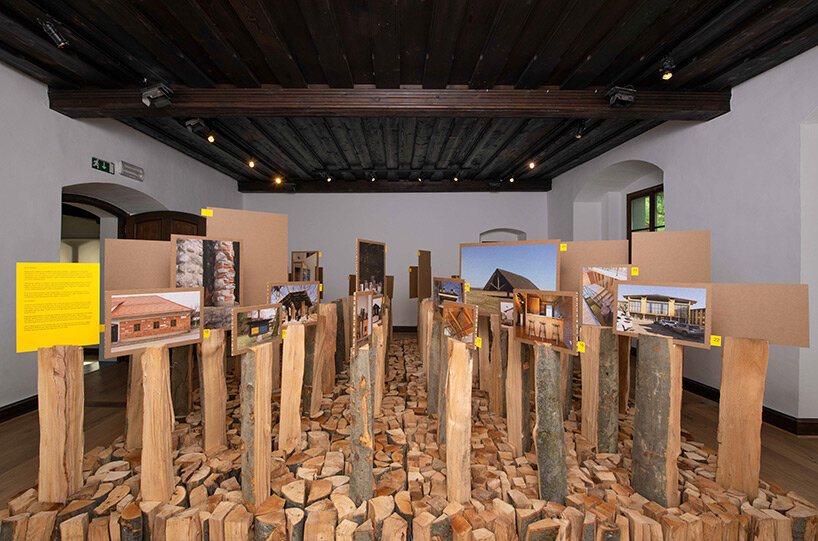 Catalysing Community
The final section, 'Catalysing Community,' is concerned with initiatives that put people and communities at the center of design thinking. For regenerative change to have a lasting effect, fair and equal involvement is essential. This section examines the use of shared tales to link individuals to their ecosystems and to one another by designers to inspire action and celebrate commonality.
Examples here show how design can encourage communities to revive and regenerate their own environments through careful stewardship and group enterprise, improving quality of life and generating new livelihoods. Placing communal infrastructure such as waste and water processing at the heart of a community's conscience and care can raise awareness and connect people to the systems they rely on.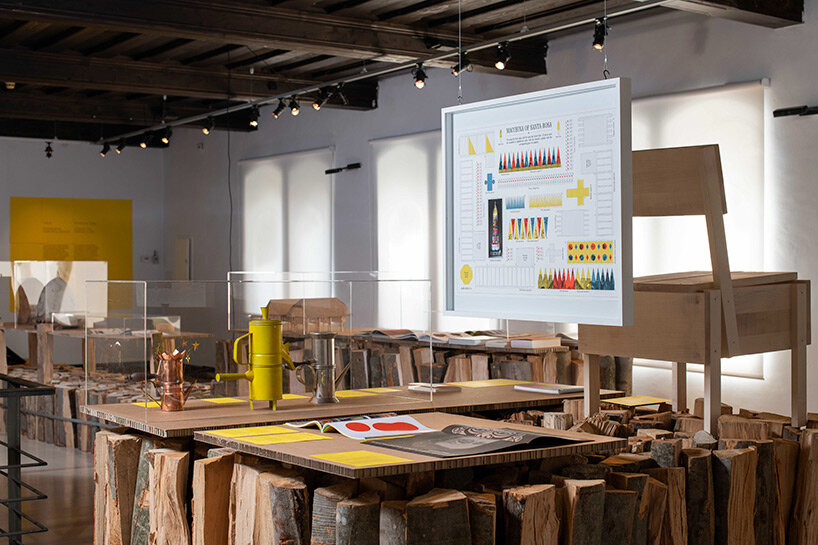 'What I hope is conveyed by Super Vernaculars is that it's not in any way nostalgic or regressive.' says Jane Withers. According to the curator, Super Vernaculars serve as departure points for contemporary innovation, new approaches, new thinking. The exhibition seeks to reflect on all these ideas that we've forgotten about, or we've overlooked, and that make sense again. It's about combining ancient practices and contemporary technologies.
'I want visitors to come here and see that there are other ideas for the future than the ones you mostly follow. (…) I hope they'll come away inspired by all these possibilities, and see there are other ways of doing things that are already happening, which can go from relatively niche to becoming more mainstream, if they're given that support and help. I hope it will be helped this progress from brilliant concepts to action being made possible, to really happening.' she adds.