bowlus 'volterra' takes off-grid living to new levels
Luxury travel trailer company Bowlus has launched 'Volterra,' an all-electric aluminum RV with new and improved features from its previous models. Equipped with an impressively higher battery and freshwater storage capacities, AeroSolar™ charges, a backup camera, a high-speed Starlkink connection, and a limited-edition interior color scheme, this new home on wheels makes off-grid adventures that much easier.
'As sustainable living grows, you will be confident knowing no pollution from generators, and no off-gassing from propane is present in the Volterra. In addition to the quiet operation of electric power, this is ideal for those with chemical sensitivities,' writes Bowlus.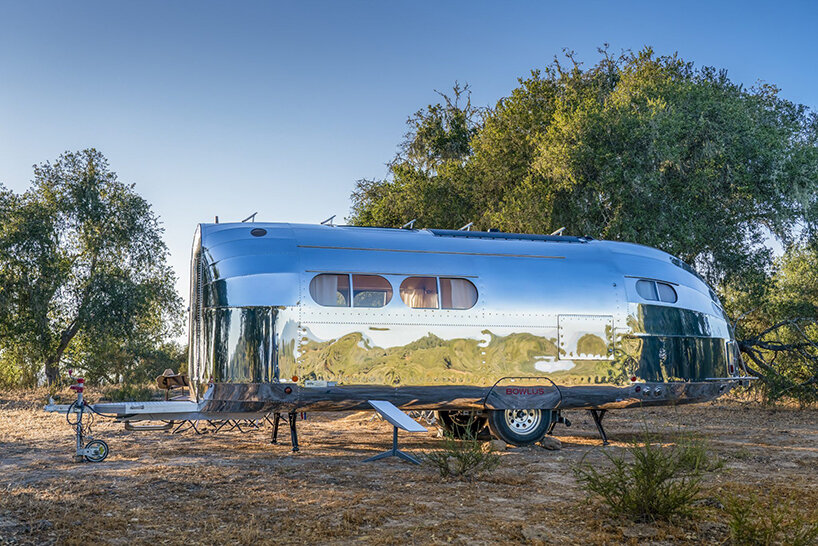 all images courtesy of Bowlus
new and improved power and freshwater storage capacities 
Diving deeper into the trailer's specs, the Bowlus 'Volterra' (see more here) is powered by 17kWh of lithium iron phosphate batteries, with 20A outlets for emergency EV charging to keep the RV running for about an extra 65 miles. All in all, these new features offer a 100% increase in battery capacity from older models. Complementing that battery power is the AeroSolar technology fitted along the roof; these units charge up on their own as users go about their day.
The all-electric and solar-powered design naturally makes cooking a breeze with a cooktop that 'provides faster and more energy-efficient heating than gas counterparts and better cooking, with precise temperature control and less ambient heat than gas. It is a safer way to cook without emitting gas into the air,' notes the company.
Beyond improving power and energy features, the trailer is fitted with a 50-gallon freshwater tank, increasing water storage capacity to 150%. 'It is perfect for extended off-grid time or longer showers,' continues Bowlus.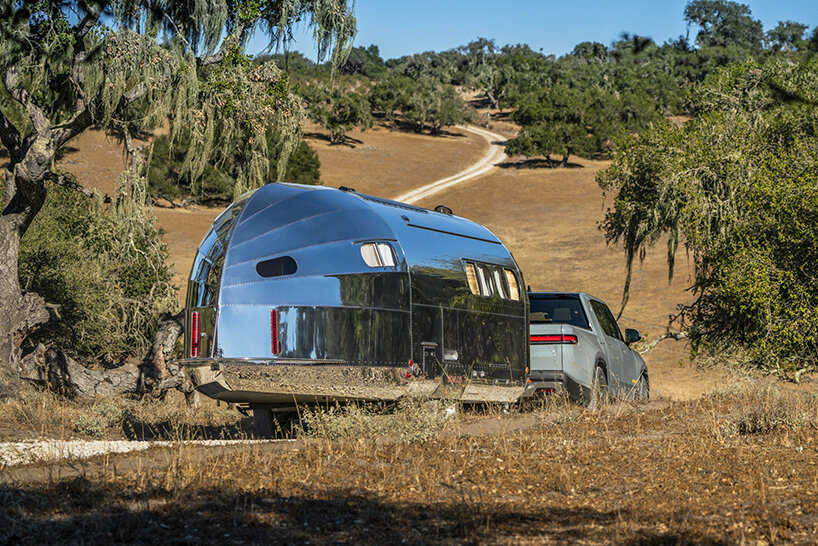 the Bowlus 'Volterra' being towed 
Design-wise, the new mobile unit features a limited-edition color palette dubbed 'La Cumbre,' recalling the Santa Barbara mountainscape and Californian sunset. Coated by this unique chromatic scheme is a 100% vegan seating design that is inviting and uplifting. 'In the bedding area, 'La Cumbre' includes duvet covers, blankets, and throw pillows made from 100% linen with a beautiful combination of black and old rose stripes over an ecru base. It's the perfect complement to the luxury land travel experience,' concludes Bowlus.
The company also offers 'Bespoke Customization Programs' for future owners wishing to personalize their 'Volterra.' Starting price for the RV is $130,000 — you can check out the full list of specs here.