victor ortiz merges european design with brazilian craft
Victor B. Ortiz unveils his latest design, the Cacao Residence, located along the northern coast of Brazil and planned with a rammed earth construction. The project is to be sited within the Txai Resort in Itacare, one of the country's most exclusive beaches. Informed by the client's unique briefing, the dwelling's design takes shape with a blend of 'simplicity, elegance and convenience of European design, with the natural materials and tones of a tropical environment.' Thus, the architecture emerges from the lush slope, opening out toward the local flora and capturing views of the ocean beyond.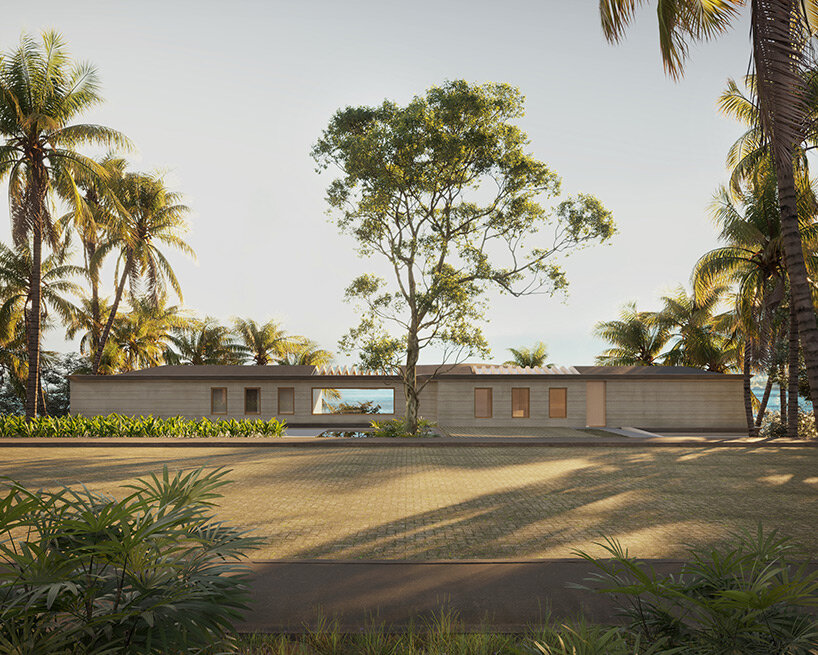 images © Victor B. Ortiz Architecture | @victorbortiz_architecture
the rammed-earth house around a cacao tree
Architect Victor Ortiz organizes the proposed residence around a Cacao tree, which is native to the region. The dwelling spans two levels, with the living areas and swimming pool on the lower level, and the private areas above. Here, two bedroom suites, a master bedroom, and a gym and office are planned around the home's main entrance which is flooded with sunlight from a wooded pergola skylight.
Toward the bottom level, the architect strategically plans a guest suite to maximize privacy and views, while the living and dining space is seamlessly integrated with the outdoor terrace by way of a large plane of sliding doors. This connection serves to extend the living area to meet the swimming pool.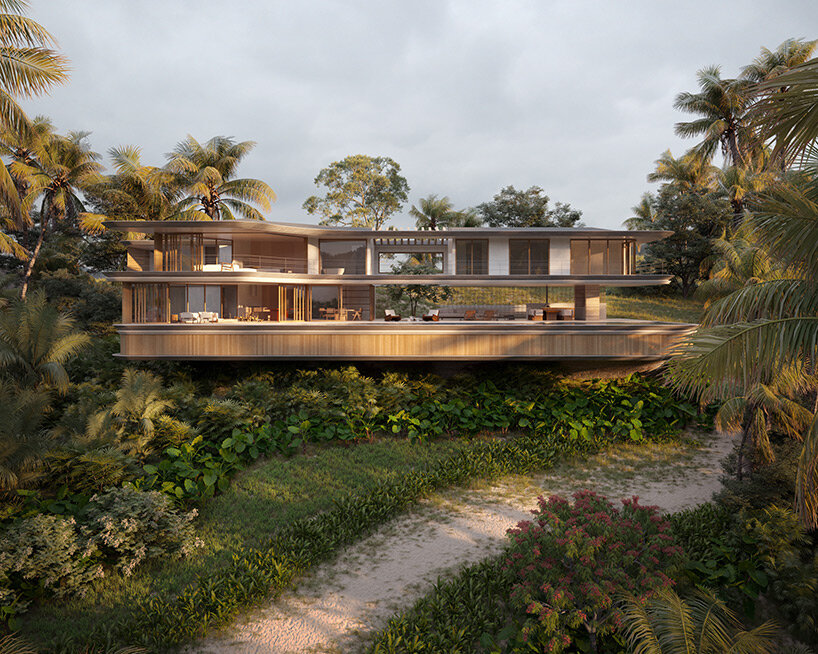 opening toward the sun-lit nature
Throughout the Cacao Residence, Victor Ortiz thoughtfully places an array of openings and windows which frame unique and curated vignettes of the natural surroundings. This transparency and openness to nature is complemented by a material palette characterized by warm tones. The walls and ceiling are finished with an off-white lime wash paint, while the interior and exterior flooring are covered in a light gray micro-cement. Details in natural wood are to be found in the windows, doors, the pergola skylight, the casework, and the furniture.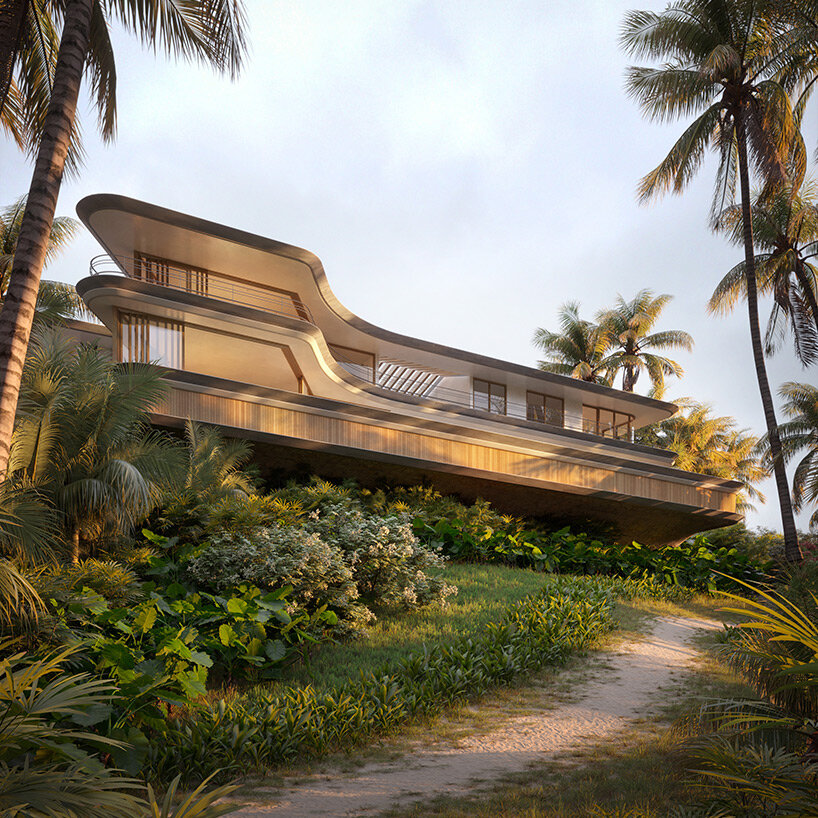 the house emerges from the lush slope to view the ocean below
inside the cacao residence
The dwelling's front facade and outdoor kitchen are wrapped with a rammed-earth wall, celebrating the locally-sourced material and traditional craft techniques. Victor Ortiz writes: 'By using both European and Brazilian designed furniture, we achieved a perfect balance between simplicity and warmth, utilizing rustic and monolithic objects throughout the project which contrast with the clean curved lines and elegance of the architecture and metal fixtures.
'The main goal was to create a home that could comfortably host a number of guests and offer all the amenities of urban living in a tropical hideaway setting prioritizing the relationship and experience with the outdoors.'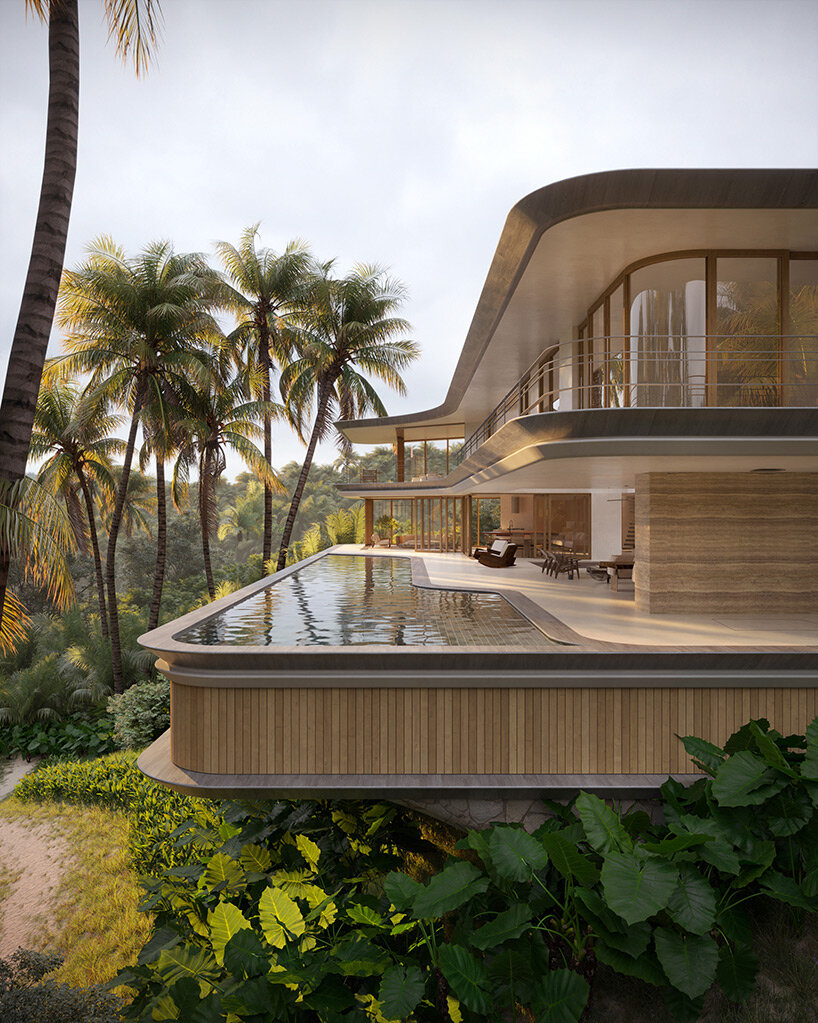 the front facade and outdoor kitchen are wrapped in a rammed-earth wall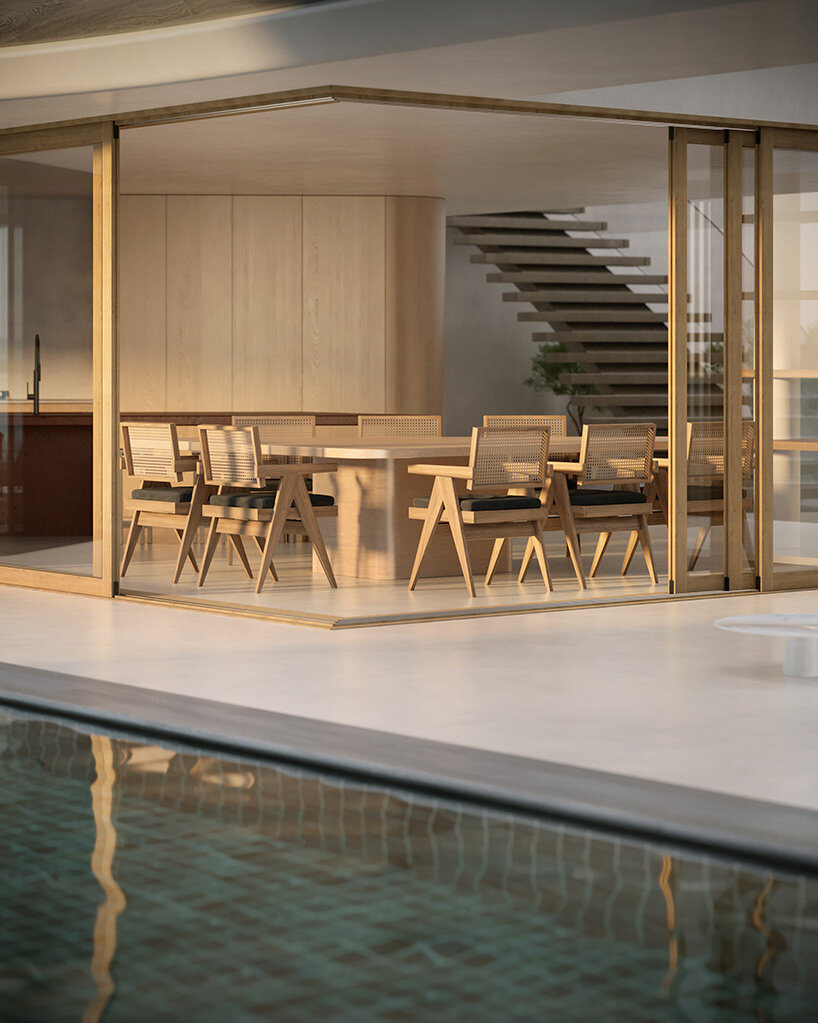 through large sliding doors, the living area opens broadly onto the outdoor terrace and pool