te pae lifeguard tower by Crosson architects
Auckland-based firm Crosson Architects has designed Te Pae, a robust concrete lifeguard tower that facilitates observation, patrolling, and protection at North Piha – one of New Zealand's most impressive but dangerous surf beaches. Piha is a part of the rohe (territory) of Te Kawerau ā Maki (the indigenous Māori tribe) who gifted the name Te Pae, meaning 'to perch' – a place to sit, look, and observe. 'It was a privilege to be able to incorporate this narrative into the concept for the tower', shares the design team. 
Set against the tranquil beach with its unusual black sand, the bold structure becomes a local beacon while still respecting its fragile surroundings.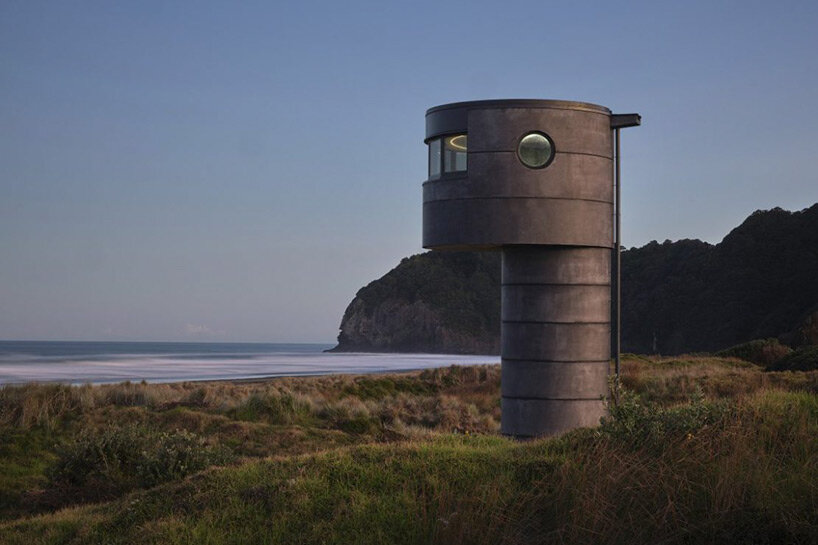 all images by Sam Hartnett 
a long-lasting structure that respects its surroundings
With the Te Pae tower, Crosson Architects (see more here) hopes to provide the community with a practical and long-lasting structure to replace the existing old one. The requirement was for a strong, low-maintenance building that could survive the harsh coastal climate in North Piha. It needed to be a facility that served its purpose and adapted to its surroundings, with space for four lifeguards and great visibility along the beach.
Due to the remoteness of the location, prefabricated concrete sections were manufactured in factories and installed on-site. This minimized dune and planting disturbance on the fragile beach of North Piha.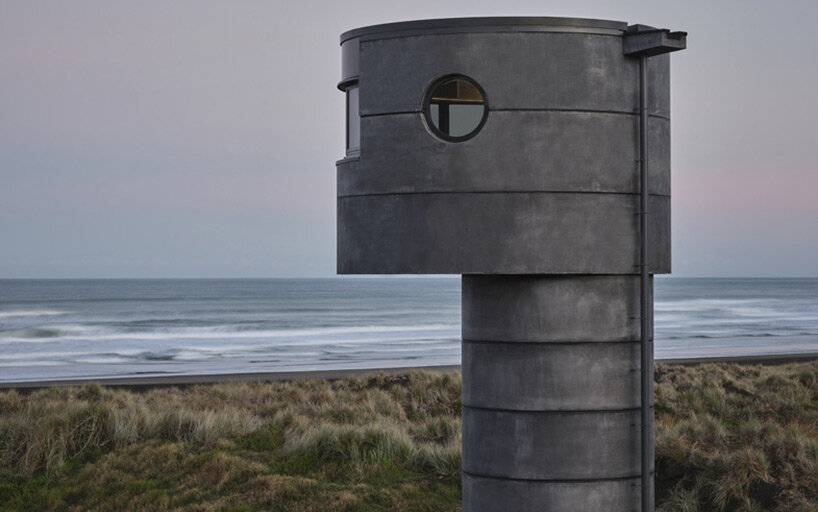 The tower highlights and preserves its surroundings by being small in size and recessive. At the same time, it manages to stand out, rocky backdrop, serving as a recognizable emblem. The building's black oxidized concrete materiality pays homage to the distinctive dark sand and the surrounding undulating dunes. Its curved form lends a soft and quiet presence to the imposing seaside setting. 'This is a piece of coastal sculpture with a nod to traditional maritime observation structures around the New Zealand coast.' shares Crosson Architects.
The tower is also sustainable, utilising operable windows for ventilation, with high levels of insulation, sun protection, thermal mass, and natural light. The placement of the windows was carefully determined to provide optimum beach surveillance and a connection back to the nearby clubhouse.