Toru Shimokawa's mochi shop draws from japanese heritage
During the Edo period in Japan, travelers from all over the country came to visit the famed Tenmangu Shrine in the city of Dafaizu, and Umegae mochi became a souvenir of their visit. Seeking to honor and celebrate this part of Japanese history and culture, Toru Shimokawa Architects designed an atmospheric Mochi shop in the same area. The design draws from the architectural language of the temple, incorporating stone pavements and waterbasins,  wooden counters, and ceramic floors. Meanwhile, the structure is covered with deep eaves with copper shingles that protect visitors from the sun and rain while they are waiting to pick up their rice cakes.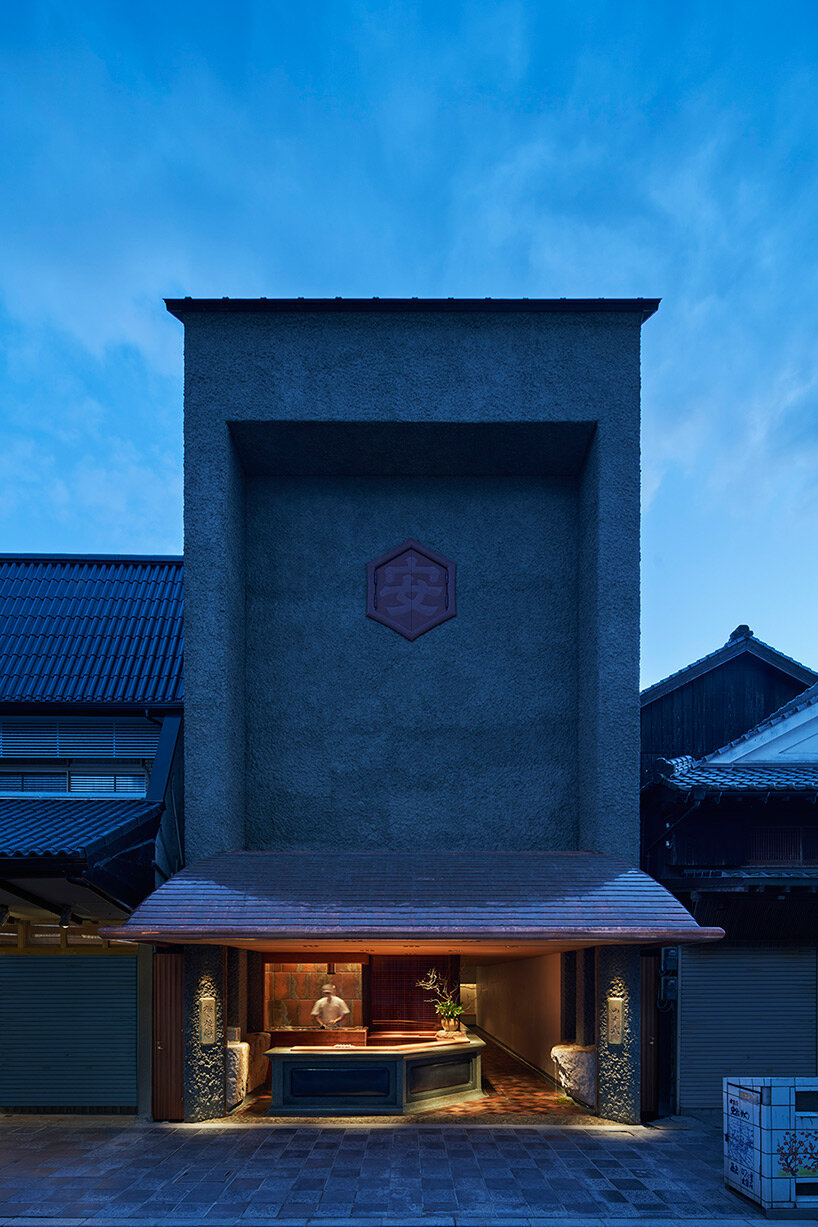 all images courtesy of Koji Fujii
diverse materiality and striking visual contrasts
Just a few steps away from the Umegae mochi shop by Toru Shimokawa Architects, a Torii gate serves as a barrier between the sacred Tenmangu Shrine and the secular world. The stone pavement of the shop slopes gently toward the temple so that the rich forest behind it can be seen.
To maintain the flow of air between the store and the street, as well as to protect tourists from the harsh weather conditions, the store is set up with extended eaves. Inside, the roughness of the wainscoted interior walls combine dark plaster with Mannari stone elements which protrude to form the water basins. Meanwhile, the glossy ceramic flooring creates striking visual contrasts, catching the eye of the guest. A hexagonal counter made of Bubinga wood signifies the ordering area, next to which a glass partition reveals the grilling space and the cook. Oily vapor begins to form as the mochis are being cooked, giving the room a moody feel.
'The sound of mochi being grilled, the smell of adzuki beans, the temperature of freshly baked mochi, and the lines of people eating it. The scene that has been engraved in this place every moment will continue without change from now on.' the Japanese architecture firm shares. 'We respect the history and culture of Dazaifu and hope to create a store that can contribute to this area for many years to come.'