Step inside the norman tel aviv 
Situated at the heart of Tel Aviv, close to the famous Rothschild Boulevard, The Norman hotel brings sophistication and boutique character to the historic Mediterranean city by capturing the timeless elegance of the 1920s. Comprising two converted historic buildings, it hosts 30 bedrooms and 21 suites, including two penthouse suites, set against an elegant backdrop. designboom had the fortunate opportunity to visit the retro-inspired property, uncovering its thoughtful and timeless character weaving into every corner.
Launched in 2014, The Norman Tel Aviv was built in memory of Norman Lourie, a multi-faceted visionary whose far-reaching legacy has reverberated across continents. From South African pioneer and prizewinning filmmaker to founder of Israel's first luxury hotel resort, Dolphin House, Lourie also blazed a trail in Israel for music appreciation. Indeed, Dolphin House was known for its open-air classical concerts every Sunday, which were attended by crowds from the entire northern region of Israel. 'The thread of Norman Lourie's history is still apparent today, forging an inspiration for the hotel's strong support of the arts in the city,' writes the hotel.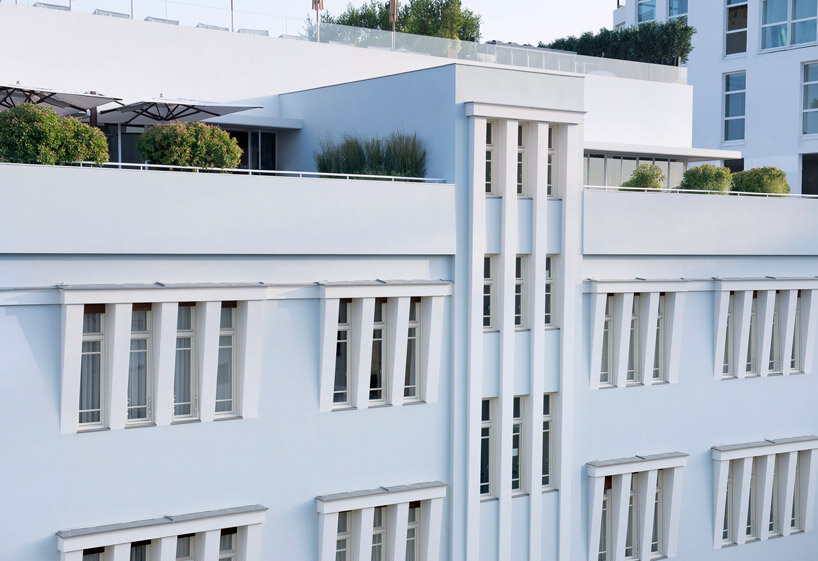 1920s-inspired character | images courtesy of The Norman (unless stated otherwise)
The architecture was conceived by visionary firm Yoav Messer Architects, with an interior design led by David d'Almada of Sagrada. Together they successfully preserved the historic building structure while remaining true to the area's Bauhaus character. Moreover, original Israeli artwork features throughout the hotel's public areas, guest rooms, and suites — from classic oil paintings to unique sculptures and one-of-a-kind prints that d'Almada defines as 'bringing the essence of Israel and its unique culture to life through multiple mediums.'
Meanwhile, a resident curator is on hand to offer insights into the displayed artwork. Te hotel also ffers bespoke tours of local galleries and artists' studios, incorporating regular art showings and events taking place around Tel Aviv.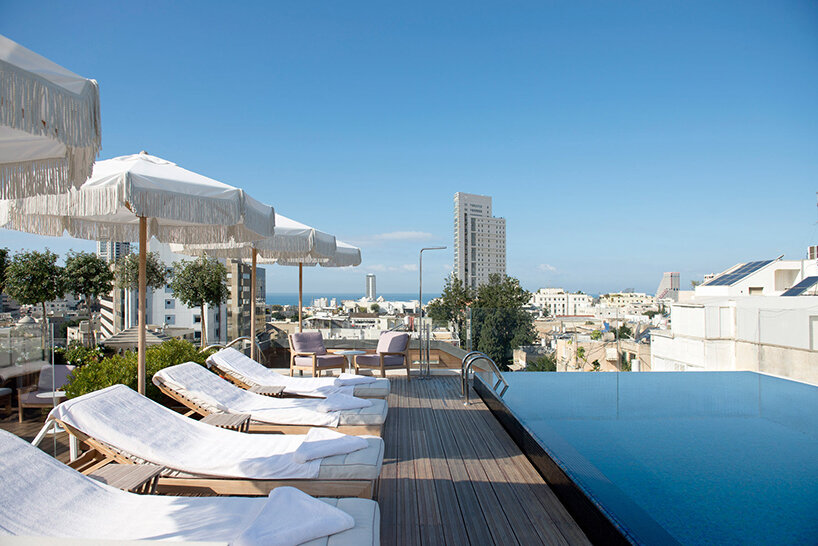 rooftop terrace
culinary richness meets artful ambience 
Complementing the artful ambience of The Norman Tel Aviv is its unique dining concept, ALENA, established by lifelong friends Omer Shadmi Muller and Daniel Zur. Guests are expected to enjoy European-inspired favorites with Mediterranean and Galilean flourish amid a charming restaurant terrace. Having risen through the ranks of world-renowned kitchens, the chef duo have created a menu that exemplifies a lively yet balanced fusion of contrasting cooking techniques, local foodie traditions, and the constant spirited conversation they share between themselves.
On the other hand, designed with meaningful conversations in mind and featuring artworks by Sigalid Landau, The Library Bar presents the perfect meeting place for hotel guests and locals alike. The beverage team at The Norman — led by award-winning Head Sommelier Shira Tsiddon and mixologist Karin Taya — delivers an extensive list of wines, spirits and liquors, and cocktails.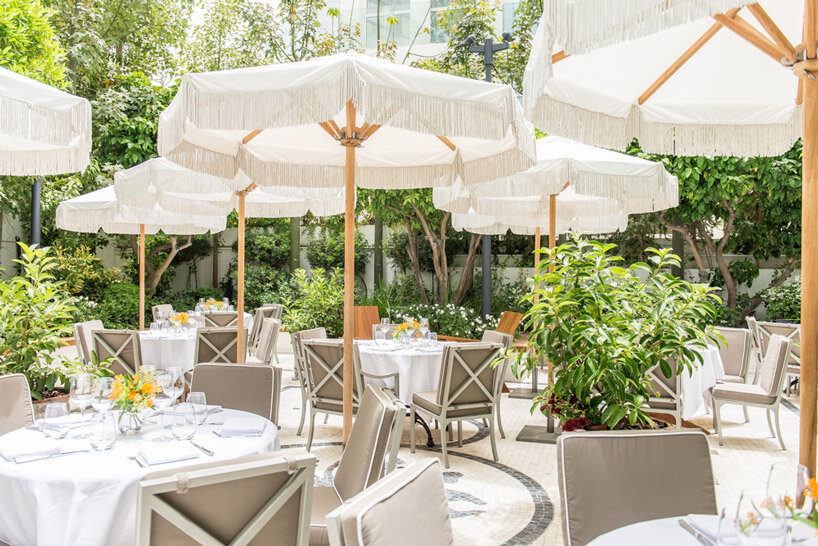 restaurant terrace
'A 24-hour concierge team is on hand to share their unique knowledge advising on tailored experiences such as hot air balloon and vineyard tours, private art gallery visits, and experiential dining. This allows guests to experience the true sense of Israel and provide an insight into this unique destination,' notes the hotel.
Finally, the rooftop provides an oasis of calm away from the hustle and bustle of Tel Aviv. Guests can enjoy sweeping views while relaxing in the infinity pool or indulge in a relaxing massage at the third floor Wellness area. Guests of the hotel's Suites also have the option of in-room treatments to create their own haven of relaxation.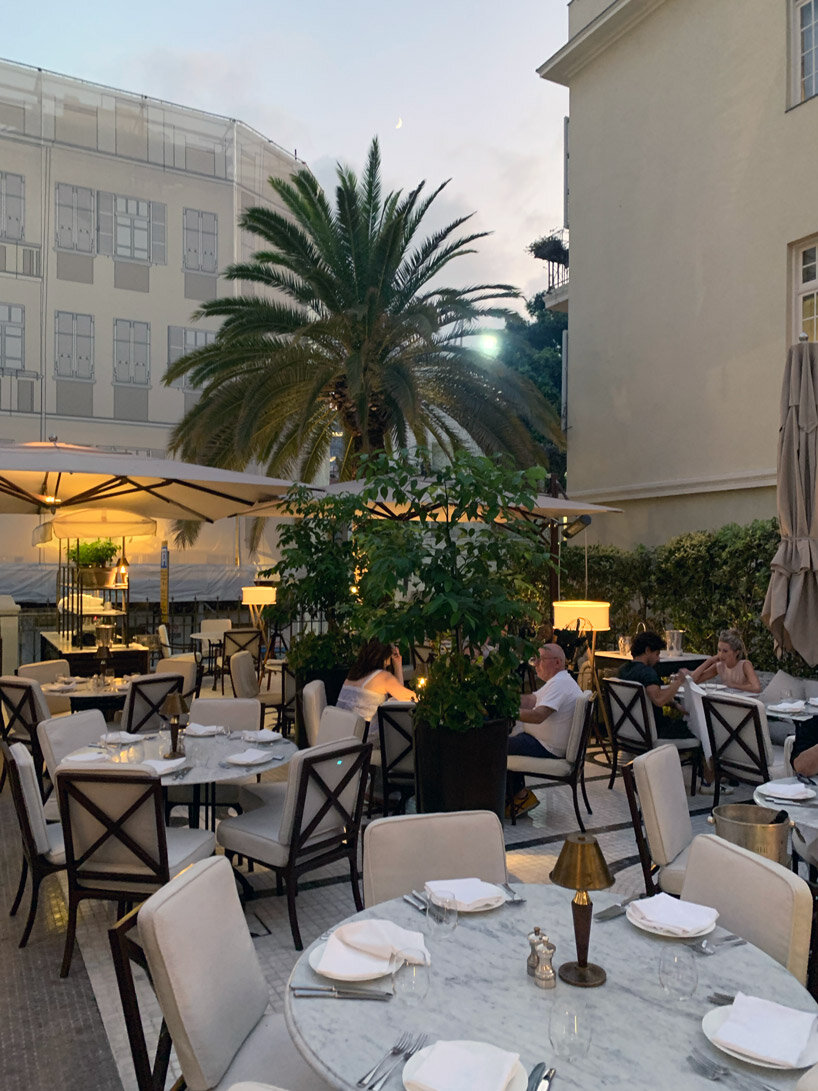 restaurant terrace at evening time | image ©designboom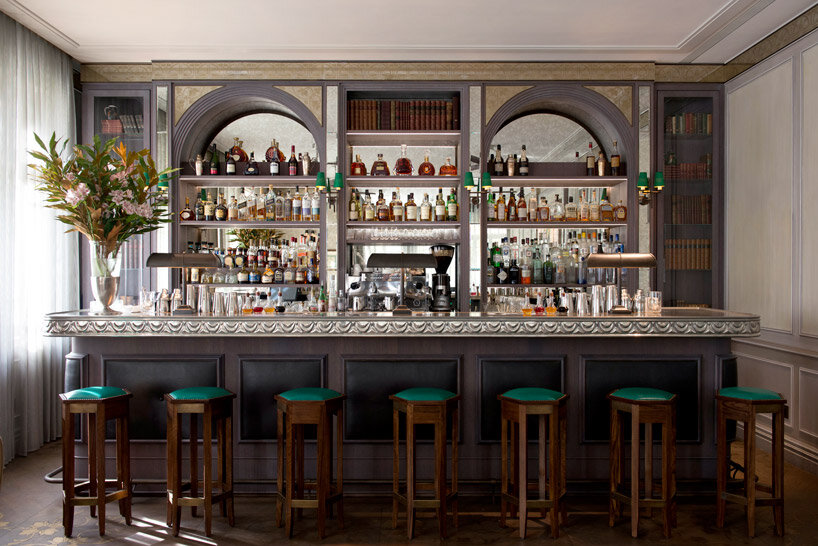 The Library Bar