a house for a man who loves his dogs
Designing a house for a human and his dogs in Thailand, EKAR Architects presents a space which combines living areas with lofty semi-outdoor space filled with vegetation. 'Being respectful to each other is, presently, the major issue of being a human, and so be the architecture,' the architects write. Divided between two structures, the project accommodates the humans' areas to the north and a 'hotel' and grooming salon to the south where other dogs can meet and play, and where they can be brought for care.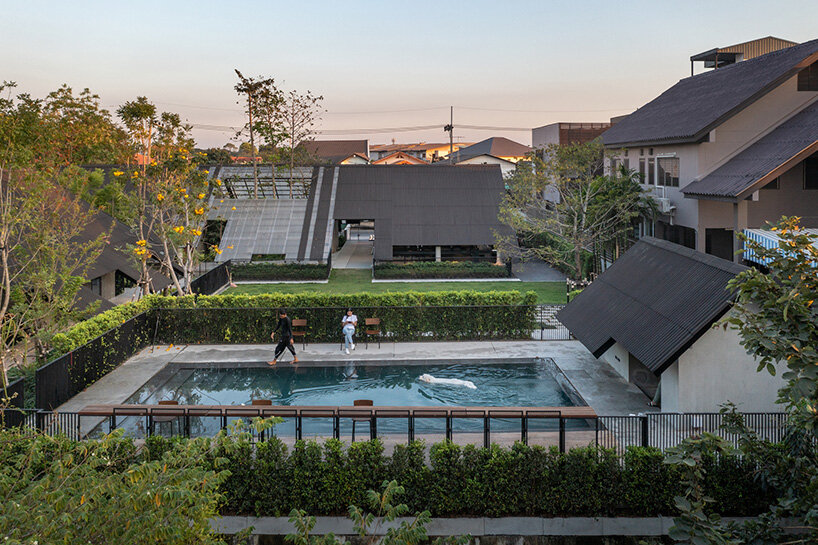 images © Rungkit Charoenwat
informed by the agricultural site
Developing the project, EKAR Architects undertakes an in-depth study of the site, the agricultural province of Nakhonpathom. The design team notes that the area — which is known to export pork, chicken, and rice — is commonly known as the 'national kitchen.' The group explains its findings: 'we researched and found a lot of interesting architectural characters remaining from the past to the present day, 'the roof'.'
The resulting design sees a massive pitched roof of corrugated metal and translucent plastic, with broad, open-air skylights to allow for the growth of trees. These dramatic, sloping roofs extend nearly to the ground, offering glimpses of the lush plant-life inside.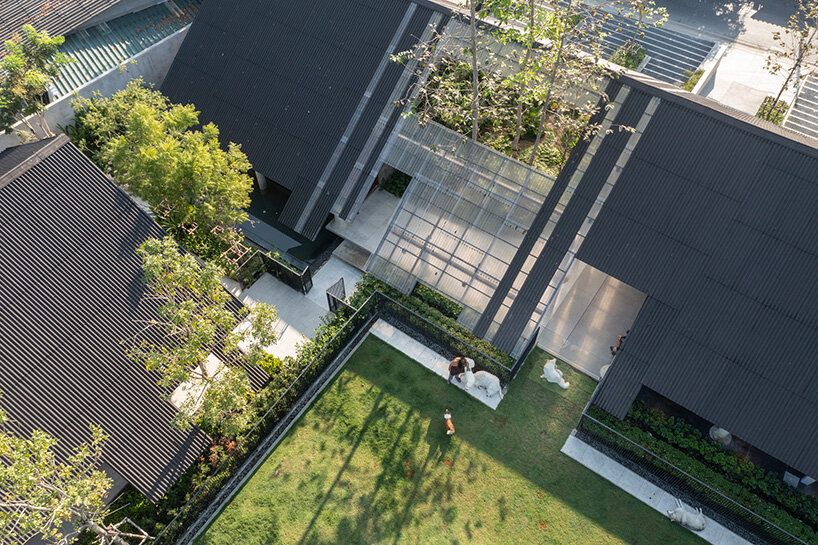 learning from a smaller scale
The Dog / Human House is developed with EKAR Architects' deep respect for the project's context. The concept of 'context' includes not only the natural and built surroundings, but 'the relationship of the users, dog and human.' The group comments: 'We also studied human and dog behavior to understand the relationship between them. What we found relatively between dogs, humans, and architecture is a simple thing called 'scale'.'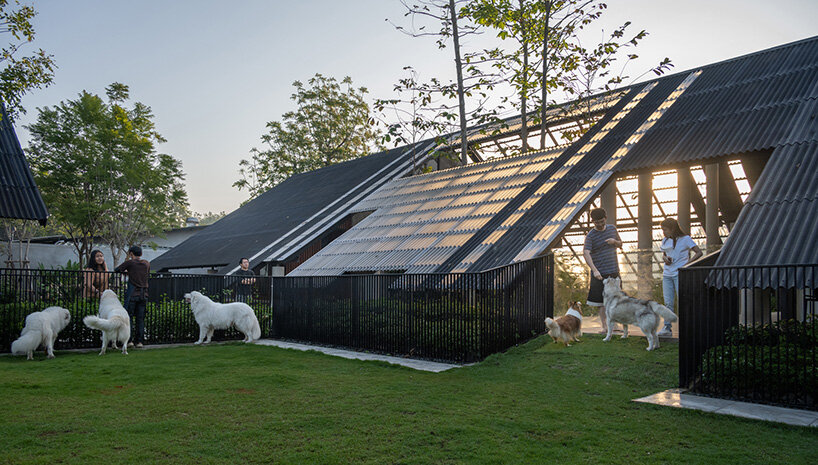 EKAR Architects continues: "Scale' is the most significant difference perceived by both dogs and humans. Whenever we want to communicate with the dog, we need to a little bow ourselves to get closer to make them more confident and to reduce the distance between dog and human, physically and mentally.
'Accordingly, the architecture, human-made, is designed using the character of the local agricultural building which has a low roof design to match the scale of chicken and pig, but we used the roof element to remind people of the existence of other lives.
'The roof indicates where people can walk, where they cannot, where they can see, where they can sit, where dogs can run, where dogs can lay down, or even where the trees can grow.'