milwaukee public museum unveils new building
Ennead Architects and Kahler Slater have unveiled renderings for the new Milwaukee Public Museum in Wisconsin, US. Drawing from the ecological histories of greater Wisconsin, the design forms a natural and human history museum reminiscent of the geological formations contained in Mill Bluff State Park, a symbol of the region's diversity of landscapes created by the movements of water over time. With more than 200,000 square feet of space and a footprint spanning over 2 acres, the project is scheduled to be Milwaukee's largest cultural venue to date. The new building is expected to begin construction in late 2023 and open in 2026.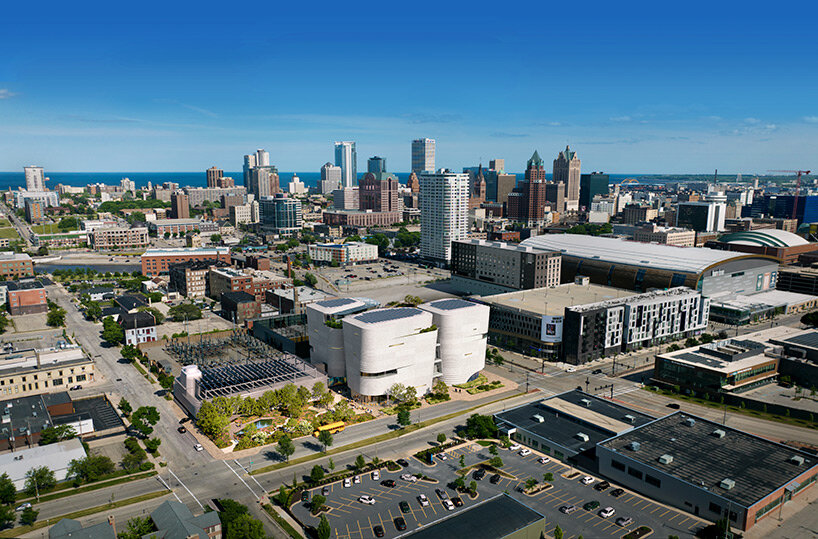 all images courtesy of Ennead Architects and Kahler Slater
drawing from Wisconsin's rich natural history
Community, nature, education, and the preservation of the museum's extensive collections were the four concepts that guided the design by Ennead Architects (find more here) and Kahler Slater (see more here). In addition to establishing a warm new community center and an essential educational destination for lifelong learners of all ages and backgrounds, the teams also wanted to create a design that symbolizes Wisconsin's rich natural history. The result sees an organic structure made primarily of concrete and glass with its exterior texture mirroring the ancient sea stacks present in Mill Bluff State Park. Meanwhile, its rounded corners evoke the erosion and weathering of the glacial landscapes that shaped much of Wisconsin and evolved over time. Meanwhile, the convergence of Milwaukee's three rivers —the Milwaukee, Kinnickinnic, and Menomonee— inspire the museum's interior common rooms whose three distinct entrances welcome visitors into a dynamic gathering space. 
'We wanted to create a space that gave the feeling of wonder, like what we experienced throughout our trip around the state, as we saw these exceptional landscapes and met so many different people with stories to tell. There was much more to see and understand beneath every surface. We thought about this layered experience of discovery when designing the building. We wanted to make a museum that would reveal more with every visit and let people take their own journeys through the space, led by curiosity,' said Ennead Architects Associate Principal Jarrett Pelletier AIA, senior designer on the project.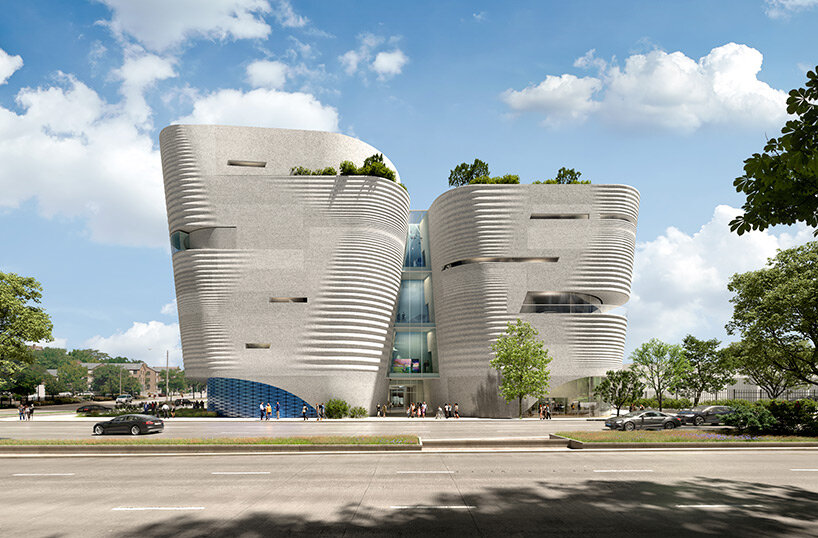 The building will be approximately 200,000 square feet, including five stories; the first floor will house an open museum commons atrium where visitors and the public can gather and bask in natural light from a sunlit lightwell; the four upper levels of exhibit space — which are currently in the schematic design phase led by Thinc Design — will be offset from neighboring floors in the Museum's collections storage lobe, allowing visitors to peek into and preview different exhibit floors and collections that are not part of specific exhibits or dioramas. The new museum will also include two gardens, located near the entrance to the museum and on the rooftop, providing an opportunity to bring native plants back into Milwaukee's urban environment. Offsite, a separate 50,000 square foot storage space will house additional collections.