housing that prioritizes sunny communal space
Indonesian architecture studio FFFAAARRR completes a light-filled apartment complex in Jakarta, standing as a monumental array of interconnected brick boxes. Titled Kos Haji Baun — kos being an Indonesian term describing an apartment building or boarding house — the project is located in the city's Haji Baun neighborhood which has recently seen rapid commercial development and an increasing demand for housing.
The architects note the client's hopes to elevate the property above typical residential blocks. 'Since it's family operated, the client requested quality over quantity,'  they comment. With this in mind, the number of units were limited, and communal spaces were allowed to breathe.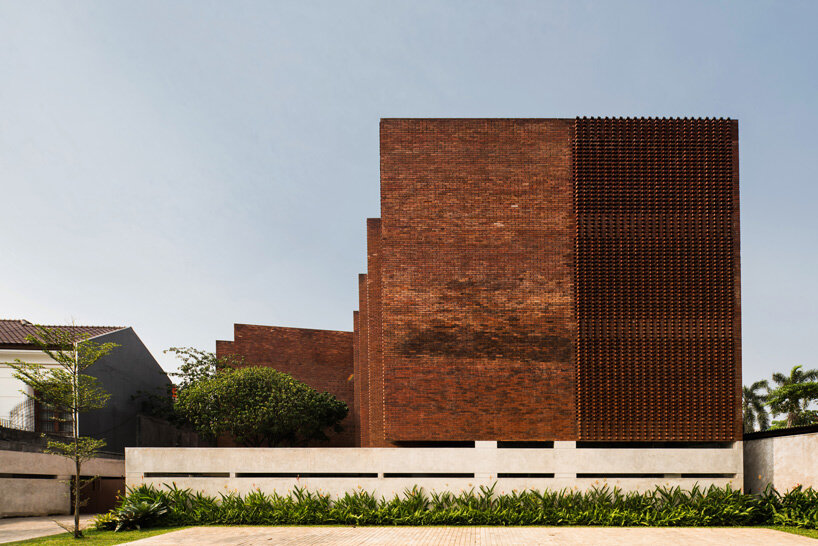 images © Ernest Theofilus | @ernesttheofilus
the long and narrow dwellings
Planning its Kos Haji Baun housing complex, the team at FFFAAARRR organize the architecture with private apartments surrounding communal living spaces. The design process began from the inside out with the smallest interior unit — the room. The architects sought to re-think the familiar plan of the typical room, exploring instead new variations and spatial geometries.
The team focused on a long and narrow layout with a width of two meters, the exact length of a bed. They explain: 'We explored multiple combinations of the outline, and it resulted in not only linear spaces but also cross-shaped, with each having a mezzanine as an option.' The resulting configuration combines fourteen apartments — six linear units and eight cross-shaped units.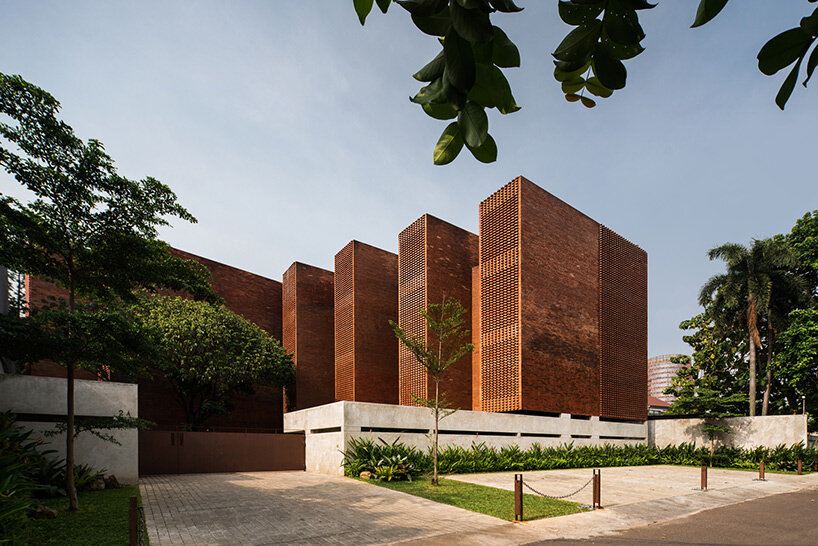 beneath the floating brick boxes
FFFAAARRR makes efficient use of outdoor space on the ground level by configuring the apartments along the top two floors and cantilevering them over the parking lot as floating volumes. The ground floor is programmed with a large, open-air communal space, a mixed-use hall, a living area for the landlord's assistant, and a dining area which repeats on each level.
Overall, the project is characterized as a row of massive and narrow volumes clad in warm, textural brickwork. The building's west-facing facade is fully covered by an exposed brick lattice which works to filter the sunlight and moderate the interior temperature.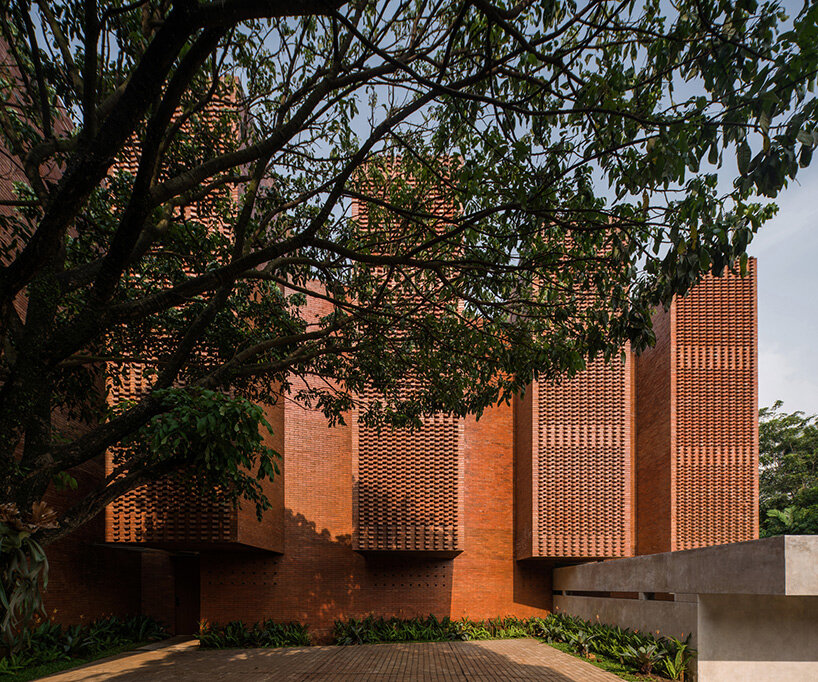 youthful living spaces by fffaaarrr architecture
The design team describes the overall spirit of the work: 'This project imagines a temporary living space for young people in the city of Jakarta, going home to a place away from their families after a long day at work and commuting in the traffic jam, or even better, private living space and workspace simultaneously.
'We imagine open spaces, earthy materials, greeneries, and a place you proudly call home.'