turning wave energy into clean electricity
After revealing its blowhole wave energy generator renderings, Australian startup Wave Swell Energy has now launched their innovative UniWave200 device at King Island, Tasmania, to convert ocean wave energy into electricity. The demonstration of the novel power plant has proved to be quite successful and the company, which focuses on producing clean, sustainable zero-emission electricity without the use of any oil or other contaminants, has reported excellent results. 
The construction of UniWave200 is based on the UniWave system, a floatable device that can be towed to any coastal area and connected to the local power supply. Its technology draws from the well-known concept of the oscillating water column (OWC), a man-made blowhole that consists of an open chamber below the waterline. The OWC rises and falls when waves pass over it, pushing air to travel by a turbine at the top which generates electricity fed into the grid via a cable.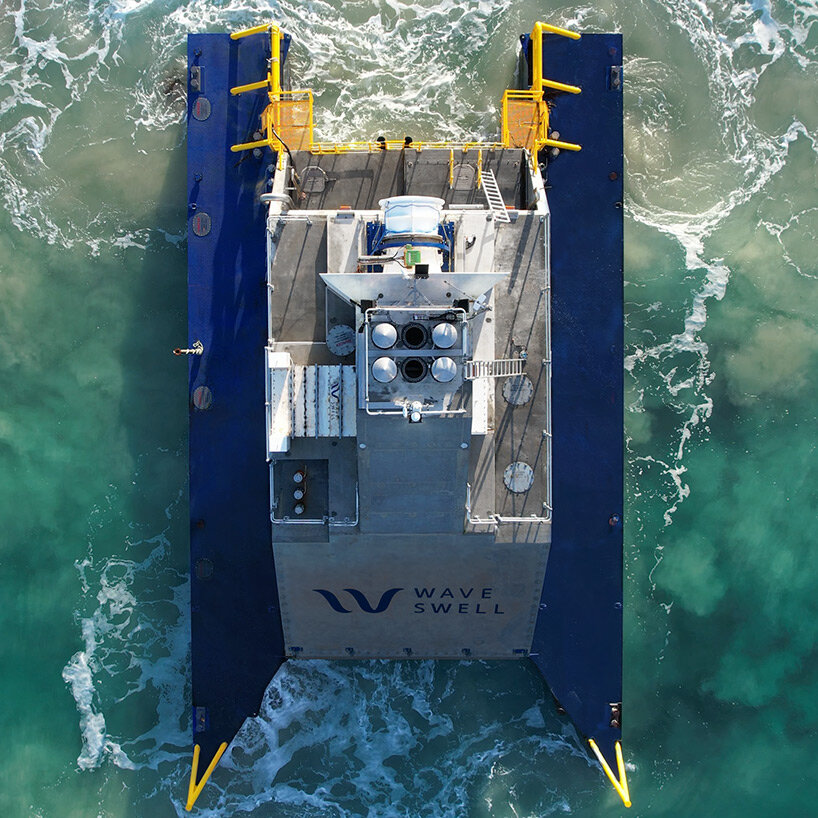 all images courtesy of Wave Swell Energy
UniWave200's successful installation
Althought all prior OWC technologies were bidirectional, Wave Swell Energy's technology operates unidirectionally. As a result, the WSE turbine is simpler, more durable, and more trustworthy, and it has a higher rate of energy conversion. The turbine and custom valves are the only moving components of the system, and both are located well above the water line. In the sea or beneath it, there are no moving parts.
On January 10, 2021, the Australian company installed the UniWave200 unit at Grassy, King Island, and on June 18 of that same year, it began supplying electricity to the Hydro Tasmania grid. Power was sporadically exported in relatively small sea states while the onboard systems were being physically observed as generation was then significantly built up. After that, the machine could be controlled remotely, albeit human operation was still necessary while the control systems were still being refined. Having endured a range of harsh weather conditions, the UniWave200 is now a part of the mix of energy sources utilized to run King Island's homes and businesses.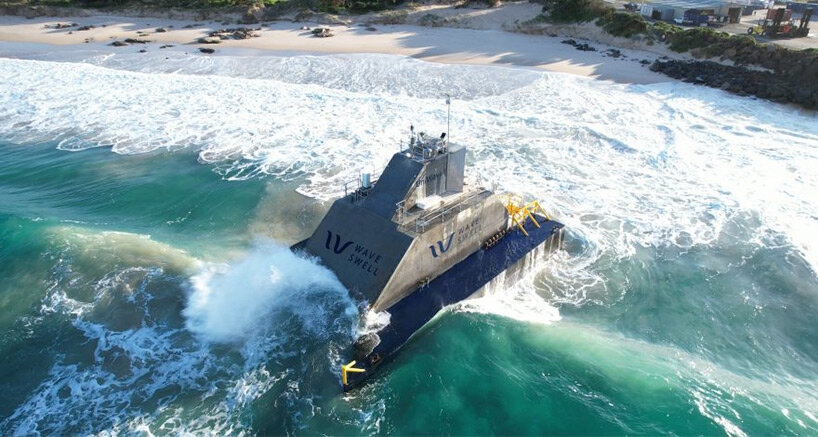 Wave Swell's short to medium-term focus is project opportunities where its technology can provide immediate solutions. Such projects relate to displacing expensive diesel in remote locations around the globe, while also helping to alleviate coastal erosion with the strategic placement of WSE units which act as breakwater structures. Longer term, the company expects to provide large-scale grid-connected electricity. 
'As the world begins its transition to 100% renewables, Wave Swell is positioned to supply consistent and predictable low-cost energy to power grids around the world, playing its part in the mix of renewable energy solutions to satisfy the global demand for dependable and sustainable energy.' the company shares. 'At the same time Wave Swell's technology will provide both a climate change mitigation measure by reducing carbon emissions and a climate change adaptation measure to protect coastlines from erosion.'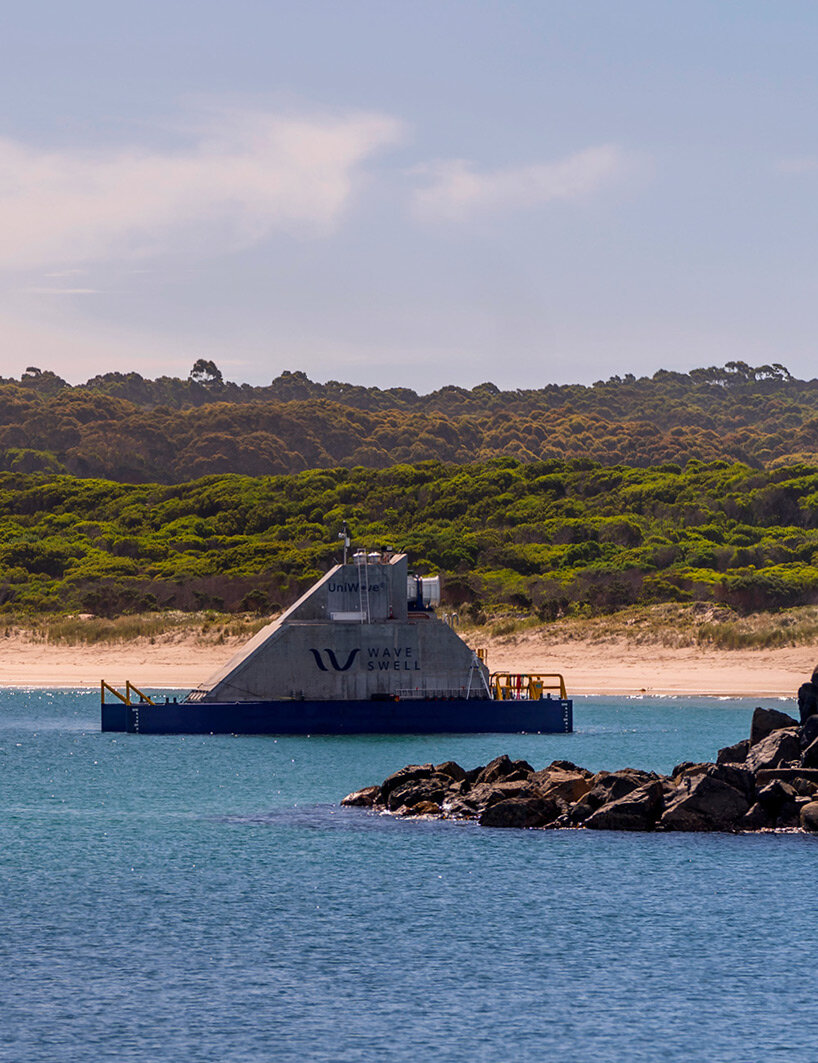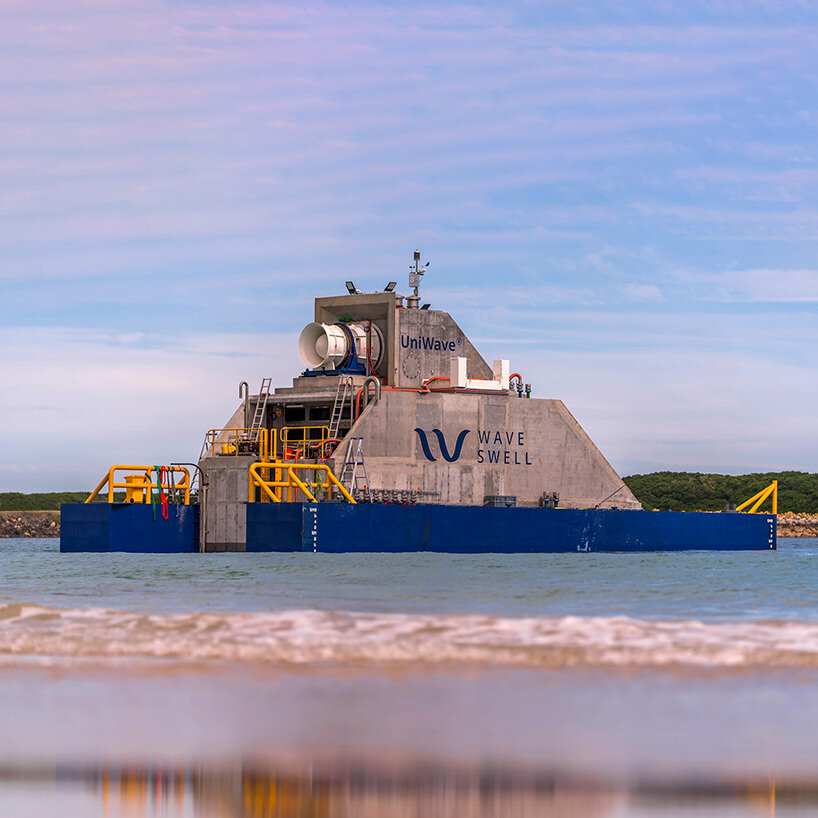 project info:
name: UniWave200
company: Wave Swell Energy
myrto katsikopoulou I designboom
aug 02, 2022