'fuwa fuwa': treating the plastic bottle with new materials
Japanese-French artist Yusuké Y. Offhause has built an impressive body of work that 'reformulates' everyday objects by treating them with different materials. Illustrating his approach is 'Fuwa Fuwa', a unique object series that reimagines the shape of plastic bottles as archeological-like pieces, composed of ceramic and glass, that can serve as sake bottles or fragrance diffusers. 
Elaborating on his technique, Offhause writes: 'These forms with such singular structures designed to be rigid with minimal plastic have inspired me to use them to generate new objects by changing the material that constitutes them. Instead of transparent plastic, I introduce a heterogeneous material, granular, composite, reminiscent of oxidized iron or archaeological remains underwater.'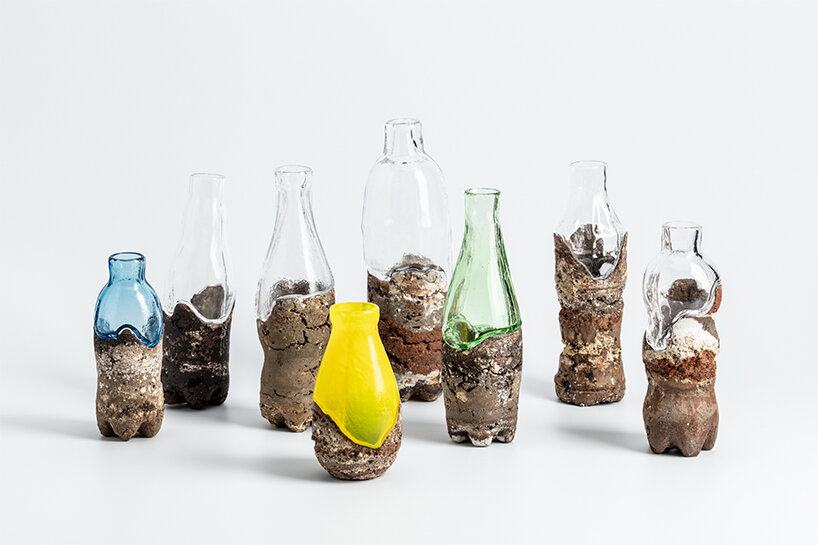 all images © Baptiste Coulon
archaic or futuristic? exploring temporal ambiguity  
In 'Fuwa Fuwa', the artist replaced plastic with what he calls 'noble materials' — i.e., ceramic ans glass — to create eight variations of a plastic bottle. By pairing both elements together, each piece appears as a two-part body with the following components: a ceramic base, evoking an archeological artefact, and a glass top that fills in the missing outline of a plastic bottle. 'It is a matter of recalling the original form of the object by showing a ceramic archeological object conserved and crystallized with glass,' specifies Offhause. 
Every bottle presents a very unique ceramic pattern and texture at its base, with a top layer composed of either green, yellow, blue, or colorless glass. Together, these elements endow the bottles with a paradoxical aesthetic, one that is archaic and futuristic all at once. Observing these strange-looking objects, one would have a difficulty dating them, triggering a 'temporal ambiguity' that strongly intrigues the artist.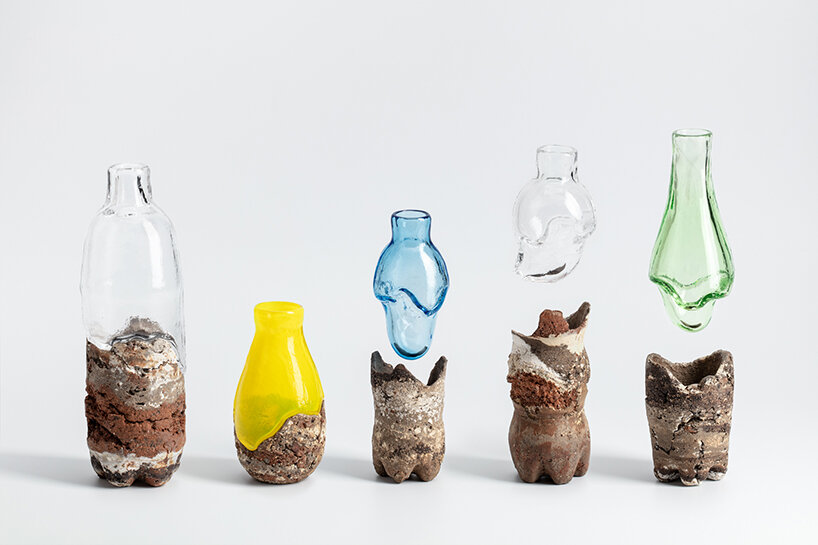 'Fuwa Fuwa' object can be used as sake bottles or fragrance diffusers 
yellow glass variation: showing how the top layer 'fills in' the missing outline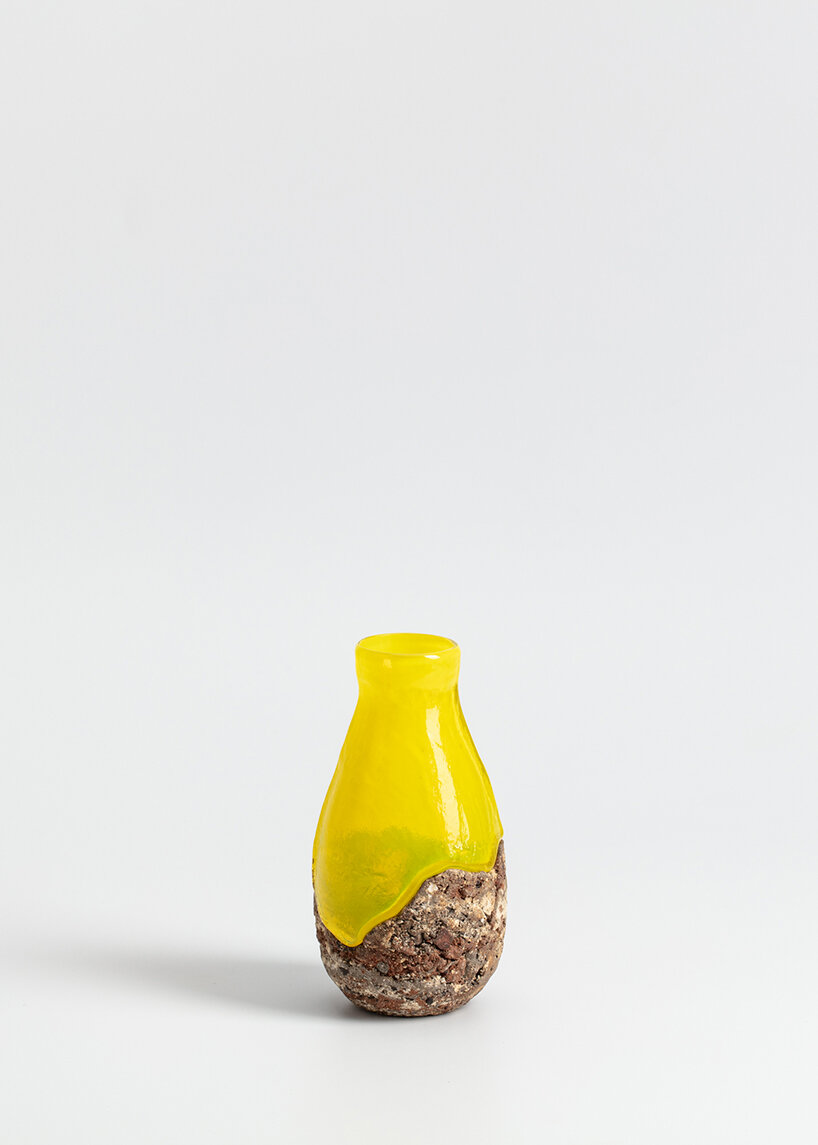 a quality that is both archaic and futuristic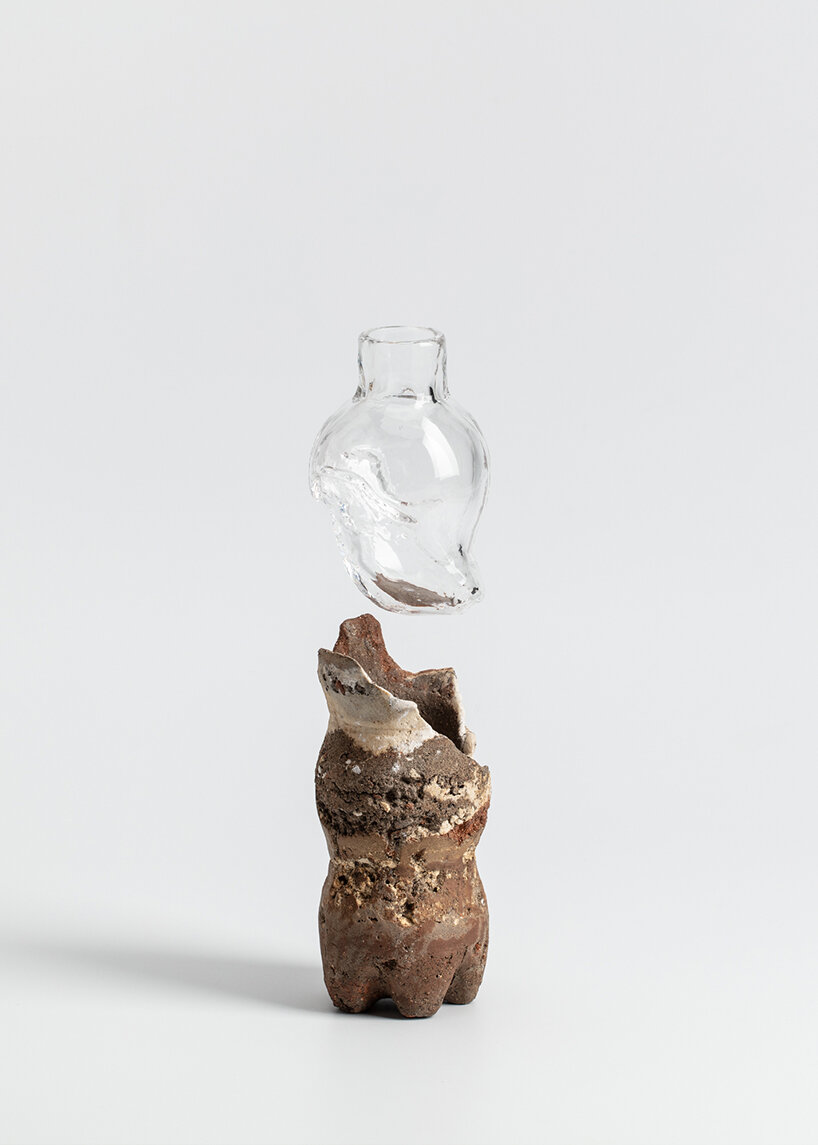 each piece presents a variation of the plastic bottle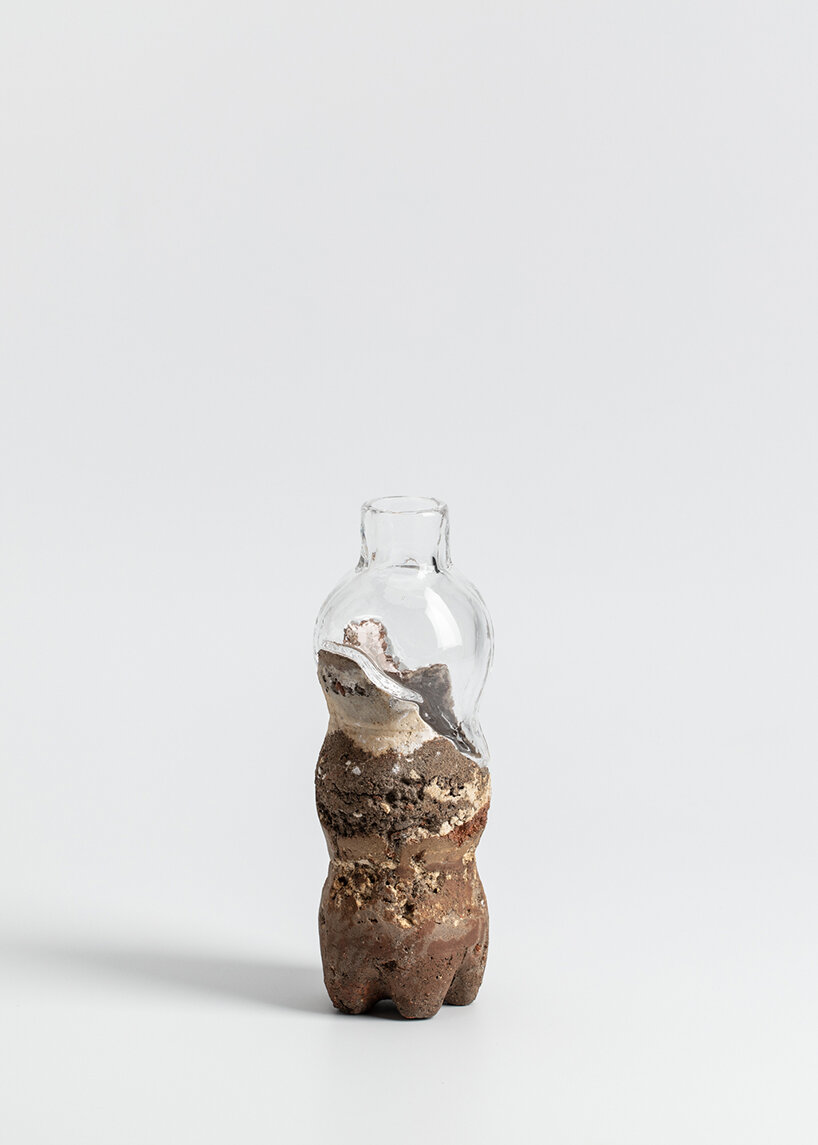 the ceramic texture and pattern vary across all eight designs 
1/2
project info:
name: Fuwa Fuwa
art: Yusuké Y. Offhause 
year: 2019
material: glass and ceramic 
photography: Baptiste Coulon