BORD wins 1st prize for Aquaticum Waterpark design in Debrecen
Architecture studio BORD has completed its concept for the Aquaticum water park in Debrecen, Hungary. Rather than competing with other aquatic facilities, the project strives to create something new and unique by integrating water and flora on both horizontal and vertical surfaces and installing sculptural spatial elements and geometric pools.
BORD's design has won first prize in the architectural competition for the reconstruction of Debrecen's old spa and the establishment of a new water park. City officials wanted a popular park that is not only accessible for all age groups, but also emphasizes the importance of the natural environment, the spa's connection to Debrecen, and the fact its importance as a local landmark.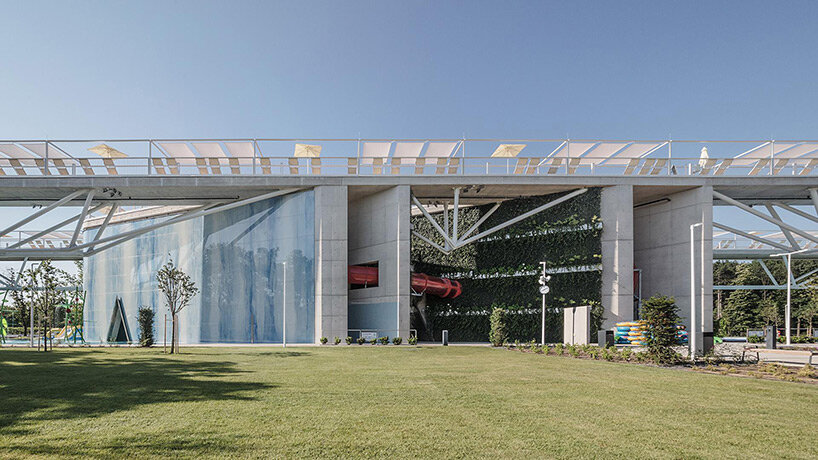 the entrance of the Aquaticum water park in Debrecen, Hungary
images by Tamas Bujnovszky, Anna Illes
interspersed water bodies and green areas
The architectural concept by BORD Studio (find more here) focuses on the life-giving aspect of water as well as the surrounding forest environment. Water and flora emerge on both horizontal and vertical surfaces of the spa: the water in the pools, the lawn, the water curtains, the waterfalls, and the plant-covered walls. The trees of the site wrap around the lawn of the water park, where the elements of the spa appear like mosaic stones. In the center, there is a rectangular shape of water interspersed with green areas inspired by the surrounding forest.
The spa's main entrance is located on the recently completed Nagyerdő promenade. The long, single-story entrance, located on the property line, connects the new pedestrian walkway and the water park like a bridge. The entrance building houses the changing rooms, restrooms, stores, and a colorful food court.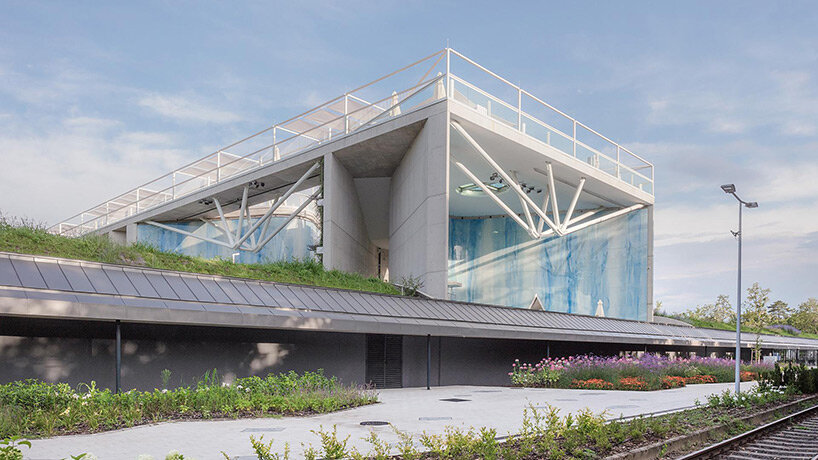 the spa's main entrance is located on the recently completed Nagyerdő promenade
The main visual feature of the water park
The central visual feature of the waterpark, a 196m x 26m floor-place size, 12m high cuboid, greets visitors as they enter. This unit is open on all sides and includes a 4-meter-deep swimming pool, an adventure pool with a 400-meter-long slide, a water cave, a teaching pool, a hot water pool, a relaxation zone, a sunbathing terrace, and bars. A series of 12m high walls covered in greenery and water meander between the various uses.
The kids' water theme park was inspired by the animation 'Treasure Planet' with its pirate ship sailing amid the stars. There are pools for children of all ages, including a kids' pool, a baby pool, a spray park, and a wave pool. There are three hot water pools, as well as a 'lazy river' and a children's theatre. In total, the new spa anticipates welcoming visitors with a 5,624 sqm water surface.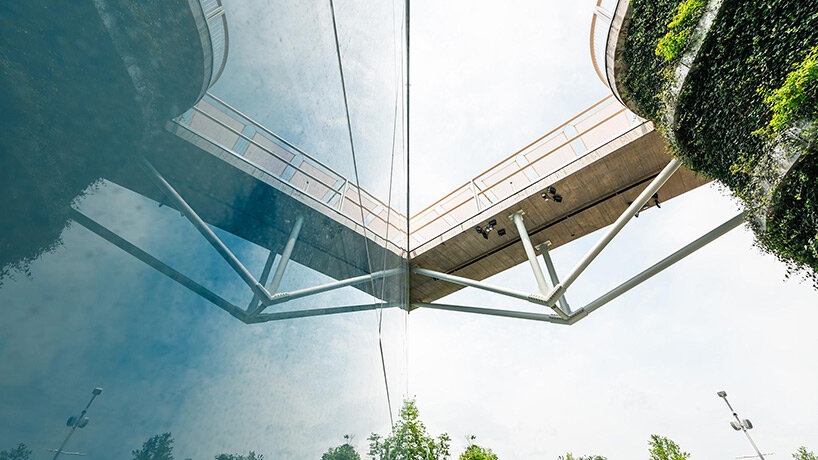 the long, single-story entrance connects the new pedestrian walkway and the water park like a bridge