ghezzi novak reveals retreat in the pisco desert
Lima-based architecture studio Ghezzi Novak has completed this small, wood and brick home in the serene landscape of the coastal Pisco desert in Peru. Isolated among the surrounding natural context, this two-bedroom retreat is perched on the El Alamein olive grove. With its low-lying form, white-washed brick facade that echoes the clarity of the sand, and the eucalyptus hardwood roof, the home becomes an extensive shadow is seamless coexistence with the intensity and diversity of the Pisco desert.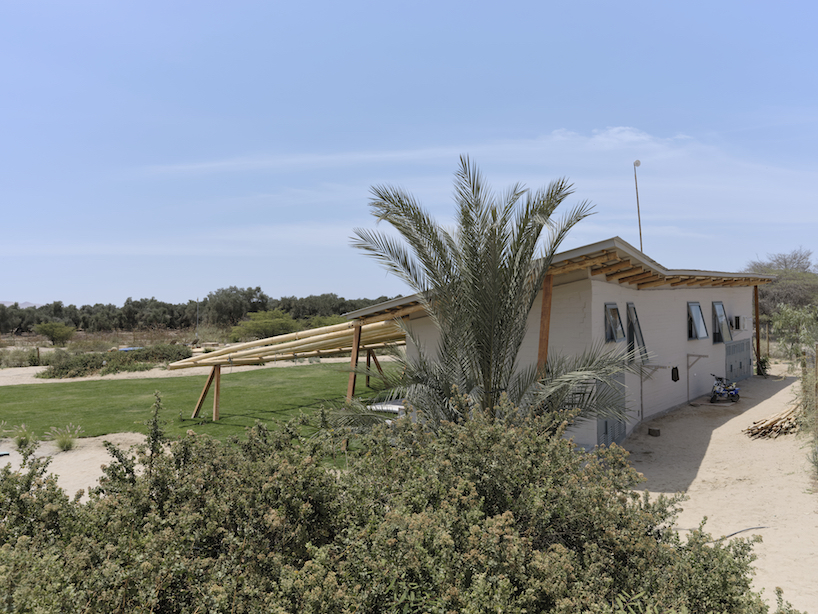 all images by Iván Salinerà
16 sloping eucalyptus poles form the overhanging roof
With the design of the retreat in the Pisco desert, Ghezzi Novak sought to form a social connection with the home and the surrounding natural context. To begin with, the architects raised a sloping, overhanging roof which protrudes beyond the structure to form a small shaded patio space in the garden. Under this space, the climatic and scenic forces are capitalised, unifying spaces of different qualities including interior living, exterior terraces or pure extension. Made of 16 eucalyptus hardwood poles, the roof provides not only shelter and fresh shade from the harsh desert sun, but also a significant social value, becoming a place for the inhabitants of the home to gather, encouraging them to interact with the nature. The eucalyptus hardwood poles organize the structural order of the roof, and its cover is defined according to the degree of shade and proofing required below. Posts in the ground support the structure and serve as a guide for intertwining climbing plants.
Inside the home, the exposed brick walls have been coated in white, reflecting the bright sand of the desert within and enlivening the space. Windows with double-jamb wooden frames seal the interiors from sand, particularly protecting from the dust storms which are common in the area. Brick is the construction unit of the interior enclosure, acting as a load-bearing and thermal mass element. The construction drawing is based on the proportions of the masonry unit in relation to the eucalyptus poles that run along the house connecting all layers of dwelling.