yujiro otaki unveils beer taproom in tokyo, japan 
Yujiro Otaki has unveiled a new craft beer and bottle store titled Dig The Line Doors, located in Tokyo, Japan. The starkly minimalist taproom is the first Tokyo branch of a popular Kyoto bar, run by an importer of European craft beers. Tucked away in a basement in the trendy area of Harajuku where Tokyo's culture blends with the rest of the world, Dig The Line Doors creates a 'door' to connect people from all over the world, in this space which offers a curated line-up of both international and local Japanese beers. The design concept, minimalist and modern, centers around a gradient blue-green walk-in fridge made of stainless steel, which sits as the focal point at the core of the white cube of the room. The fridge showcase is also equipped with six gradient blue taps for beers and ciders.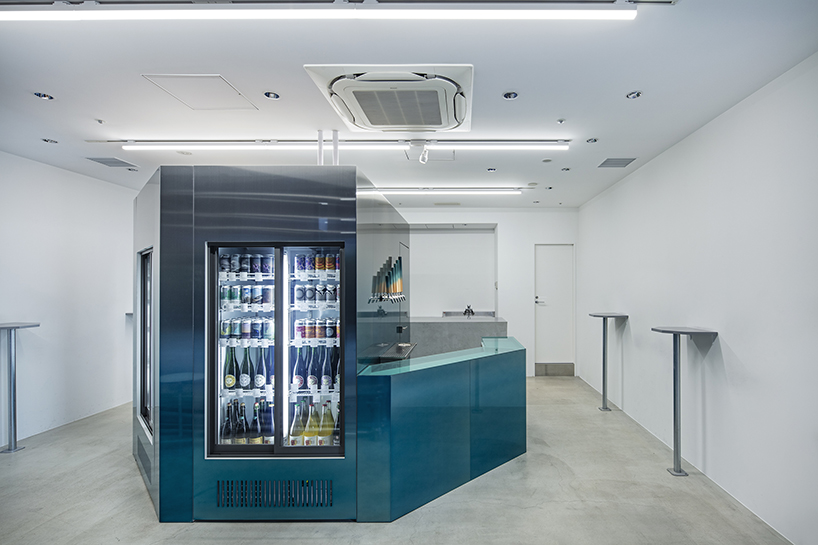 the central showcase is finished in stainless steel with a blue-green gradient coating
all images courtesy of Yujiro Otaki
a gradient blue-green island floats in a white cube
Tokyo-based designer Yujiro Otaki conceives a space that is 'both alien and yet connected to the outside landscape'. Accommodating only the necessary functions, for the pop-up segments the space has been opened and the floor, walls, and ceiling have not been utilized, as heterogeneous objects are instead placed in the existing space. To begin with, the designers, replaced the existing mortar counter they found on site with a new, more prominent beer tap counter which becomes a central removable showcase. At the center of the bright white cube interior, sits a stainless-steel walk-in fridge finished with a gradient blue-green coating, and fitted with six gradient beer taps. Surrounding it are only a few pieces of furniture, including minimal benches and grey-coated metal bar tables of varying height, further enhancing the showcase's prominence.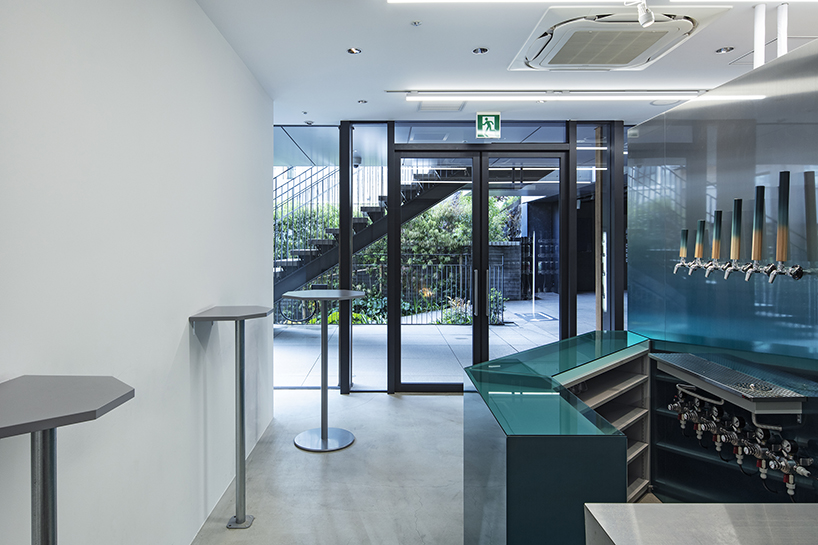 Yujiro Otaki's Dig The Line Doors beer taproom is both alien yet connected to the outside landscape
reflective steel surfaces evoke the color of water + light
Dig The Line Door's products include a selection of local Japanese and international sake and beer. Thus water, an important element in both products, becomes a key driving concept for the design of the taproom. Blue-green paint, which evokes the color of water and light, is used for the stainless steel beer taps and showcase fixtures, which sit prominently against the minimal white cube interior, its reflective surfaces enlivening the space. The tables and benches are painted in gray tones to further accentuate these elements.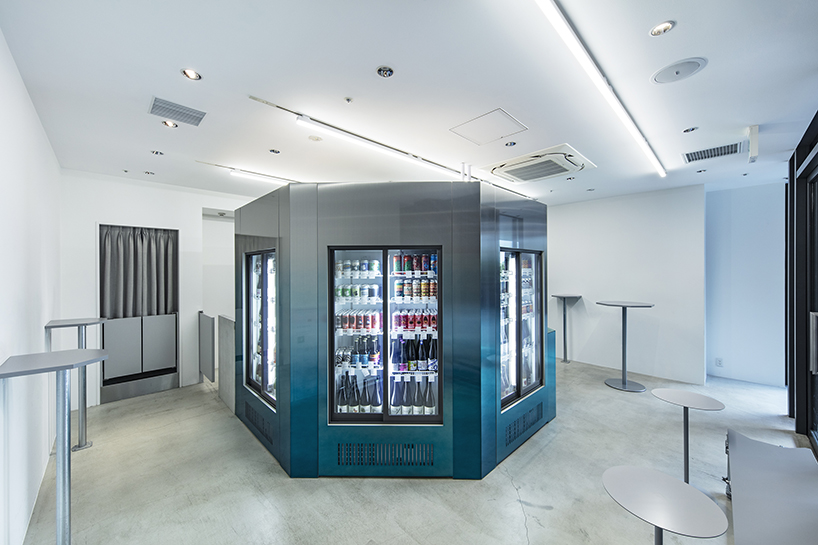 the centerpiece showcase is surrounded by minimal gray furniture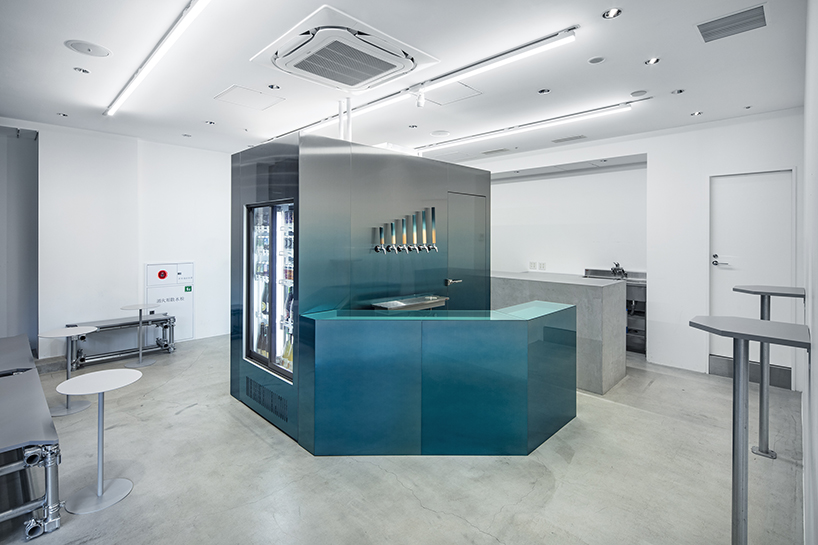 the beer taproom's walk-in fridge is finished in stainless steel with a blue-green gradient coating