texas students and i/thee install peek-a-boo
Among the historic grounds of the 1969 Woodstock Music and Art Fair, Peak-A-Boo takes shape as a continuous series of wood-laminate arches and decks, forming a pavilion and flexible performance space. Curated by Bethel Woods Center for the Arts, the project intends to reengage the historic site with design-build pedagogies and was fabricated and installed by Texas Tech University students led by design collaborative i/thee. The installation stands as the first piece of programmable infrastructure in the Bindy Bazaar woods since the 1969 festival and marks the beginning of the second phase of a three-year pilot program to develop a signature art and architecture festival at the site. The result is a soaring structure, lightweight yet robust, delicately cascading through the tree canopy.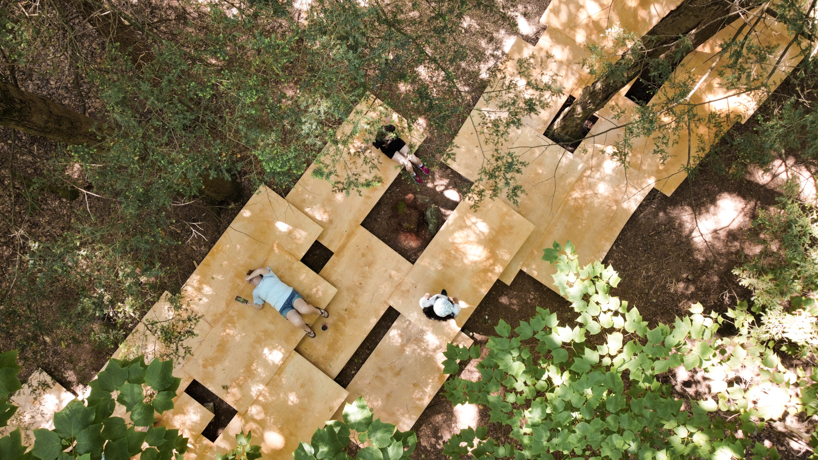 all images courtesy of the author
a flexible performance space at woodstock
Led by Neal Lucas Hitch and design collaborative i/thee, the project was fabricated and installed by the university students over two weeks as part of their summer course, Architecture IRL. Peek-A-Boo is a pixelated wood-laminate performance stage at the historic site of the 1969 Woodstock Festival, with a soaring structure, lightweight yet robust, delicately cascading through the tree canopy. Conceptually, the project aims to bridge fraught binaries between analog and digital production modes; the structure was designed using computational digital tools and analyses but was constructed primarily by hand tools in-situ.
With a sense of permanence, the Peek-A-Boo is embedded within the landscape, shrouded and punctured by forest flora. The design of the structure is intended to shape diverse and comfortable experiences: its arches create the bandshells for performers to play under; its decks become the tiered seating for audience members; and the pixelated surface provides an undulating canvas for dancing shadows seeping through the forest clerestory. The design consists of over sixty quarter-inch plywood sheets, elastically deformed and laminated together to form a pixelated bending-active structure, supplemented by six laminated timber arches digitally constructed to mimic the natural bending of the wood sheathing. Construction started with the hand-cutting of over 180 unique pieces, which were glue-laminated together to form the ribbed substructure. Plywood sheets were next secured along the laminated arched members with screws and tied together with rivets.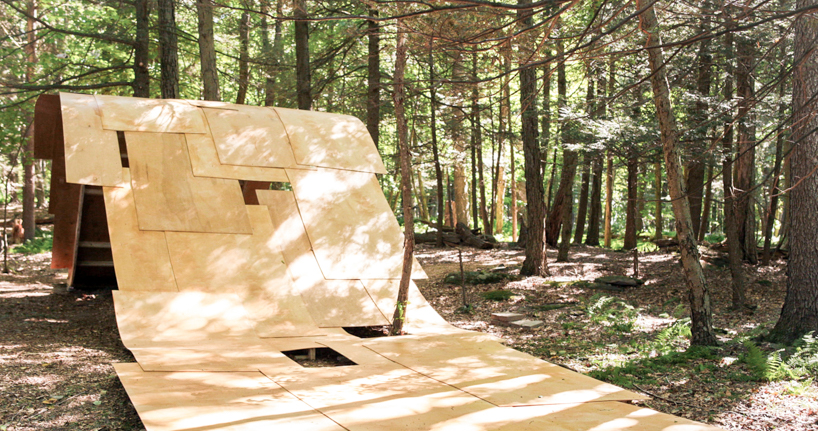 tree poking through pixilated opening
a lightweight yet robust structure
The design process began off-site at Texas Tech University, where students modeled various 'quilted' wood-laminate design solutions by hand with scaled materials. These models were then translated into computational scripts that allowed for rapid prototyping and analysis. The structure was entirely fabricated by students on-site at Bethel Woods Center for the Arts in the historic Bindy Bazaar—a craft bazaar and marketplace used as the main entry sequence for the 1969 Woodstock festival that has been in the process of restoration since 2017.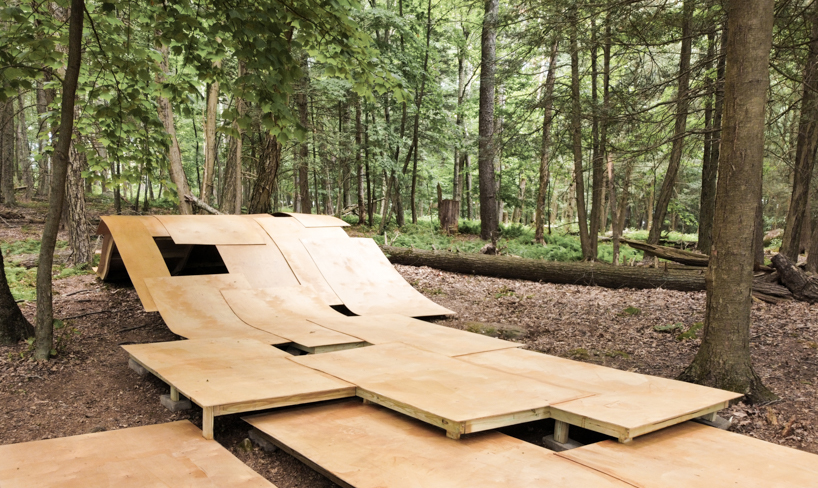 candid view of small archway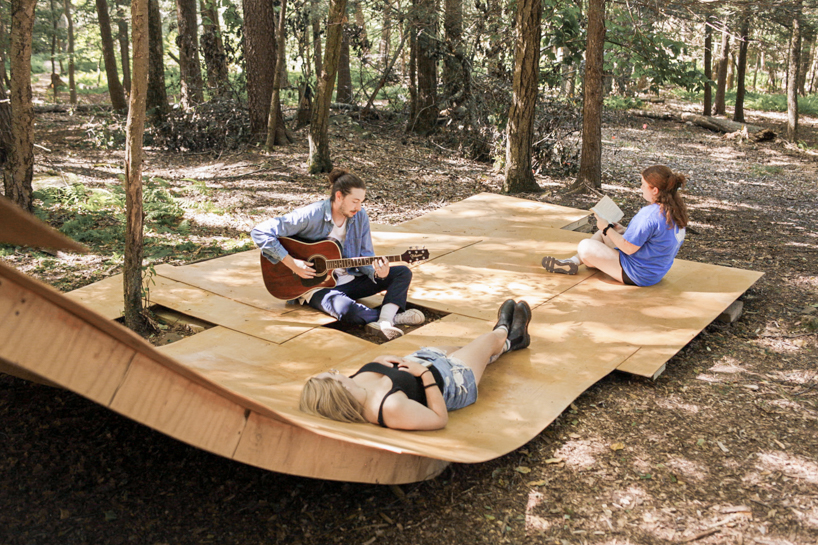 musician serenading passersby