Concrete bike by Play to DIY
The team from Youtube channel Play to DIY experimented with concrete and what it could do, only to construct a fully functional concrete bike design that weighs 134.5 kilos. It rolls, it pedals, and it suits daily park biking, as long as there are no rough bumps along that way. From the looks of it, the build is steady as the team incorporated recycled parts from old bikes which include the steel frame and screws. For the other parts, they used pipes and plywood to complete the assembly. Since the team needed to wait for the concrete to dry, it took them two months to complete the concrete bike. The wheels and bike's chain roll smoothly as seen in the view, but riders may need to pay extra attention not to bike on roads or streets that might help the concrete bike crumble.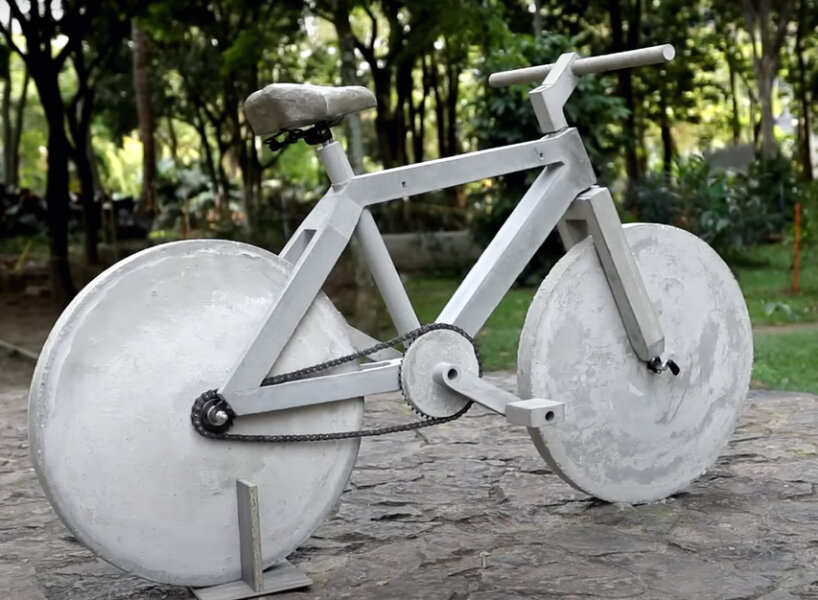 screenshot images from Play to DIY, video title: 'Epic Cycling | 134.5 kg Concrete Bike'
Made from old bicycle parts, pipes, and epoxy glue
The Play to DIY team started the assembly by constructing the axis of the chainset and drafting the frame of the concrete bike. They pasted slabs of wood on the blueprint board of the bike's frame and attached a PVC pipe at the bottom part. Corrugated bars welded with epoxy glue make up the inside of the frame, which the team inserted into the wooden enclosure. Once everything was screwed and placed, they poured the concrete and waited for it to dry. For the chainring, they filled up a circular mold with concrete and allowed it to take the shape of the ring along with its spike ends. The crankarms followed the same method, and the team connected both that would help the concrete bike fully function.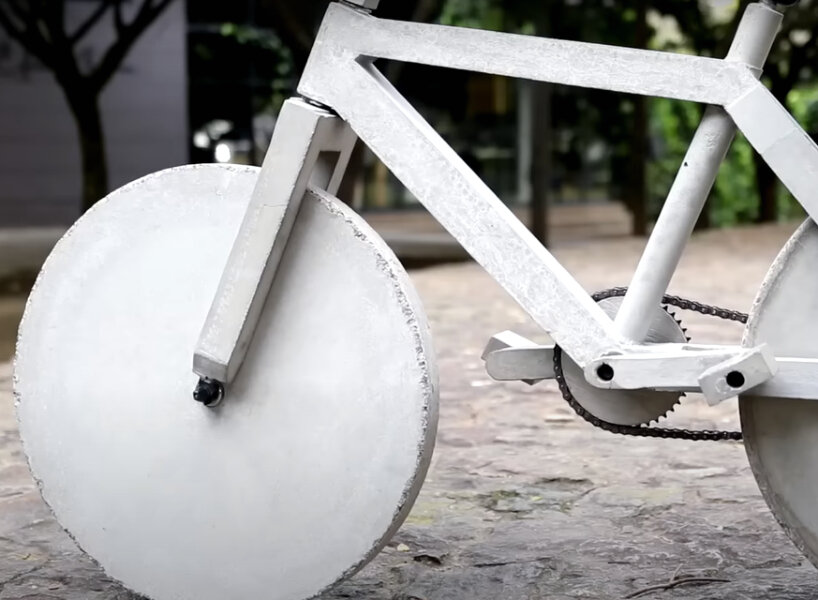 the concrete bike by 'play to DIY' weighs 134.5 kilos
Complete with concrete goggles and a helmet
The pedals and the saddle of the concrete bike were also created out of molds and recycled parts of an old bike. To add to the fun of having a concrete bike, the team even completed the set with a concrete helmet and a pair of goggles for protection. While it looks functional, it seems that the bike does not have brakes. Riders will have to halt their tracks with their feet or by simply idling. This action, however, is not ideal if the path is downhill. The Play to DIY team writes that their uploaded video was made exclusively for artistic, experimental, and entertainment purposes, and that the content shown was made by experienced people who took all necessary precautions. 'Its construction process is extremely entertaining, and we experimented a lot to show you this result,' they write.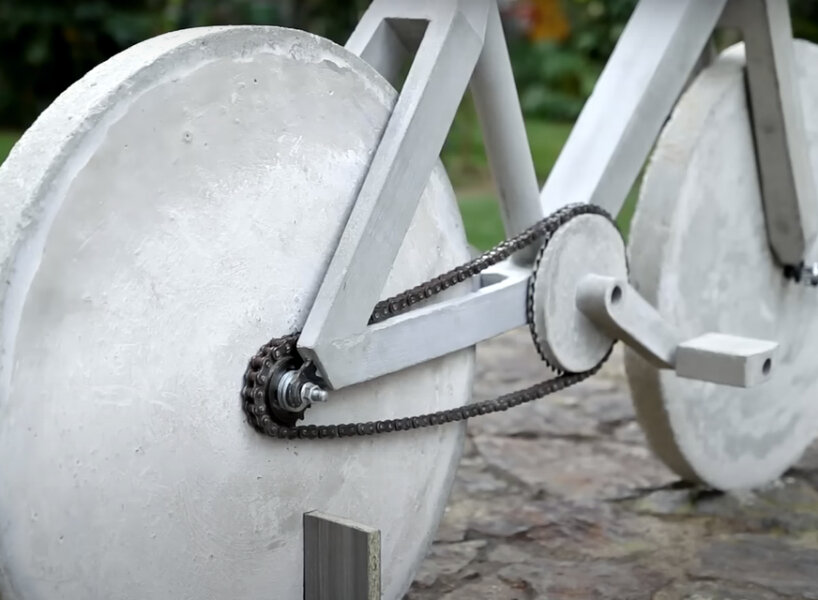 the concrete bike was also made with corrugated bars, PVC pipes, slabs of wood, and epoxy glue