leon keer enlivens downtown las vegas with 3d mural
With his latest 3D street mural 'Crypto Casino', anamorphic mural artist Leon Keer enlivens the corner of a parking lot in Downtown Las Vegas with a giant painted slot machine. The vibrant and witty artwork with a pop surrealism aesthetic questions the rapid emergence of cryptocurrency, and the risks it can pose through uninformed decision-making. Likening mainstream crypto trading to the traditional practice of casino gambling that is so widely prevalent in Las Vegas, Keer explains: 'you can go all in, but without the recognized risk, cryptos can become an addictive gambling product'.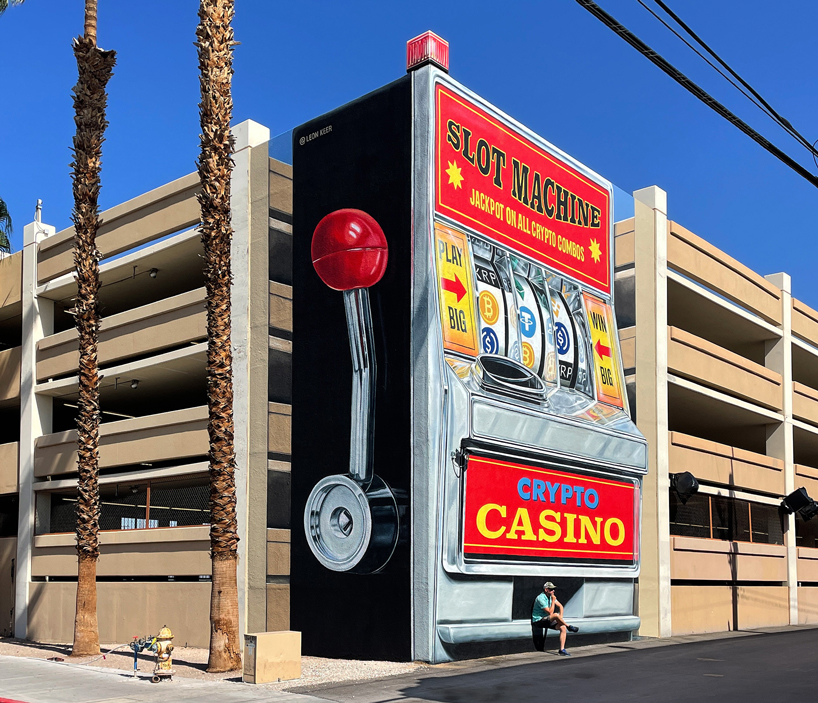 'the biggest slot machine in Vegas' | all images courtesy of Leon Keer
the retro crypto slot machine questions gambling addiction
In a humorous representation, artist Leon Keer renders 'the biggest slot machine in Vegas' through the lens of a bold, retro aesthetic. The vibrant, saturated colours characteristic of the pop surrealist movement and vintage typography on the conventional casino gambling machine juxtapose the current 21st-century digital cryptocurrency wave. In place of fruit symbols, the rotating reels of 'Crypto Casino' depict crypto coins, including Bitcoin, KRP and Tether. The anamorphic mural presents an intriguing 3D illusion, inviting spectators to engage with it from various perspectives and ponder the artwork's message.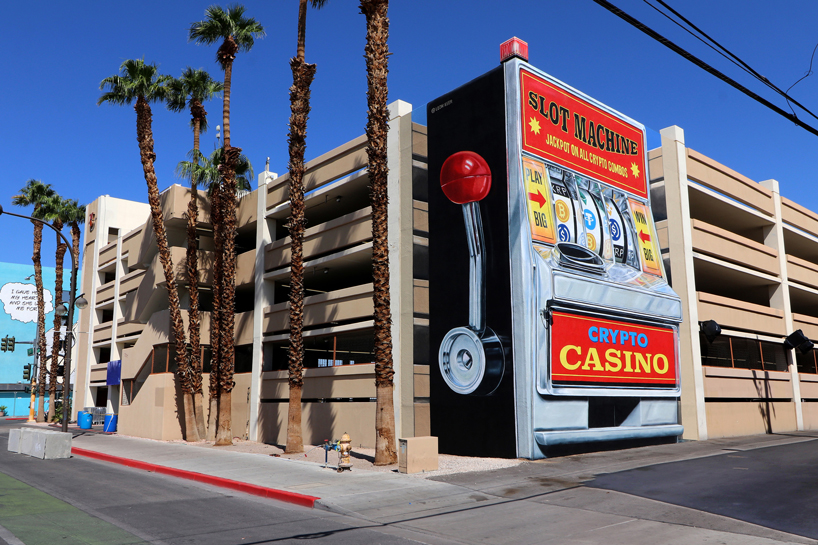 Leon Keer's 3D street mural 'Crypto Casino' enlivens Downtown Las Vegas
rendering everyday objects through a pop surrealism lens
Leon Keer specializes in creating anamorphic 3D street art, employing illusionary perspectives to question pressing issues such as environmental concerns, social inequality, and the liveability of this world. Typically inspired by the pop surrealism movement, his artworks reveal a fascination for old materials and a 'timeless longing for unspoiled beauty'. The artist has previously taken cues from mundane, including teacups, vases and cameras, for his surreal 3D murals. His project 'Shattering' depicts four delicate china cups appearing to be tumbling out from the side of a building in Sweden. With the added element of augmented reality, the artwork enables viewer interaction as they scan the painting with their smartphones and see it come to life virtually.  
Painted by Leon Keer with the support of Netherlands-based artist Massina, 'Crypto Casino' has been curated by multi-disciplinary design collaborative Justkids for Las Vegas' Life is Beautiful festival.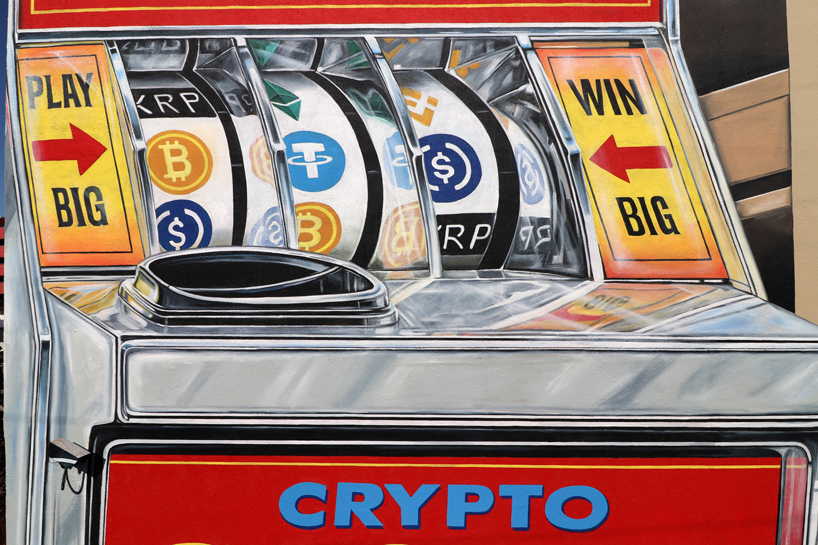 in place of fruit symbols, the rotating reels of the slot machine depict crypto coins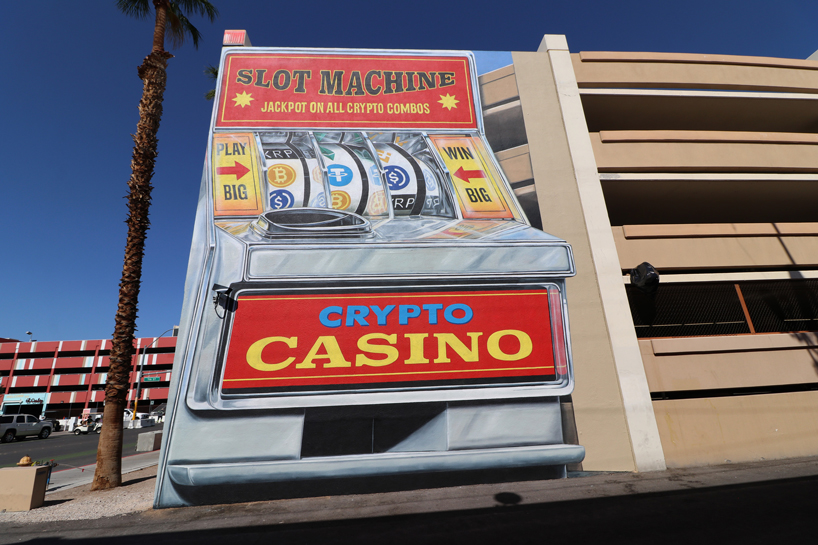 the anamorphic mural presents an intriguing 3D illusion