matali crasset and odabashian for 'watershed' rug
French designer Matali Crasset and luxury carpets and rugs manufacturer Odabashian collaborated to bring forth Watershed, an interpretation of the increasing global water, climate, and recycling crisis through a home ornament. Matali wanted to play around with creating landscapes before diving into commissioned work by CGN Gallery and ended up using the theme for the project. Water became the overarching context of the rug as Matali believes human beings come from water and wants to bring its metaphor and form into one's home.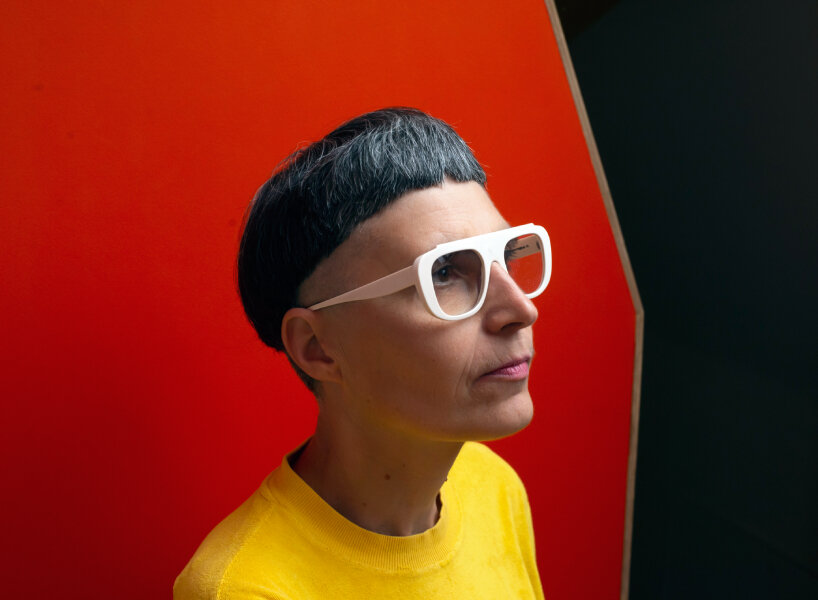 images courtesy of Deduce Design via Odabashian | image: portrait of Matali Crasset by Julien Jouanjus
Going with the flow
Matali explores how watersheds work and toys with the flow of water, the phrase 'go with the flow' resonating well with the designer. At the moment, her interest lies in working with territories, and for the designer, watersheds not only refer to the river itself but to all the arborescence around it. She weaves the idea of steady flow in the waterscapes with Odabashian's decades-old history and finds rivers and their tributaries – of how water flows and divides before coming back together – overlap with the flow of ideas and traditional trade routes the carpet and rug company embodies. A collective vision rises out from Watershed rug, ready to adorn the floorboards of a home.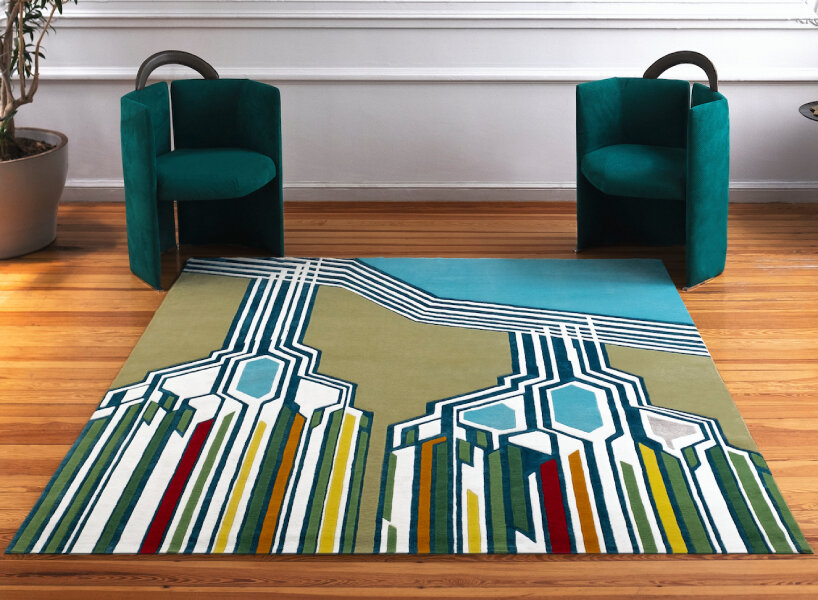 Matali Crasset + Odabashian created 'Watershed' rug to interpret global water crisis
'Watershed' rug reflects the flow of life
Colors arrive at the base of the geometric drawing, bubbling up from their well and onto the pool of sky-blue water at the far end of the rug. Matali's aim to express flow is conveyed as she shows how water is becoming, if not already, increasingly essential in our everyday. 'It has of course always been important but is becoming more and more essential every day. That's why the patterns start with something quite simple and then begin to bifurcate and ramify,' she says. The designer looks back to her collaboration with Odabashian which she feels contributed to making their rug piece alive. Throughout the process, she says she felt liberated as she chipped in her suggestions to match the specifics the company was looking for.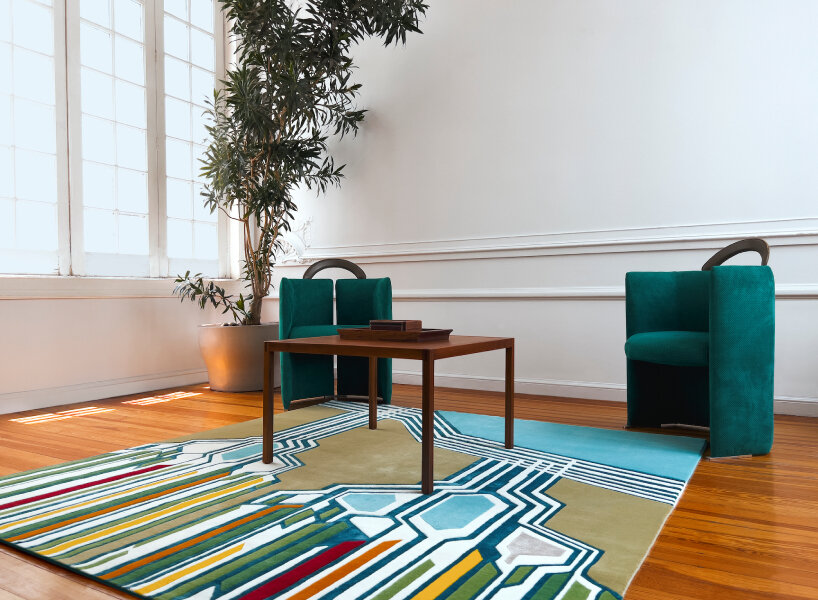 Watershed rug in a iving room
Specific and universal creations
Matali reveres creating creations that are both specific and universal, and the project paved the way for her to do so while allowing her to experiment with spectrums of colors. 'I believe that life is color and colors are life,' she says. The designer believes people have lost a great deal of sensibility, a factor that results in the damages our nature faces and path that will lead people to lose their grounded relationship with Earth. She reinstates the role of creatives which is to provoke sensitives and help people remember the symbols and essentials of life. 'That is why rug-making is so interesting because you can incorporate all kinds of symbolism and symbolic details,' she says.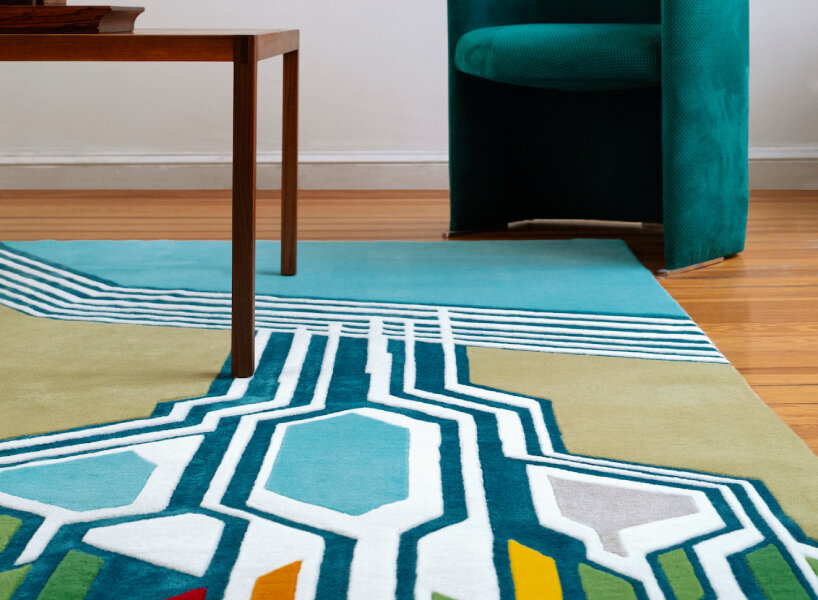 the geometric lines depict the flow of water
Matali Crasset's visit in Mexico
Founded in Mexico City, Odabashian's roots and history conferred Matali Crasset an insider's view into the Mexican design industry. The designer remembers traveling to Mexico in 2007 where she visited a poverty-stricken area that flourished with vibrancy and zest for life. For the designer, it felt strange seeing the obvious starvation in people's eyes yet the kaleidoscope of colors surrounding the neighborhood seemed to have infiltrated the residents' spirits, a contrast that made an impression on Matali.
'I like this image as a reminder that color can bring life to people. I love working with colors and rhythm. I see it as an opportunity to act and not remain passive,' she says. The designer adds that today, everyone has an ecological reason to take action regarding the worsening environmental problems and concerns. It is no longer about representing quiet landscapes or just the mere beauty of them for Matali, but creating objects and art that urge people to change the way they interact with nature, a symbiosis she and Odabashian established with the Watershed rug.