introducing the House of BMW during milan design week 2022
BMW is not just a car manufacturer. The German brand has always focused on culture as much as performance – look at the continuing, collaborative Art Car series or the sponsoring of celebrations like the Concorso d'Eleganza Villa D'Este. The company champions to create the future, but they know this cannot be shaped alone. The House of BMW, opened in December 2021, is a two-story building that acts as an artistic, experimental experience space to imagine the tomorrow. It provides a flexible setting to cater for a creative dialogue between creators, art and technology.
'During Salone del Mobile we opened the House of BMW as a place for learning, inspiring, sharing and connecting. It is a center for cultural exchange, not a product showcase,' begins Domagoj Dukec, Head of BMW Design, in an interview with designboom during Milan Design Week 2022. 'At BMW, we understand that no one can predict the future, but it is our job to design cars for the future. To do so, we need to understand what drives people. We have to think about what is really relevant for people in mobility. The House of BMW is an opportunity to open up our range of reach to connect to those outside of the automotive world: culture, art, fashion and overall creativity.'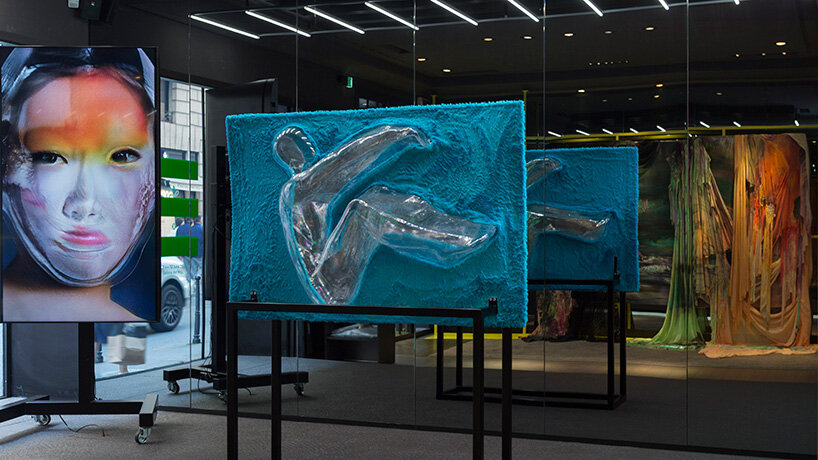 Mike Meiré tells tales of neo collective future at House of BMW during Milan Design Week 2022
All images courtesy of BMW
The House of BMW holds a prominent position in the heart of the Italian city's fashion district. This enables the space, brand and collaborative artists to engage with a rich, inspiring cultural network of leading creatives and visionaries, especially during Milan Design Week 2022. On this occasion, BMW Group Design invited Mike Meiré, German artist, designer and art director, to tell Tales from a Neo Collective Future at the House of BMW. The concept focused on three key themes as BMW navigates the drastic transitions in the world of mobility: connectedness, digitality and circularity. Visitors – artists and enthusiasts – were invited to explore the topics, the possibilities of perception and poetry, and the boundaries of factual and fantastic. This was through a curation of installations, performances, workshops and discussions.
'It is always exciting to work with brands that have a great heritage, but I was also attracted to how BMW is a pioneer. It is a company with a rich cultural DNA,' introduces Mike Meiré to designboom. 'I was approached to think of ideas of how to inhabit the House of BMW and translate three key topics of BMW: connectedness from an emotional level through to companionship, digitality and how this is influencing everything in our world, and circularity as issues on sustainability are paramount. We created a place for exchange, where we can understand the new mindset of the evolving luxury customer and how this affects the mindset of brands such as BMW, internally and externally. I presented a vision of the near future. This not something that happens next week; the future is incremental and everyday it is realized a little bit more.'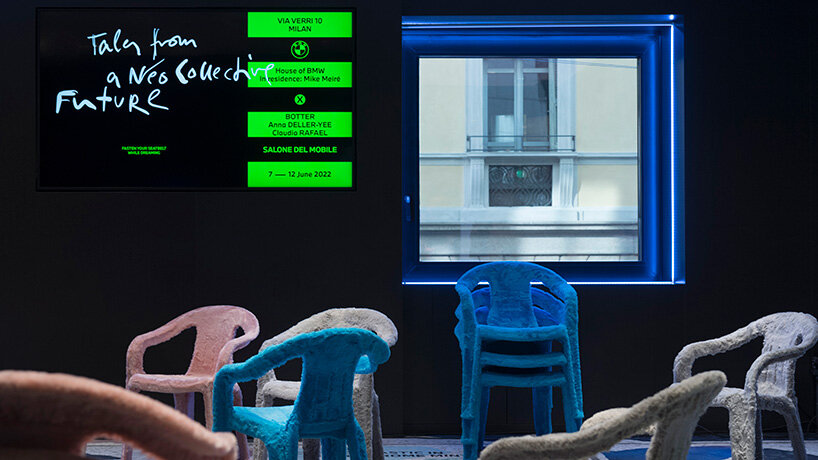 The German designer invited three artists to reinterpret issues of mobility: connectedness, digitality and circularity
'Co-creation is a sign of a healthy culture. At a time when mobility is changing, it is important for BMW to listen to the expectations, ideas and concerns of the new generation. This space enables us to connect with other creatives and consumers,' explains Mike.
Co-creation took form in two mannerisms at the House of BMW. Firstly, during Milan Design Week, the German artist and German automotive manufacturer joined forces to realize a space for other creatives to present their own work. This was essential as it encouraged the exchange of ideas in the mission to create a better tomorrow. The second aspect of co-creation explored the significance of self-determination for luxury consumerism. Customer behavior is changing, a new mindset is evolving, and BMW is understanding the heightening importance of creating products with rich, personal emotion.
'Co-creation sounds very fashionable right now, but this is because consumers have an even stronger sense of self-determination today. Digitalization has given us all more choice, enabled us to configure and to individualize, and to focus on what is most relevant personally. Consumers can become creators themselves so the mindset is that everything we have should be unique. At BMW, we want to bring our customers on this creative journey,' adds the Head of BMW Design.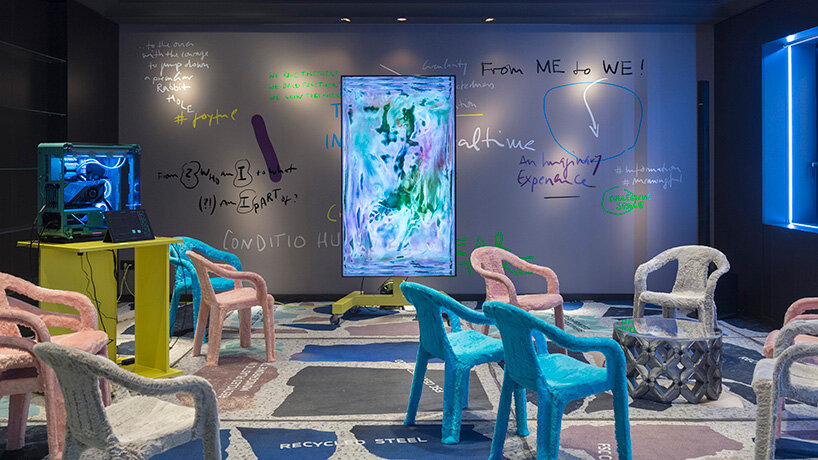 A curation of installations, performances, workshops and discussions encouraged new ideas
The collaborative nature of the House of BMW saw the German curator invite the reinterpretation of mobility through the point of view of up-and-coming artists – the leaders of the future. Each delved into the challenges as well as opportunities of technological development. BOTTER transformed a recycled item found worldwide – the archetypical monobloc chair – and elevated its status as a unique, tailor-made piece wrapped in radical upcycled fur. Claudia Rafael used filters in digital art to question ideals of beauty. The images of House of BMW's visitors were collected, analyzed in a growing dataset, and illustrated as an interactive contradiction of the anonymity yet intimacy of digitalization. Lastly, Anna Deller-Yee's paired traditional crafts of painting and embroidery to create a large-scale tapestry, made up of diverse materials, to reflect the empowerment of human touch.
'We are witnessing a huge transformation, not solely with mobility but also the mindset of consumers. I wanted to embrace a juxtaposition of different disciplines into the House of BMW. Everything in the space is a reflection on the status quo. We are not questioning it entirely, rather we are realizing we cannot continue as we used to. I wanted to do this in a playful way and invite other creatives, as we all need to change to shape the future.' Mike continues to say, 'here, BOTTER reinterprets the values of circularity, Claudia Rafael's digital art explores connectedness, and Anna Deller-Yee's artistic expression of textile demonstrates the beauty of sustainable innovation. The future for creatives is about producing things that enrich our lives; to make more with less. It is paradoxical but true.'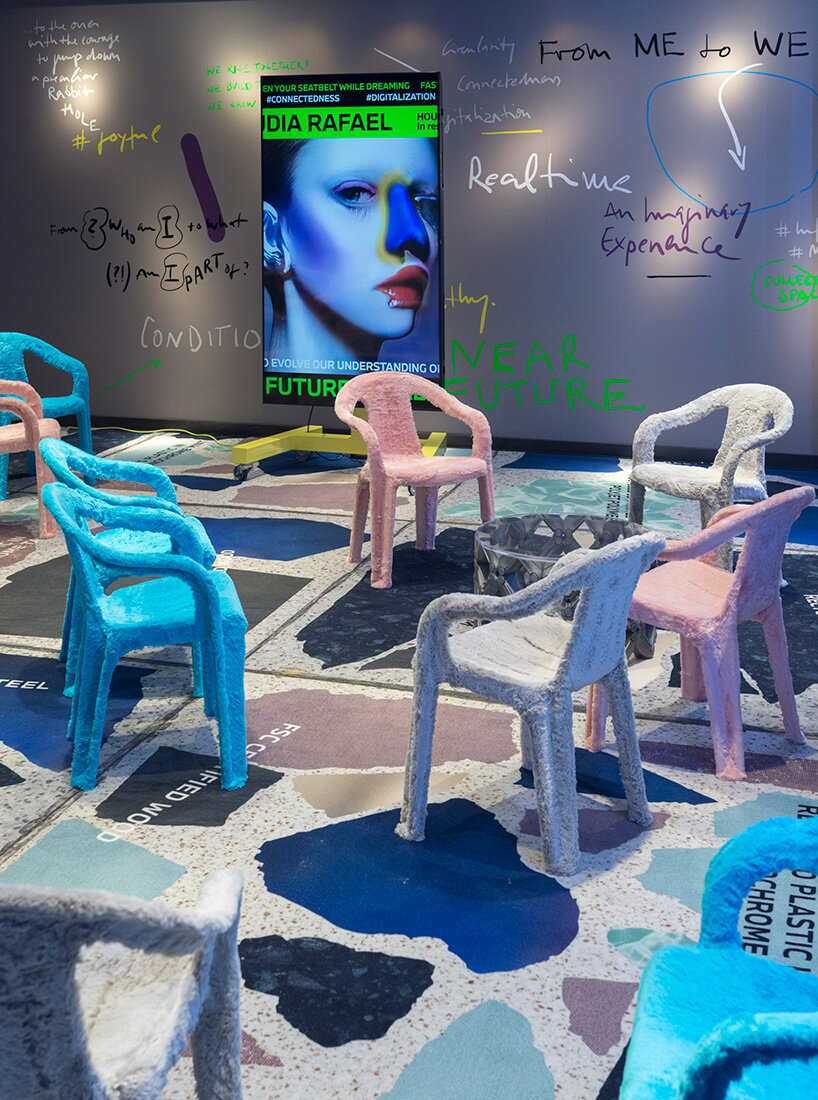 BOTTER reuses the archetypical monobloc chair as a unique, tailor-made piece wrapped in upcycled fur
Although the far future is not definitive, tomorrow can be. It is time for all creators to learn, be inspired and push boundaries. The collaborative artists all address sustainability as a reflection of the mindset of the next generation. Each do so, however, by enriching artwork with deeper, emotional and experiential meaning. They are a demonstration of how more can be made with less. It reflects the principles of rethinking in a similar philosophy to the BMW i Vision Circular – the German brand's concept for rethinking all stages of car manufacturing in a sustainable way.
'Selling cars is our core business, but we want conscious consumption. People will not consume luxury if it is not sustainable. As a strong brand, it is our duty as creators to influence society for the better. Sustainability is not an option, but it is much bigger than electrification. We need to create more with less, reuse, and enrich the emotional experience. This makes our products more meaningful, authentic and pure,' states Domagoj Dukec.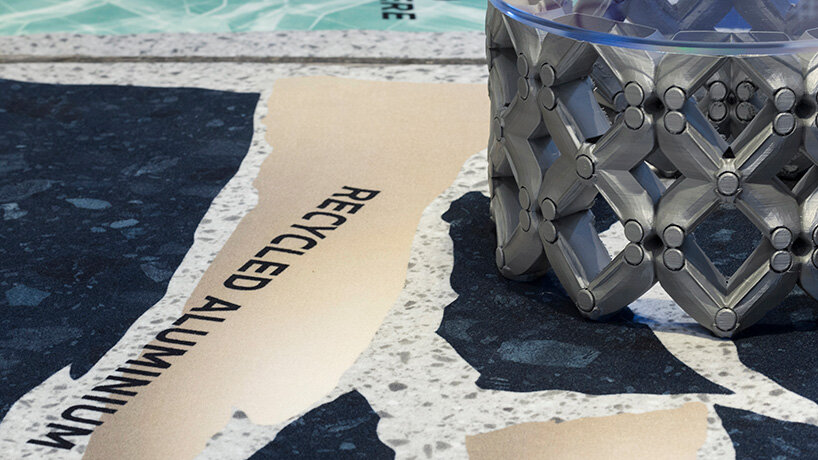 Circularity identifies the need to create more with less, reuse, and enrich emotional experiences of products
Stories – or Tales of a Neo Collective Future – reflect he new way of thinking in BMW Group Design around the themes of connectedness, digitalization and sustainability. And on the way to more meaningful, emotional and experiential products, the mindsets of the next generation of consumers need to be understood – both are lessons being learnt at the House of BMW.
'We are moving from a time where it was design follows function. Nowadays, it is rather design follows experience. The House of BMW is connecting people with the familiarity of the brand but in unknown territories. It is a push of innovation, inspiration and the unexpected, too,' concludes Mike Meiré.