'house in minoh' by Motooka Ito Architects 
Located in a quiet residential area in Osaka, Japan, 'House in Minoh' by Motooka Ito Architects is designed to respond to its surroundings, incorporating the context while expanding and shrinking throughout. Although a relatively calm neighborhood, the residence sits close to a bypass road on the east side, where traffic can get quite heavy. For that, the architects decided to secure an appropriate distance from the noisy congestion. Complementing that offset is a line of hedges that grew thick over the years, acting as an extra buffer from the bypass road. Additionally, a garden and parking lot open up a view towards a pond on the west side, adding visual richness to the site.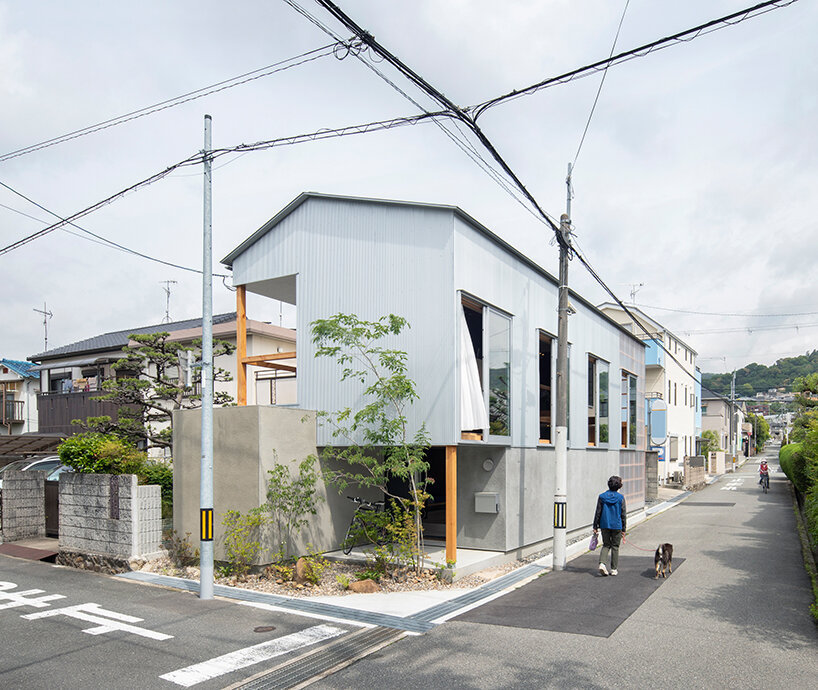 all images © Yosuke Ohtake, courtesy of Motooka Ito Architects 
balancing scales, openness, and visual richness 
Balancing the owners' requests and site restrictions, the team at Motooka Ito Architects shaped the house with four large openings towards the east so as to incorporate the surrounding environment as a 'borrowed scenery.' The windows, meanwhile, which are high and narrow, make the building feel smaller compared to its surroundings to instill a calm, human-scaled, and bright environment inside.
In contrast to the fully bright exterior, the indoors feature a balanced mix of dark and lighter tones to maintain that scalability. From furniture sets to shelving and flooring, the house offers new spatial varieties while ensuring a uniform flow from room to room.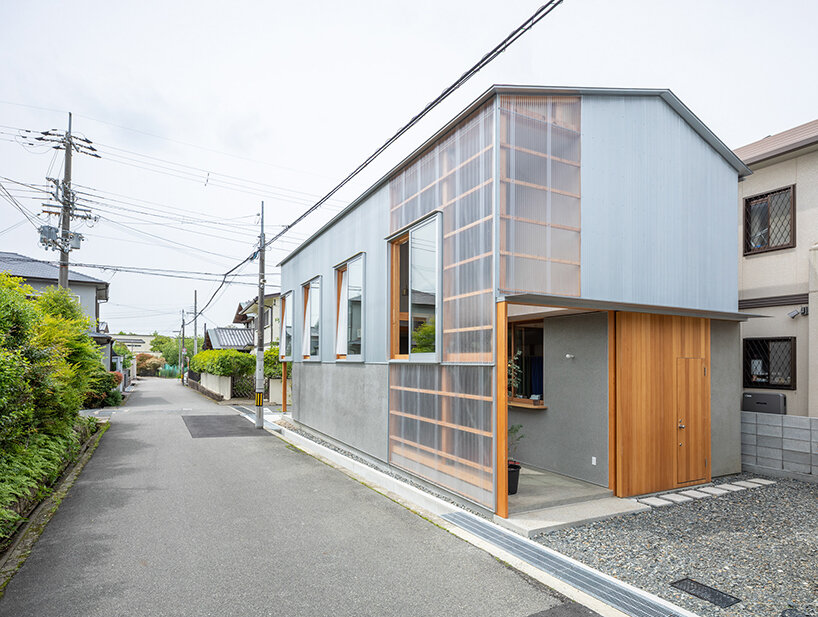 Motooka Ito Architects distanced the house from a noisy bypass road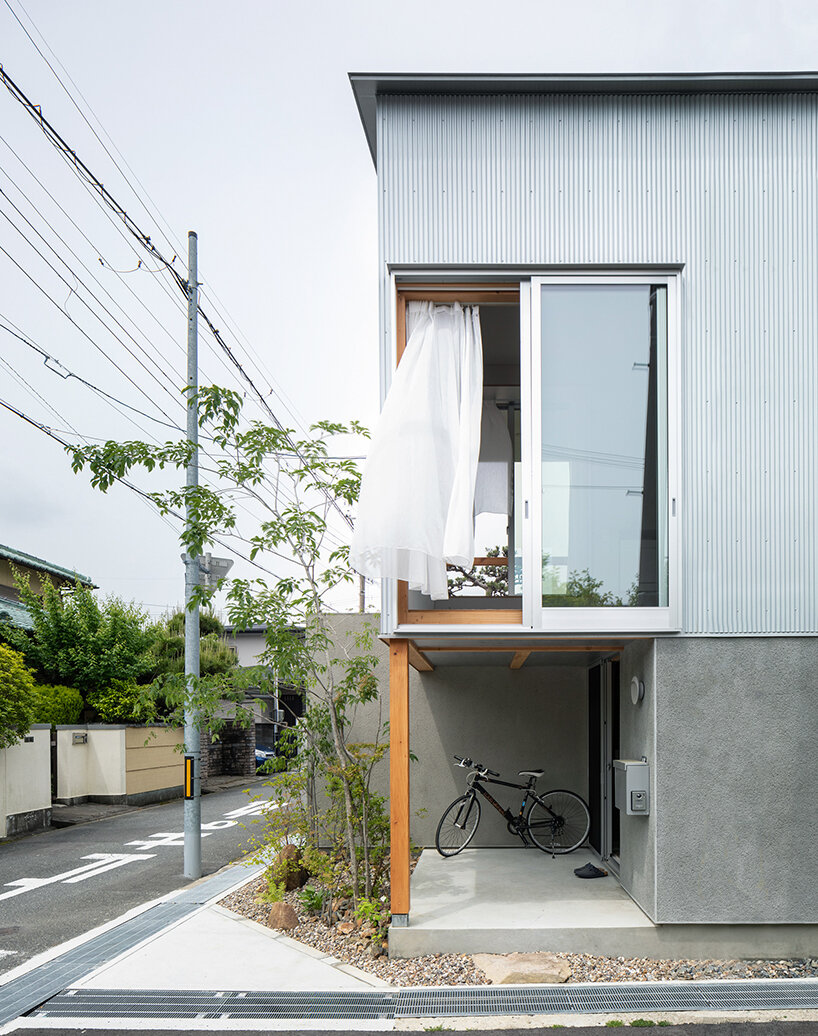 the striking mix of materials reflects the surroundings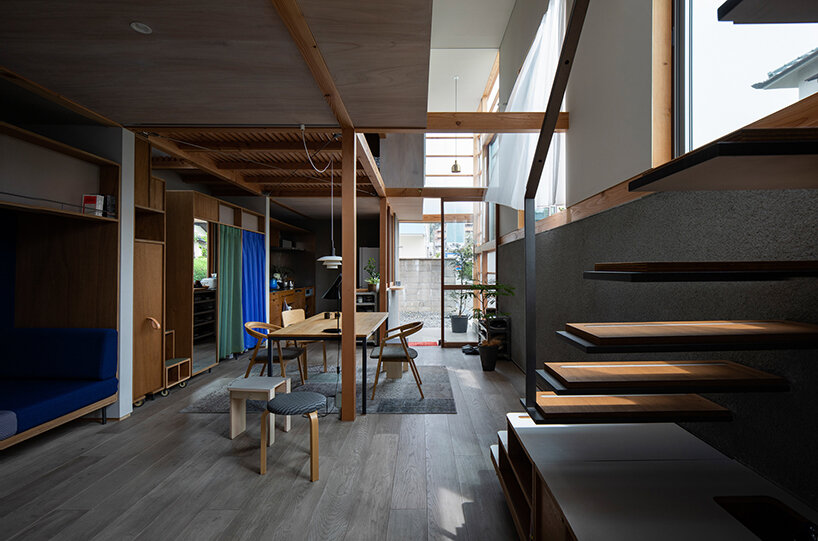 a more toned-down design pervades the interiors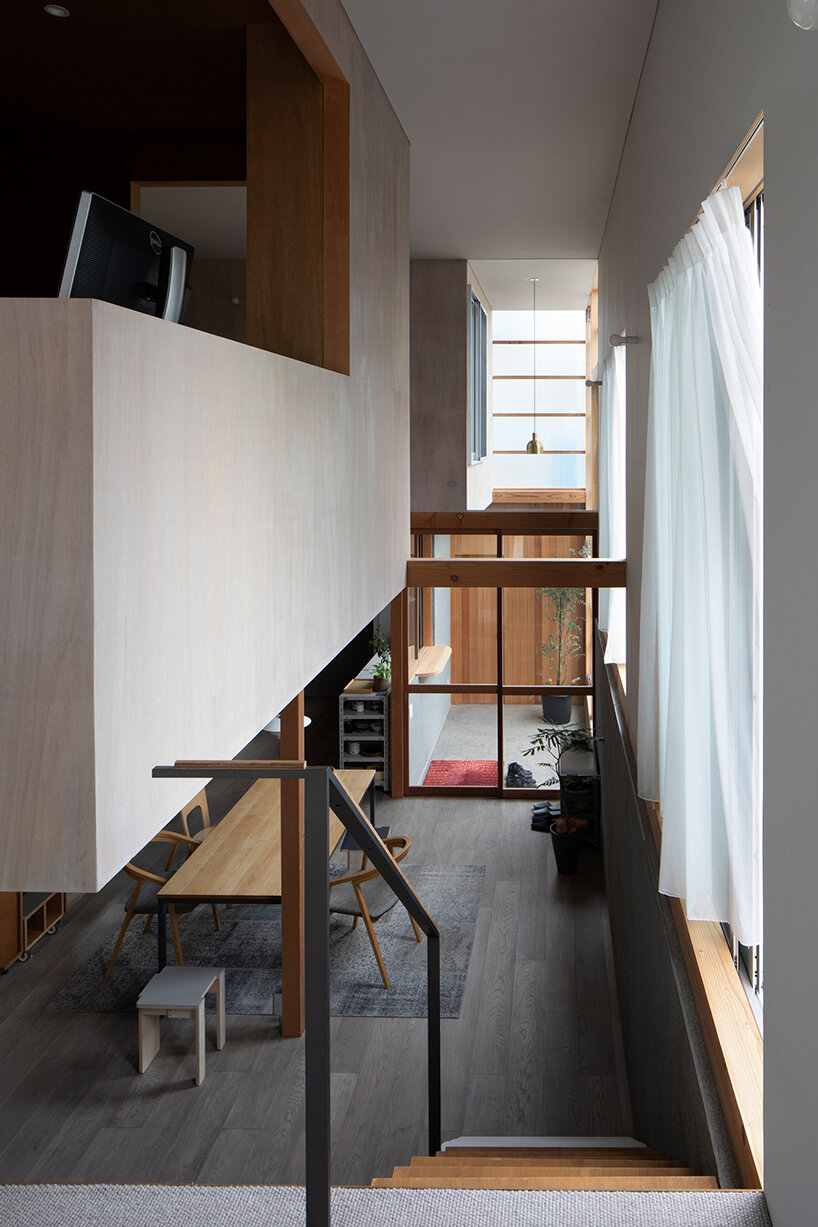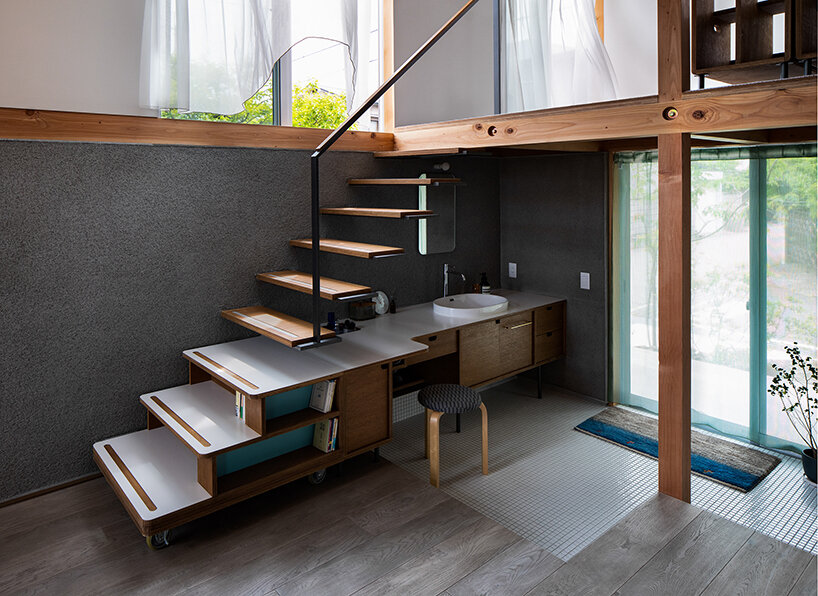 generous openings to instill brightness and a sense of calm within the house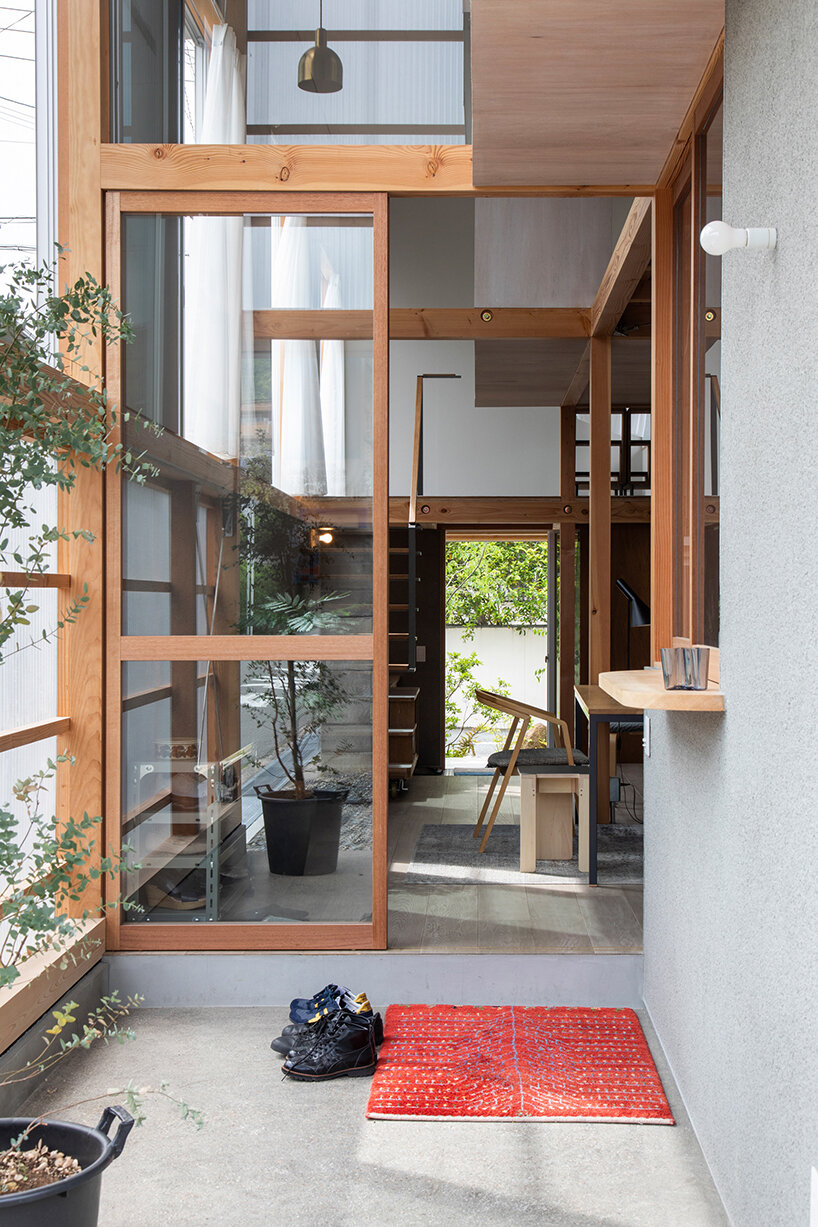 entrance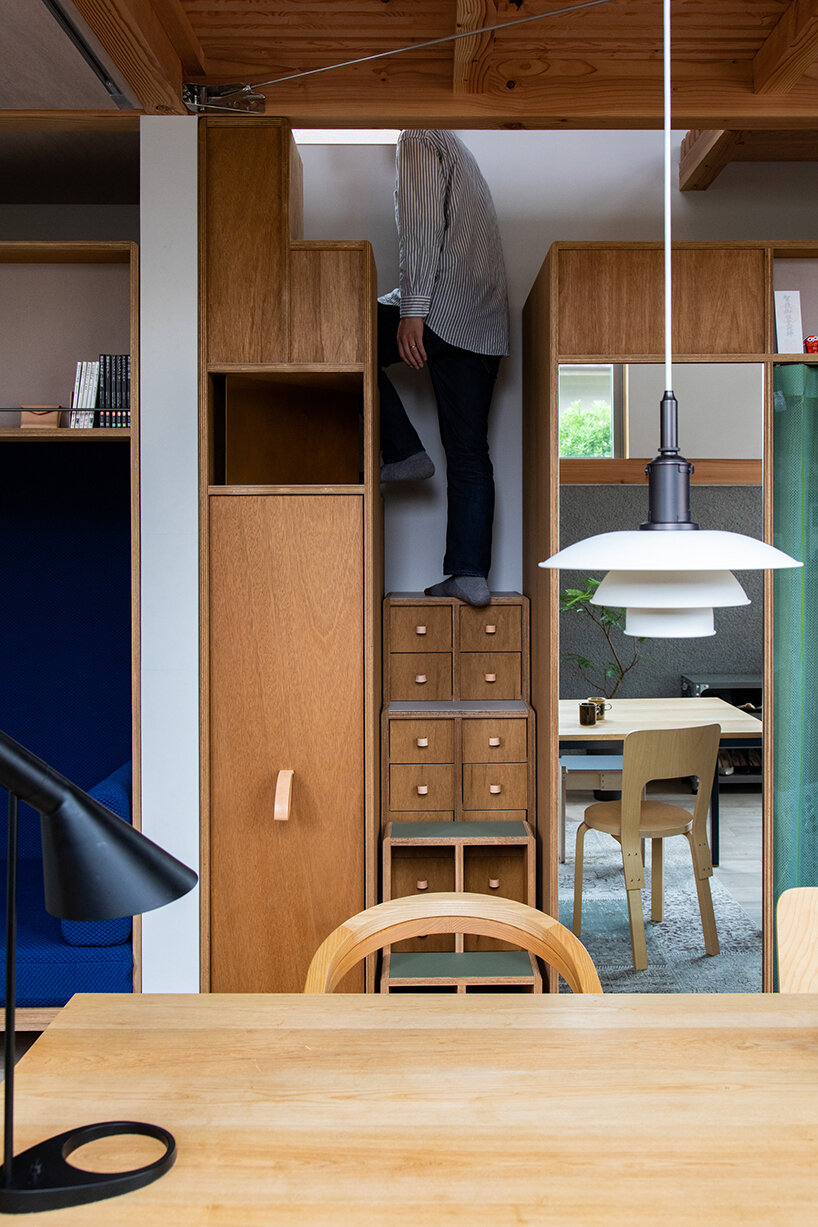 1/2
project info:
name: House in Minoh
location: Minoh City, Osaka Prefecture, Japan
built area: 99.62 sqm 
architecture: Motooka Ito Architects 
photography: Yosuke Ohtake