the roofs: two residential towers by mvrdv
MVRDV celebrates the completion of its Grotius Towers, introducing 655 new apartments to center of The Hague. Officially known as The Roofs, the towers rise 120 and 100 meters (393, 328 feet) and are at once recognized by their 'crowns' of stepping terraces. Of the total number of apartments between the two buildings, 114 units are slated for social rent while 295 are targeted for the mid-market rental sector.
The design team allows the towers to asymmetrically 'crumble' toward their tops, creating a new stacking landscape. Seeming to subtly shapeshift from each perspective, the completed project creates an eye-catching addition to the city's skyline. See designboom's previous coverage here.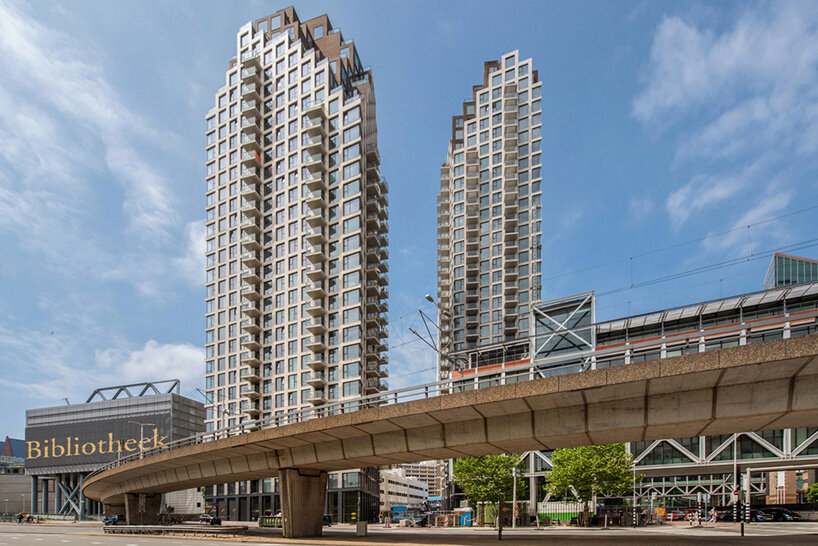 image © Emmely van Mierlo | @emmelyvanmierlo_photographer
the stone grotius towers crowned in bamboo
The architects at MVRDV site their Grotius Towers in the Dutch city's Central Business District. With the complex city grid, the team notes that 'every square meter has to be used intelligently.' The two footprints are thus cleverly shaped to preserve the through-streets, while at once creating new public plazas. From the level of the street, the towers are expressed with an 'anthracite grey' finish which gradually transitions to beige above, until the 'crumbling' terraces interrupt the subtle hue with their bold bamboo composite cladding.
MVRDV founding partner Winy Maas comments: 'With this design, we have created a new space within this already busy area. Although the towers appear narrow, they contain a large floor area and a mix of homes. The 'village' at the top literally crowns the design.
'In addition to the view, this stack of terraces also allows easy encounters between residents. The design makes your neighbours more approachable; tenants will soon feel as if they live on the ground floor, casually inviting each other for a glass of wine or dinner.'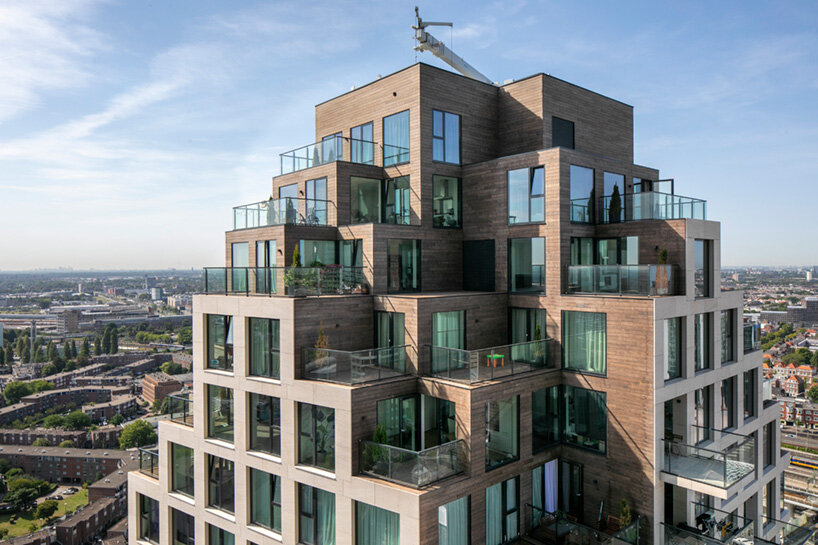 image © Daria Scagliola | @dariascagliola
a sustainable design for a developing neighborhood
MVRDV prioritizes an environmentally sustainable design with the development of its Grotius Towers. Such features include natural material palette of stone and composite bamboo, gas-free homes, and around 1,500 bicycle parking spaces — in addition to 244 for cars. The team notes further that the building performs with good insulation and heat recovery systems.
The team, including developer Provast, describes the project's relationship with the neighborhood going forward, with future plans for the developing area: 'The two towers are not the end of the story for this neighbourhood: they form the starting point for the makeover of the area east of The Hague's Central Station.
'This will involve partially covering the Utrechtsebaan highway and extending the pedestrian route in the direction of the Bezuidenhout neighbourhood. The Grotius Towers give the public space here a new dimension, serving as the start of further densification and greening in this part of The Hague.'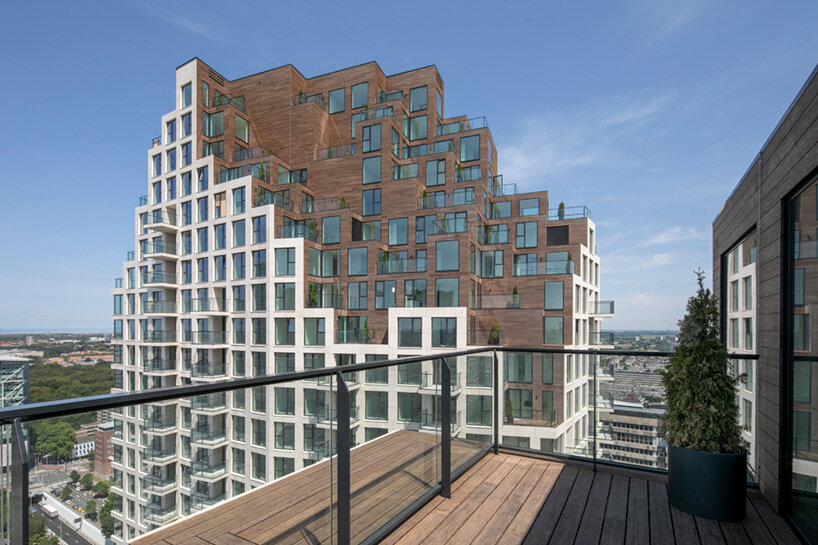 image © Daria Scagliola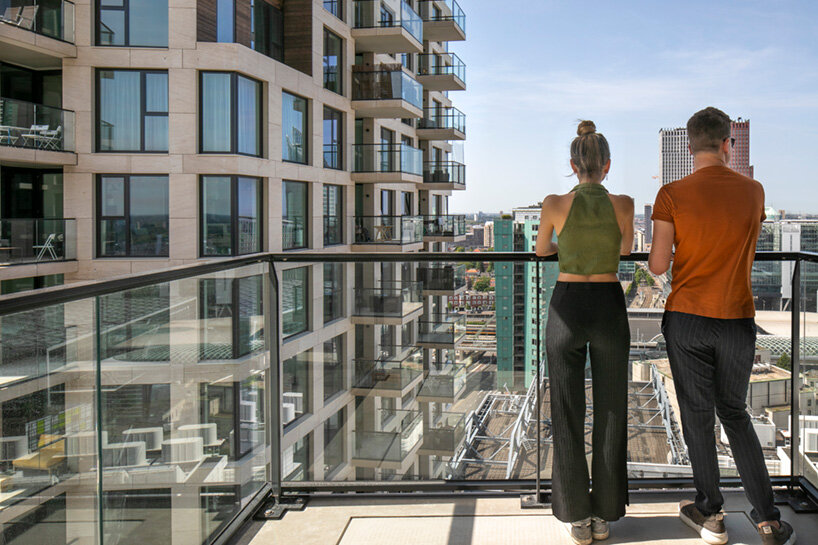 image © Daria Scagliola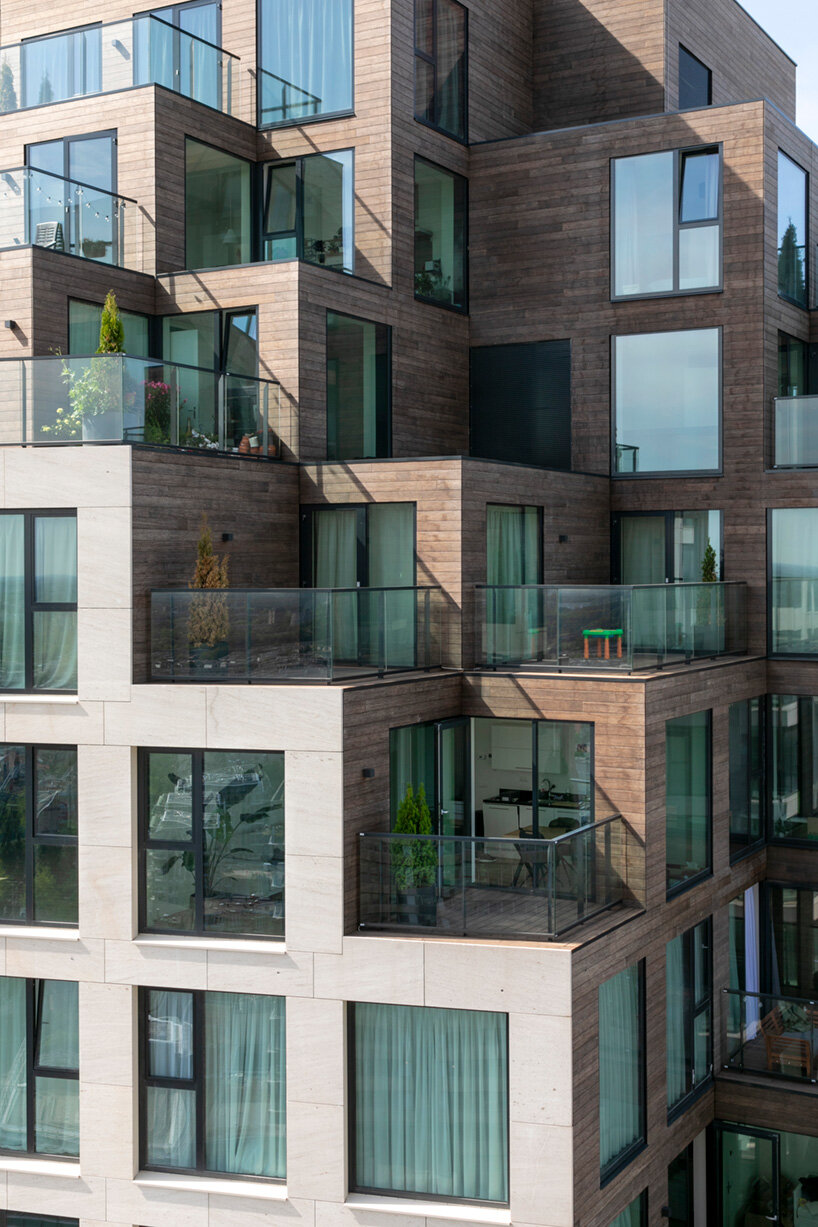 image © Daria Scagliola