one of FRANK LLOYD Wright's largest Usonian designs
In its 70-year history, Frank Lloyd Wright's Keland House, also known as Boyd Home, has been owned by only one family. Designed in 1954 in Mount Pleasant, Wisconsin, US, the house is currently offered for sale through RE/MAX Newport Elite. The rare property is described as one of Wright's largest Usonian designs, a term stamped by the American architect to define his architectural vision of the United States.
Occupying almost 5,000 sq ft (463 sqm), the U-shaped house unfolds around an inner atrium that let its lush surroundings spill over the interior. The structure features six bedrooms and six and a half bathrooms, implemented with unique design features that stand out in Wright's creations. These include a copper-pitched roof, skylights, wide openings, built-in furniture, and wooden cladding that exudes a delicate yet warm and welcoming atmosphere.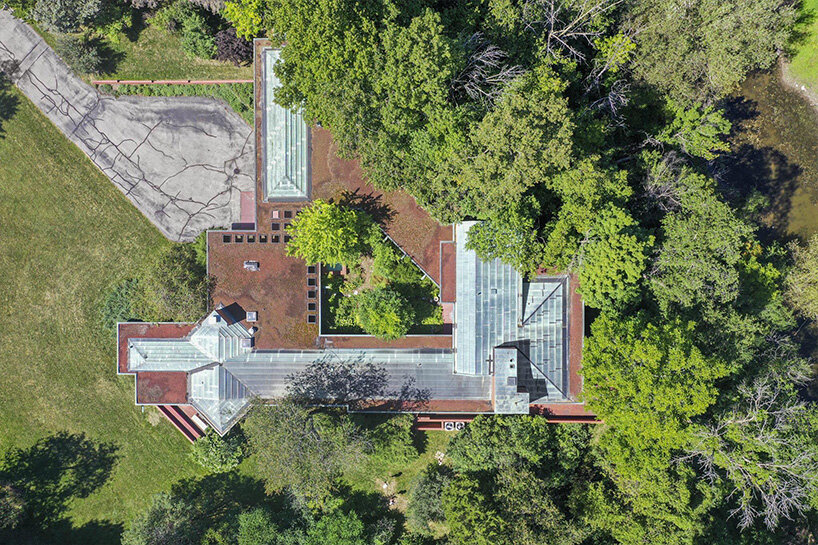 all images courtesy of RE/MAX Newport Elite
KELAND HOUSE hits the market for the first time
It's the first time that the Keland House will change hands since its completion nearly seven decades ago. Perched on a bluff of a ravine that overlooks the Root River, Colonial Park, and Racine CC, the rare property is designed in Wright's signature Usonian style, witnessed both in interior and exterior characteristics. The house is spread across multiple wings and accommodates an inner atrium that floods the interior with daylight and pops of greens. The brick-clad exterior, in combination with the copper roof, anticipates the architect's renowned designs.
Thanks to its location and arrangement, the house immerses in its lush surroundings and makes the most of the views. The dramatic Great Room is cantilevered above the ravine, highlighting the continuity between in and out. The dining room flows smoothly into the living room, while the guestroom takes shape on the second floor of the main wing, adjacent to a sitting room with a balcony that overlooks the Great room and ravine below.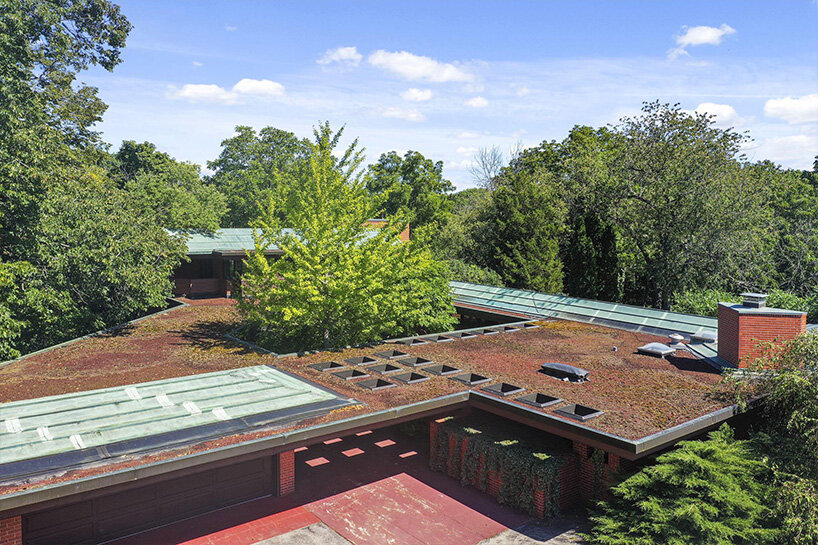 the primary exterior construction material is brick
The home was designed for the daughter of Herbert Fisk Johnson, Karen, and her first husband Willard Keland. After their divorce, the property was transferred to Karen Johnson, and later to her great-granddaughter, Karen Johnson Boyd, who lived there until the end of her life in 2016. Today, the house is on sale through RE/MAX Newport Elite for $725,000. Although the structure has been well maintained over the years, a number of restorations are required, including some parts of the distinctive roof.