pendler e-bike: a new vision for urban commuting 
London design studio LAYER presents Pendler, a compact yet powerful e-bike that enhances the everyday urban commuting experience. A nod to the notable tradition of cycling in Denmark, Pendler's name derives from the Danish word for 'commuting'. The new electric bike pairs high-performance technology with a finely crafted aesthetic to create a new vision for urban commuting that aligns the user's performance needs for efficient travel, and their lifestyle aspirations. The natural material palette and crafted aesthetic belies the performance-driven design, aligning two often disparate elements of the cycle design.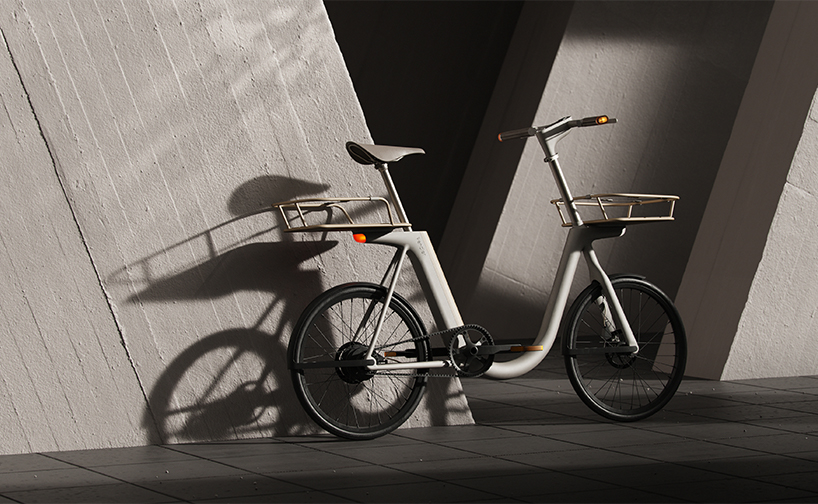 the symmetrical step-through U-shaped challenges the conventional performance-driven language of e-bikes
all images courtesy of LAYER
layer finely crafts an efficient travel experience
'We believe easy, everyday travel should be for everybody – and our aim with Pendler was to envisage a safer, more convenient and effortless mode of personal transport to enable independence for commuting in the city', notes Benjamin Hubert, founder of LAYER. The design studio devises an intelligently designed e-bike that is inclusive, easy to store in compact urban spaces, and which balances high performance with a desirable, crafted aesthetic.
Pendler comes with several modular, detachable accessories that enable users to carry shopping and luggage, as well as a phone dock that offers safe and easy access to devices while riding. LAYER incorporates a compact wheelbase and relatively small 20-inch wheels which allow for easy storage and travel on public transport, reducing the complexities involved in urban commuting. In keeping with this approach, the e-bike's folding pedals and 90-degree turning handles facilitate storage in compact urban spaces including apartments and share-houses where space is at a premium.

Pendler is a compact yet powerful e-bike that makes urban commuting easier and more appealing
a compact, inclusive and high performance e-bike
The Pendler e-bike's U-shaped frame is constructed from standard circular steel tubing with die-cast aluminium mounts for the baskets, which have an organic, fluid expression. LAYER uilizes a compact, concealed 45Nm rear hub motor, which maintains the frame's sinuous and uninterrupted form. Unlike traditional bikes, Pendler does not feature a top tube, resulting in a symmetrical U-shaped frame that allows riders to 'step through' the frame. This not only creates a signature appearance for the bike and challenges the conventional performance-driven language of e-bikes, but also makes Pendler inclusive for a wide demographic of users with varying ranges of mobility. 
The urban e-bike's speed is controlled via the handlebars, and the top speed is 25km per hour in keeping with the UK/EU speed guidelines. The compact 45Nm motor is powered by a removable 250Wh battery, which can be easily removed and charged via any outlet. A single charge can achieve 70km distance, making Pendler ideal for weekly commutes. 

the compact wheelbase and 20-inch wheels allow for easy storage and travel on public transport