peter newman's skystation installed in london
British artist Peter Newman has recently installed an interactive sculpture named Skystation in London's bustling Canary Wharf. Inspired by Le Corbusier's modernist LC4 chaise-lounge seat, Skystation is a futuristic aluminium-bronze cast interpretation, featuring a circular form that allows the sculpture to double as a bench that can seat up to 12 people at a time. As an object to be both observed and used, its contours, modelled after the human body, encourage people to stop, recline and gaze up at the sky in a moment of reflection. The sculpture encourages conversation, contemplation of the sky above, and enjoyment of the architecture of Canary Wharf that frames it.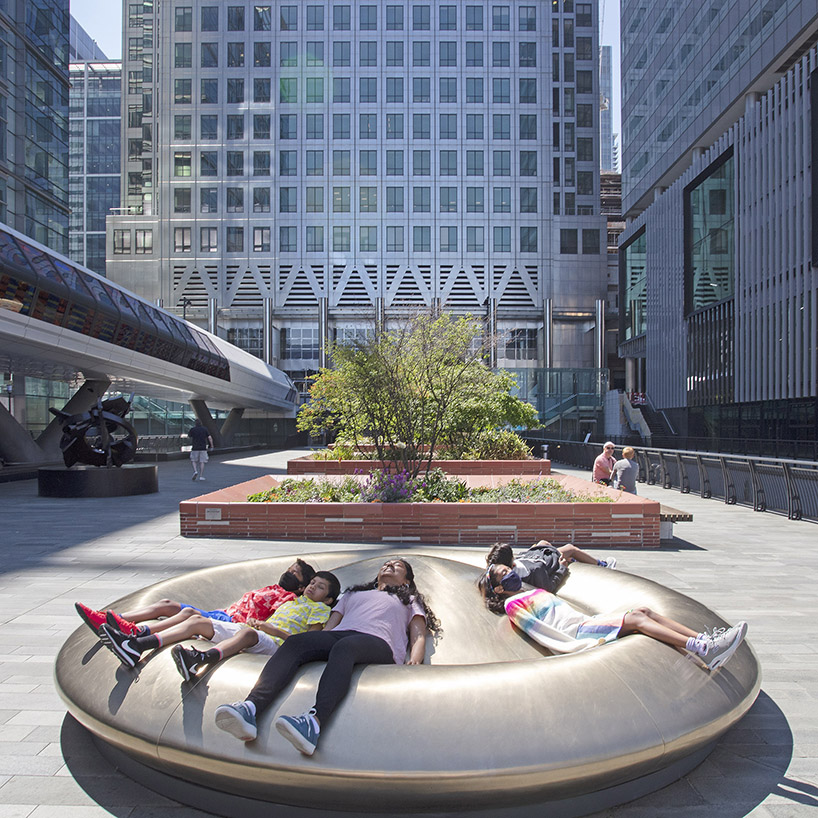 the Skystation can seat 12 people
all images courtesy of Paul Newman
form follows function in this interactive sculpture
Designed to be as simple as possible, Peter Newman's sculpture is inspired by the modernist concept: form follows function. The form draws on the iconic LC4 chaise-lounge designed by Le Corbusier, Charlotte Pierriand and Pierre Jeanneret. Like the renowned 20th-century modernist furniture piece, the contours of the British designer's work are designed to fit the reclining human form. Though Newman sets out to create a more 'collaborative' interpretation of the singular chaise lounge, by spinning the sculpture 360 degrees to foster conversation and shared contemplation. This results in an interactive piece of public furniture that can be used by multiple people at once, taking on a futuristic, spaceship-like form that is further enhanced by the sculpture's materiality.
This is the newest addition to Peter Newman's ongoing Skystation series which sees the installation of the sculptures across various locations in the UK. The new sculpture, commissioned by the Canary Wharf Group, sits at the Adams Plaza, in between Foster + Partners' new Elizabeth Line station and the Cesar Pelli skyscraper landmark, One Canada Square. It is the first of the series to be cast in aluminium bronze – a material typically used for marine propellers, aircraft landing gear and in naval architecture. The golden color of the bronze introduces a warm tone among the cool steel that characterizes the bustling London district that holds the sculpture, and enhances the futuristic look of the sculpture.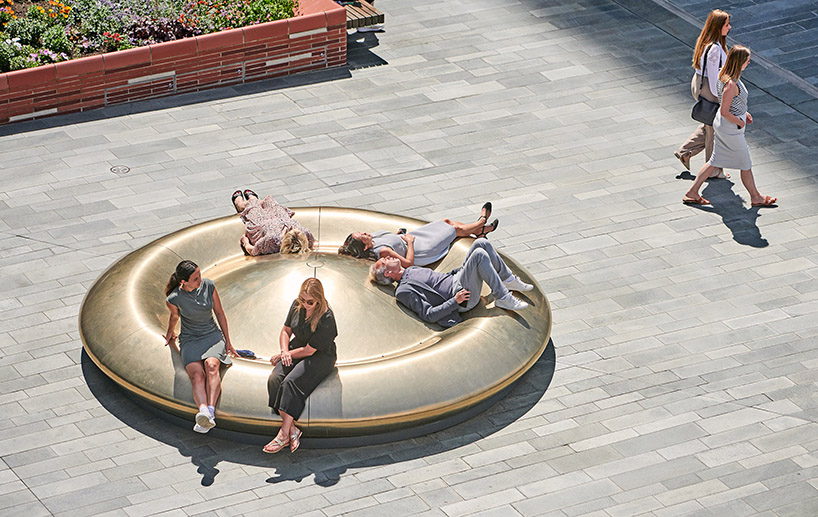 a space for conversation and contemplation | image by David Hares
a cerebral experience encourages contemplation of the sky
Skystation creates an opportunity for pause, reflection and interaction within the public realm. 'The seating it provides is similar to what NASA calls Neutral Body Posture, which is the shape the body returns to when free from the influence of gravity', Newman states. 'Looking upwards is inherently optimistic, and something akin to thinking about the future. Cognitive research suggests we do our best thinking lying down'. An object to be both observed and used, Skystation's shape encourages people to relax and recline, bringing its users' heads close together, and having the incidental effect of making conversation between strangers almost inevitable.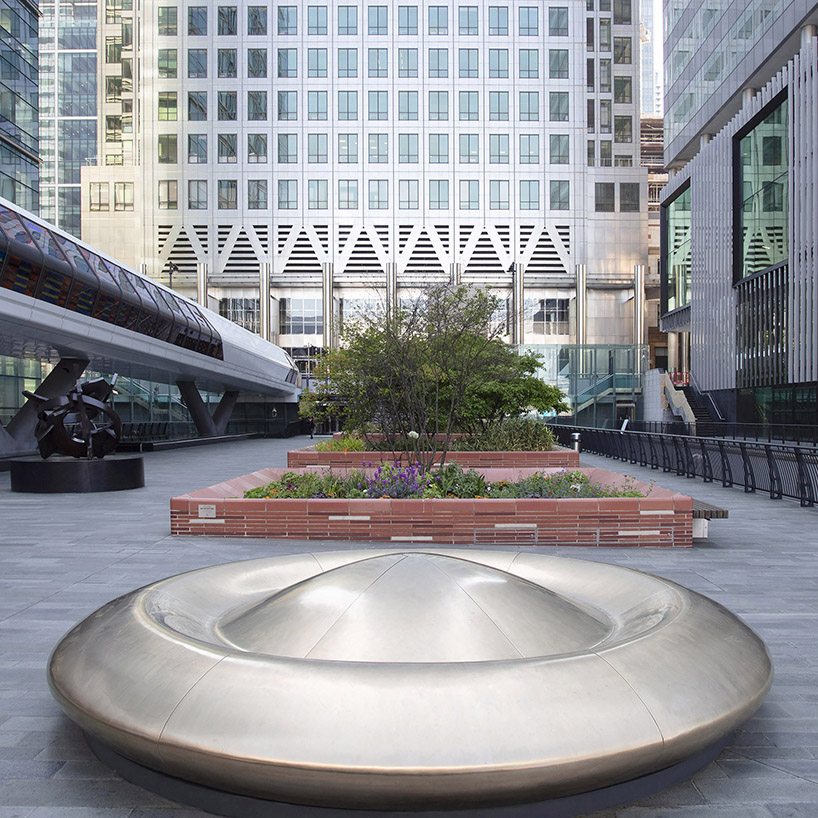 Skystation at Canary Wharf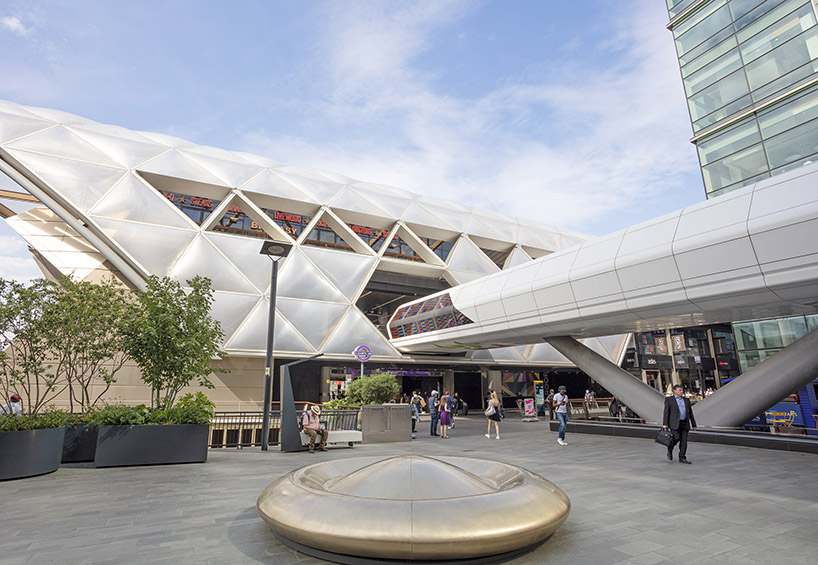 it sits between Foster + Partners' new Elizabeth Line station and the Cesar Pelli landmark, One Canada Square