'pop cloud' chair by yuji tanabe architects 
Back with another delightfully curious invention, Yuji Tanabe Architects presents 'POP CLOUD,' a multi-faceted chair composed of seven rotating parts made from solid Japanese cypress log. To construct the seating volume, Tanabe built two variations of the rotating parts using a wood lathe machine: the first is a club-shaped body that smoothly shifts from a sphere to a rod, and the second takes on the shape of a gourd with spherical ends.
'Because it is made of solid wood, the wood grain appears beautifully like ripples and contour lines. The rotating parts gathered in this way are like clouds that have jumped out of the sea of ​​clouds in the mountains of Maniwa City, Okayama, where they are produced. The aim was to create the form that would be fun to assemble and would incite various postures, not just sitting,' explains the studio.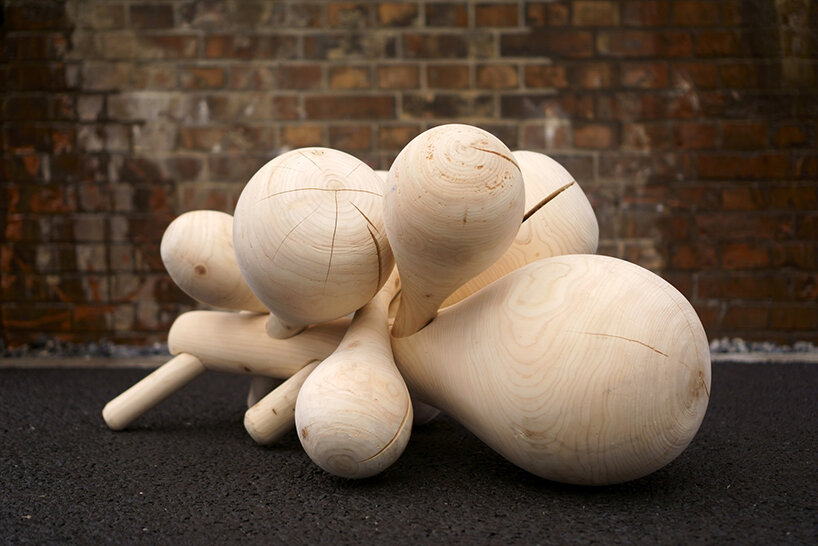 all images courtesy of Yuji Tanabe Architects 
a playful method of assembly 
During manufacturing, and jointly with a craftsman, the team at Yuji Tanabe Architects modeled the rotating parts using 3D CAD Rhinoceros, basing its simulations on the maximum size that can be produced with a wood lathe machine. Throughout, the studio repeatedly examined the size, angle, overlapping conditions, and hole positions in reference to two-dimensional drawings on the side.
The craftsman then proceeded to carve and drill holes based on the drawings while dealing with cracking, drying, and shrinkage by transforming the solid wood into playful shapes. 'The method of assembly is to make four holes in the largest wooden club-shaped rotating part. And insert the other rotating parts into the holes. In addition, by fitting a gourd-shaped rotating part into the inserted gap, the overall balance is maintained,' continues Yuji Tanabe.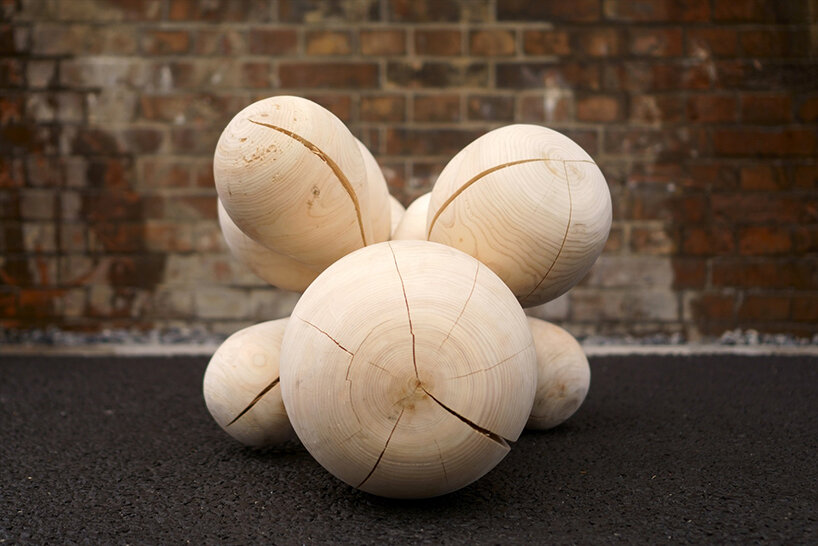 'POP CLOUD' is made from solid Japanese cypress log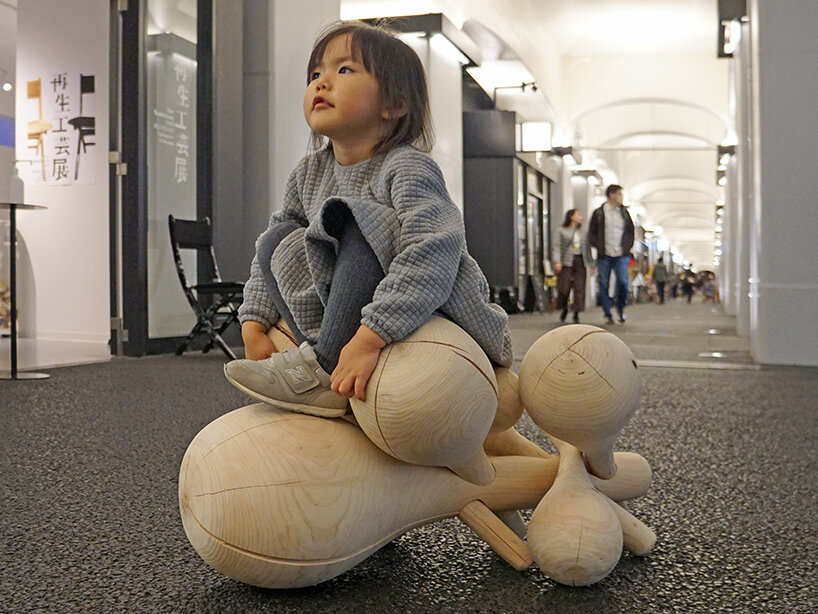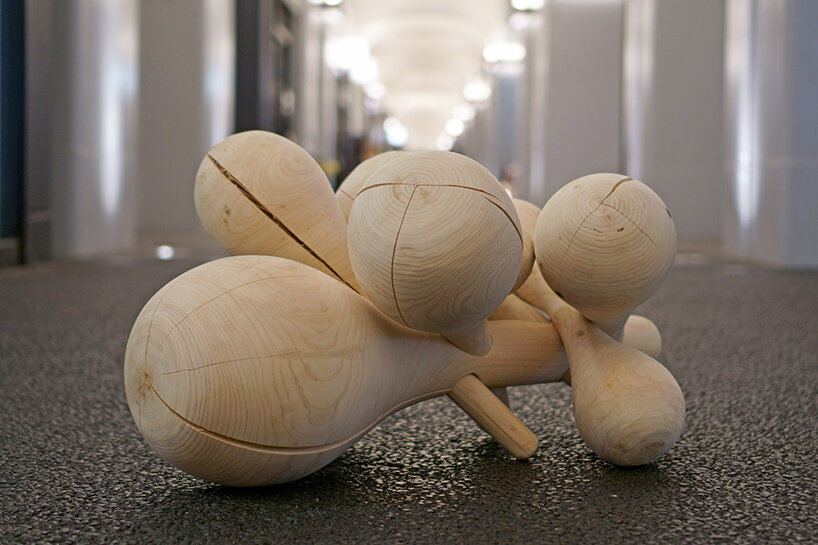 seven rotating wooden parts compose the 'POP CLOUD' chair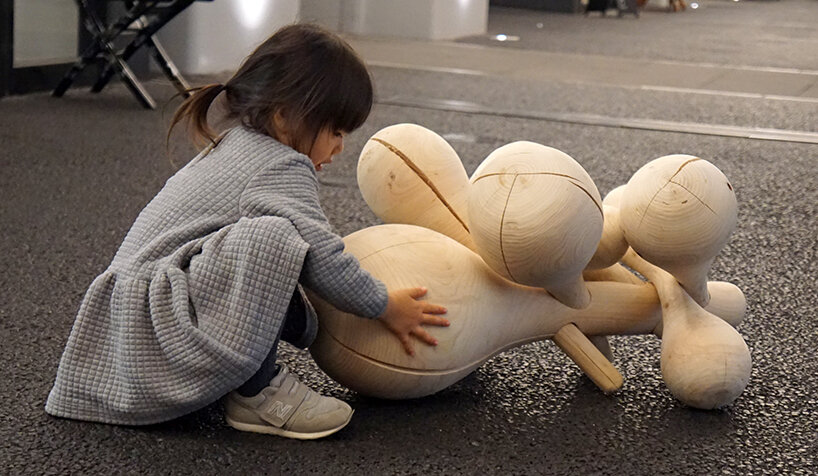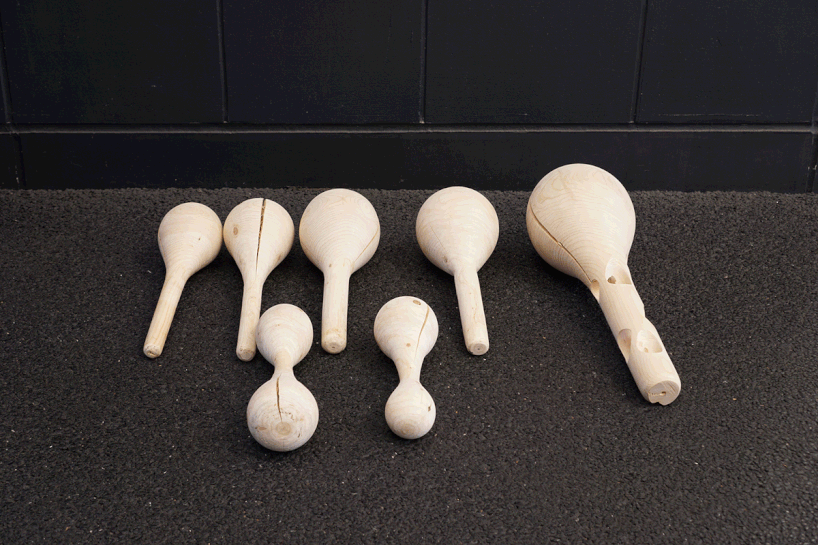 two variations of the rotating parts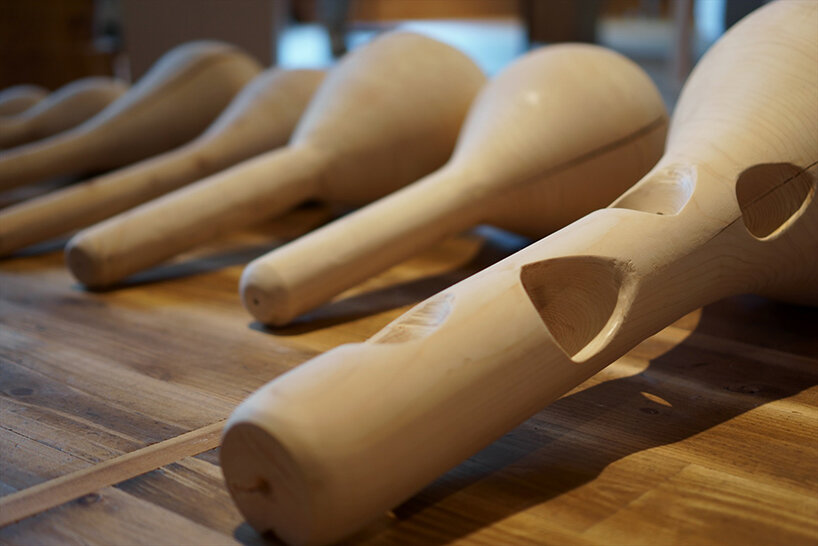 close-up shot of the holes
1/2
project info:
name: POP CLOUD 
location: Maniwa city, Okayama prefecture, Japan
design: Yuji Tanabe Architects | @yuji_tanabe_architects
size: 513mm x 850mm x 360mm
producer / seller: pivoto
manufacturer: Momo-tane