The Gordon & Hildred Goetschel House by Ray Kappe
The first single-family residence of the late American architect Ray Kappe in Glendale, California named The Gordon & Hildred Goetschel House swings between being private and open through horizontal massings of redwood siding and unpainted masonry block line along the glass walls. A flow between the inside and the outside, the wood-clad architecture in the US savors a serene interior albeit the low ceiling as the spacious design affords a sense of openness and lightness from the get-go.
An emphasis on spatial expansion appears immediate, thanks to the abundance of glasses that let the natural light spill in from all directions. The style confers life to the space and as time passes by, the sunlight casts slow-moving shadows across the property. By the poolside, the overlooking cliff depicts a Californian canvass brimming with rocky hills and tall trees, the embrace of nature from a height.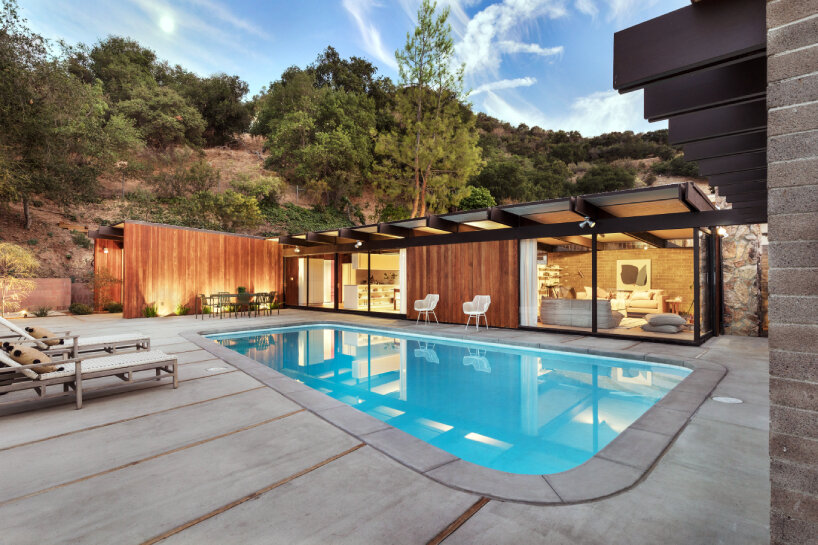 images courtesy of Sotheby's International Realty | all photos by Cameron Carothers for Sotheby's International Realty
Retaining original detailing during restoration
The residence marks Ray Kappe's architectural beginning that would span nearly seven decades. At The Gordon & Hildred Goetschel House, he explored ways inhabitants could focus on their surrounding nature and distant views, almost desiring to amalgamate the two and conceiving just that. The property recently underwent a complete overhaul of systems and restoration of finishes helmed by HabHouse. The team reinstated original detailing wherever lost and refurbished it wherever intact.
They retained the pool, which is original to the home and also a Kappe design, while bringing in new equipment, plaster, tile, and coping to catch up to the maintenance and style of the current era. The residence nestles among the native California Live Oak trees of the Verdugo Woodlands, in close proximity to La Canada Flintridge, and more than a 15-minute drive to Silver Lake or Echo Park.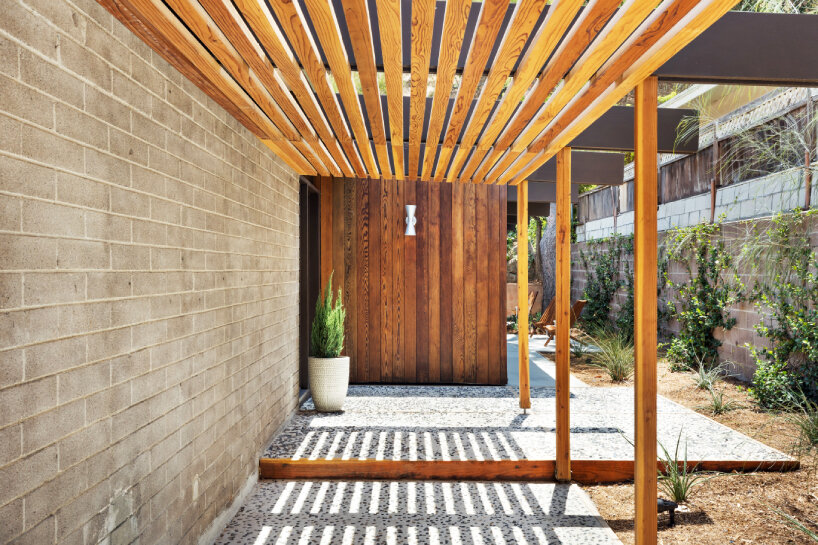 wood and masonry highlight the residence
Natural and artificial light spilling from all directions
Even if the night sets in, the flood of warm light coming from the now-listed house accentuates the natural materials that the residence wraps itself around. Before visitors can access the house, a wooden flight of stairs opens up as the pathway leading to the residence, the first invitation to loosen up and feel free among the trees and the sway of their shadows as sunlight bathes them.
Earth tones oozing from redwood and classic palettes such as white and mustard thread the continuity of Kappe's approach to architecture, often underlining that expansive space. Curtains may be drawn inside to withdraw from the public's eye, but with California's landscape gracing the eyesight and the stillness of the water in the pool waiting to be rippled, sliding the drapes to shut the view only hampers the chance to experience Kappe's belief on spatial expansion.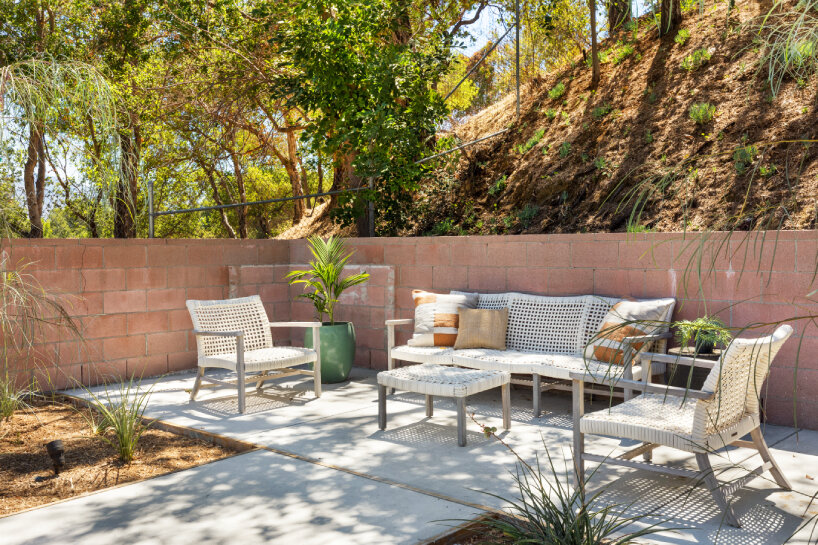 seating area by the poolside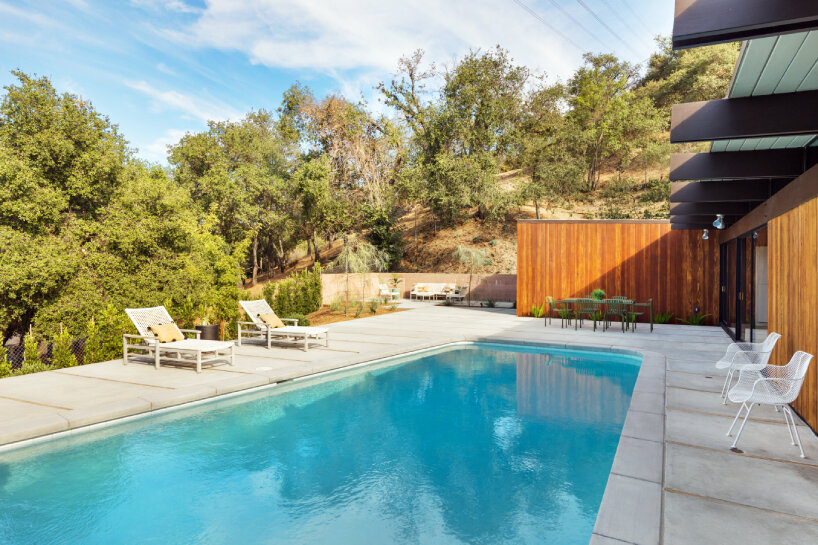 poolside view by day