step inside the hypnotic 'fat & coi' restaurant by s5 design 
Youthful, fashionable, and popping with neon accents, 'FAT & COI' is a new dining space completed by S5 design in Zhangzhou, China. The theme colors, gray-green and bright orange, nod to the famous tile-based game 'Mahjong' and appear to collide within the space, breathing life into every corner.
Complementing the traditional color mix is a futuristic aesthetic made up of mirrored ceilings paired with different types of lighting and highly modern material. 'The linear lighting design is interspersed with white glass tiles, echoing the 'hip' spirit favored by young people. The creative use of mirrors and linear elements, with green and orange tones, triggers visual contrasts while bringing a sense of motion to the space,' states S5 design.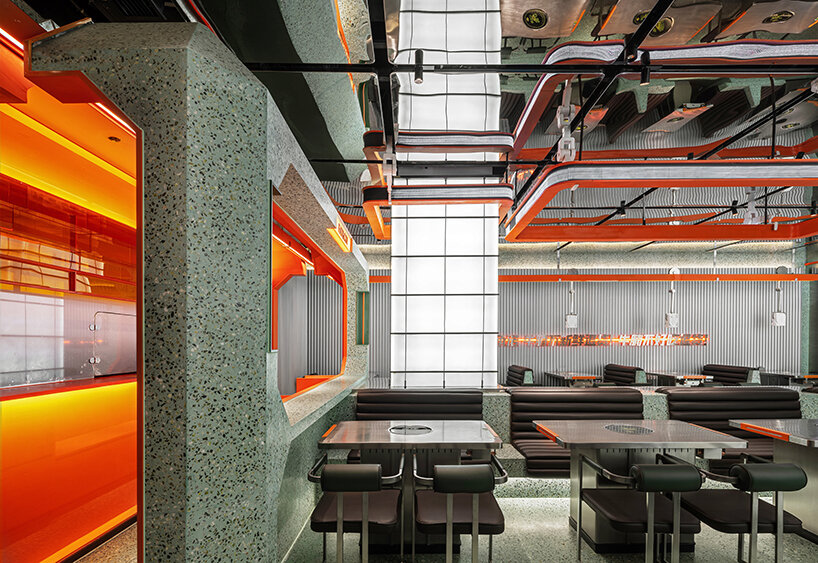 all images © Chen Ming 
an immersive aesthetic for the young and fashionable 
S5 design incorporated an open pick-up counter alluding to a futuristic service station; visitors get the impression of breaking into a bright orange space base, creating a fully immersive sci-fi moment when stepping inside.
Meanwhile, the self-service area is set at the center of the store, elevated by a neon transmission crawler and stainless steel wall sculpted with a ripple pattern to reflect shadow and light playfully. Right above, the mirrored ceiling dramatically reflects the interiors, instantly raising the sense of sophistication.
Completing the design is the upholstered seating design, seemingly rising from the gray-green flooring and an eye-catching chandelier exuding strong visual power. 'The high-hanging Chinese character elements, bright neon pillars, conveyor crawlers, and mechanical arms throughout will undoubtedly turn the 'FAT & COI' restaurant into a new hotspot,' concludes the team.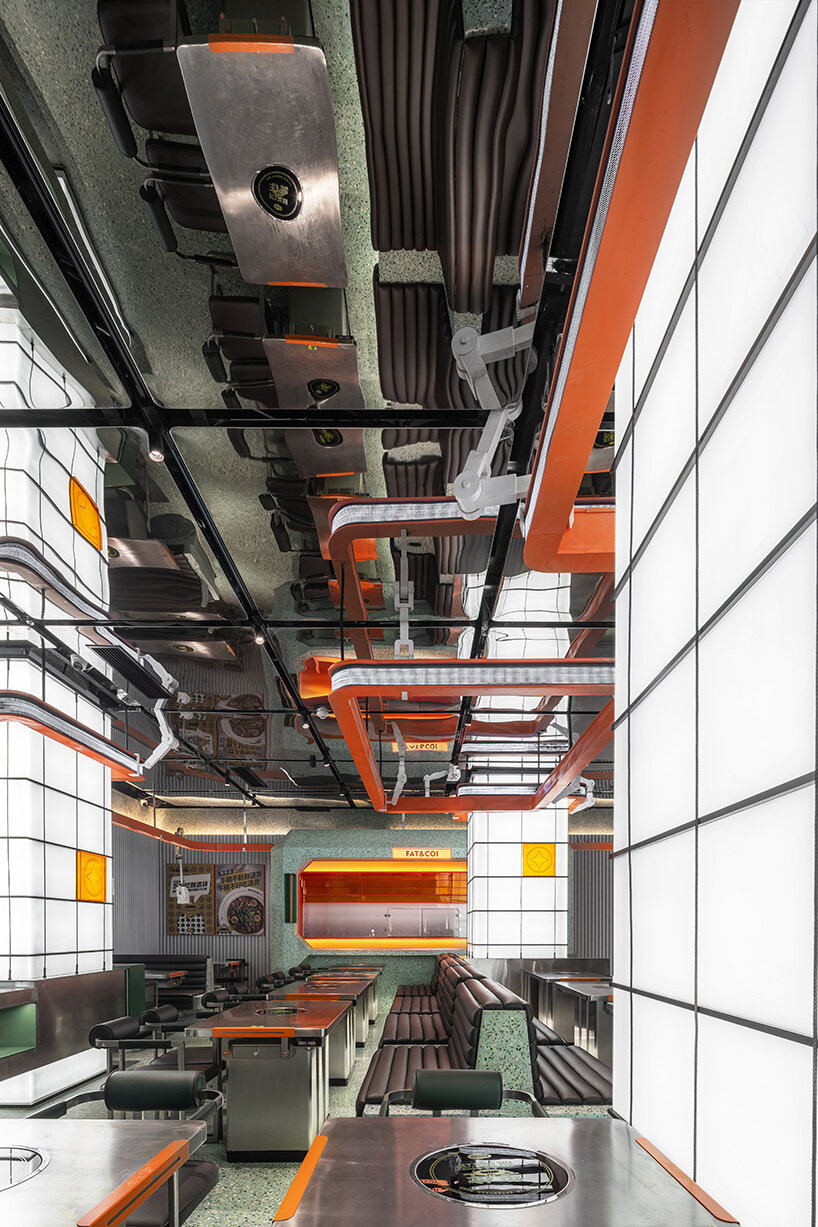 'FAT & COI restaurant' is designed as a youthful dining spot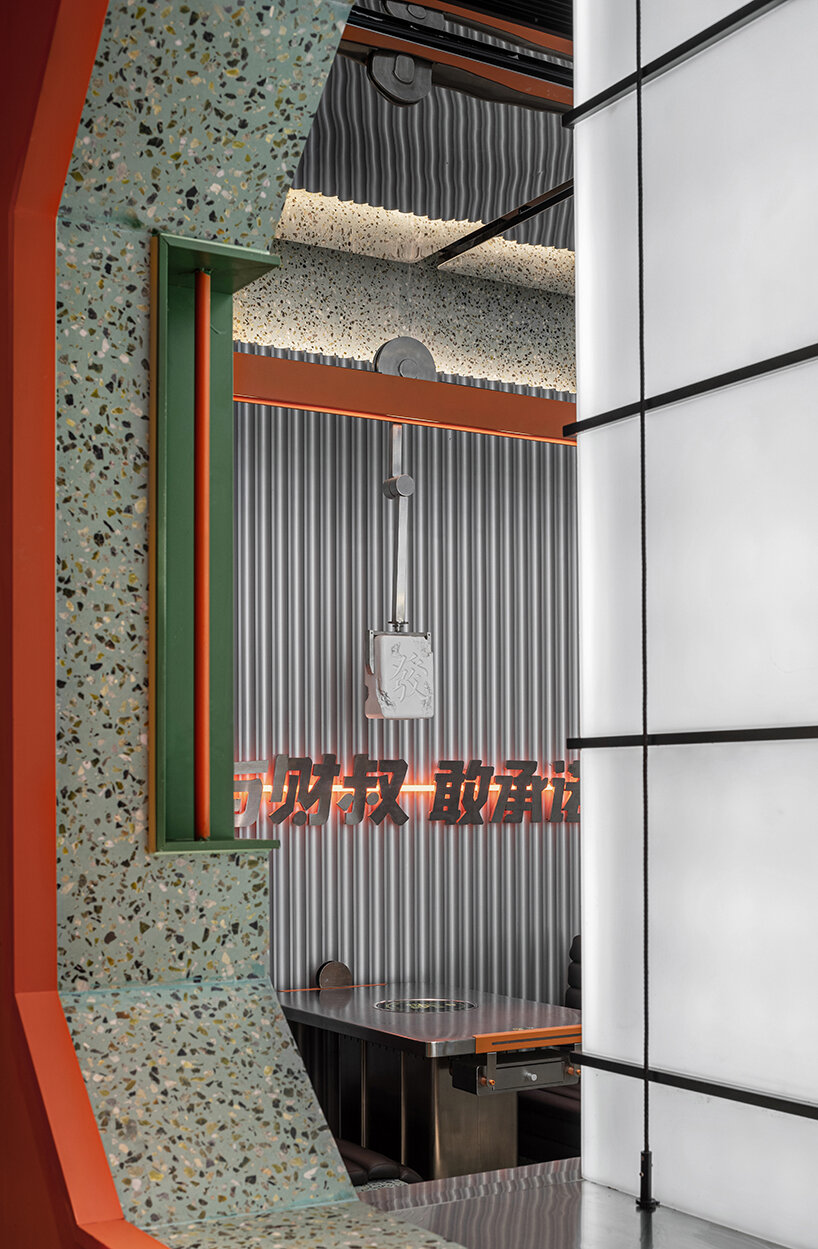 chinese characters with a neon backdrop exuding futuristic flair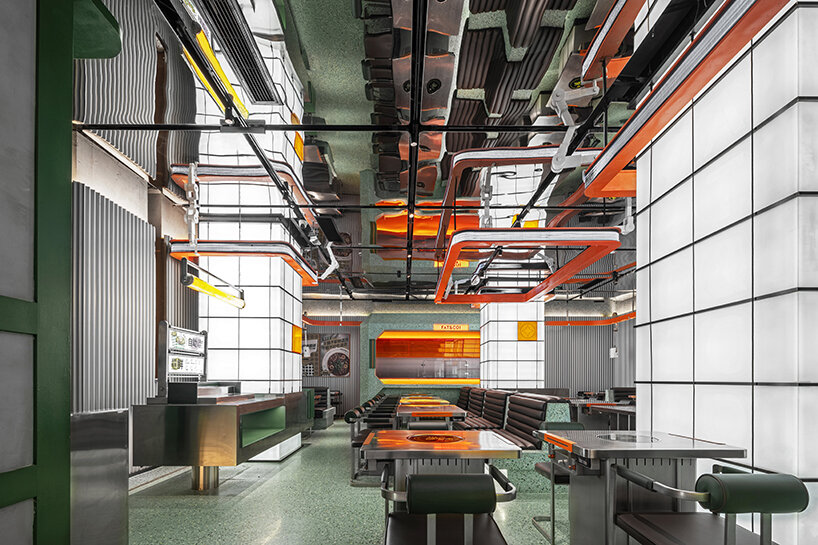 the theme colors, gray-green and orange, recall the famous 'Mahjong' game