'glasshouse' weekend residence by sigurd larsen
Within the Uckermark region in northeastern Germany, architecture studio Sigurd Larsen has completed 'Das Glashaus', a weekend house for a small family who enjoys hosting many guests. The house incorporates large windows, sliding doors, and a clear glass gable roof, allowing occupants to enjoy expansive views of the nearby forest and lake, while also forming a close bond with the countryside surroundings.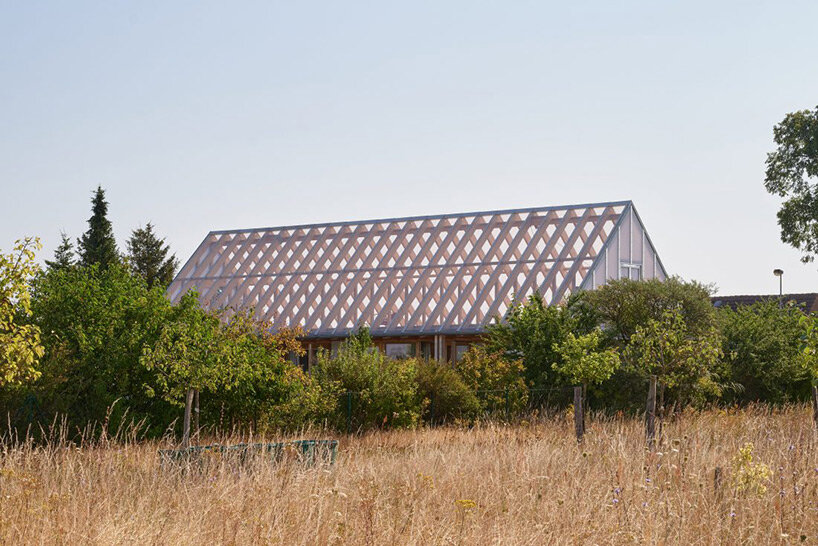 the house incorporates large windows, sliding doors, and a clear glass gable roof
images courtesy of ‍Tobias König and Michael Romstöck unless stated otherwise
Glass-covered roof provides expansive green valley views
Das Glashaus by Sigurd Larsen features a simple floor layout with a curved wall that helps preserve the occupant's privacy. The Berlin-based architecture practice made sure that all rooms have views of the natural surroundings, as well as access to the large protected terrace. The beds are placed along the facade so that they can be reached from both the inside and the sheltered patio. Similarly, the shower can be accessed from the outside. When the long row of glass doors is open, all of the bedrooms and the shower feel like alcoves along the terrace.
The staircase and kitchen blocks are built into massive concrete brick volumes that frame the main living space. The curved stone wall is recessed towards the east to create a little court protected from the wind for the first rays of morning sun. The wooden roof structure creates a wind-protected zone on the first floor. To the west, the entire roof surface is glass, allowing for a view of the green valley and sunset. The roof's eastern slope is polycarbonate, which offers a dramatic dance of light, shadow, and changing hues as the sun passes across the house.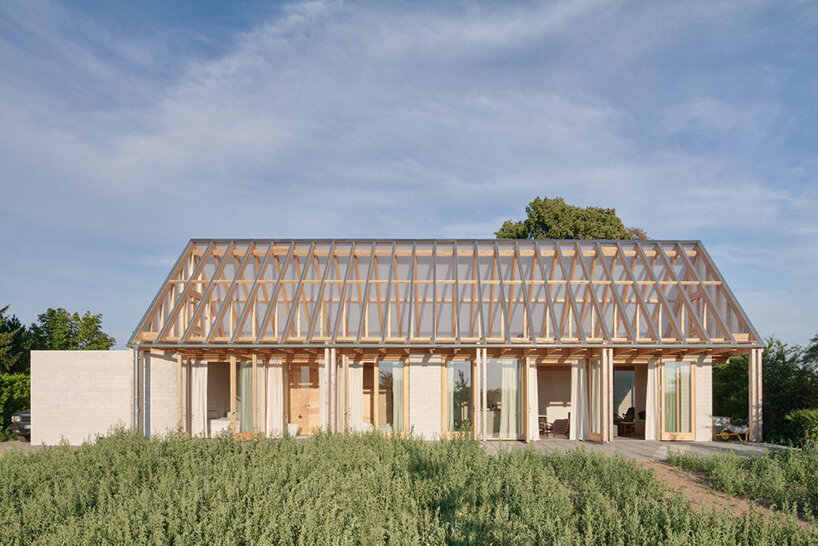 occupants to enjoy expansive views of the natural surroundings
During the warm seasons, interior and exterior rooms merge through the garden facade's numerous apertures. The interior of the house looks to merge with the garden, which is delimited by the house's curving wall and the garden's green hedges. In the winter, the compact insulated one-story house transforms into a pleasant and personal retreat where visitors can gaze out the panoramic windows at the changing light and landscape.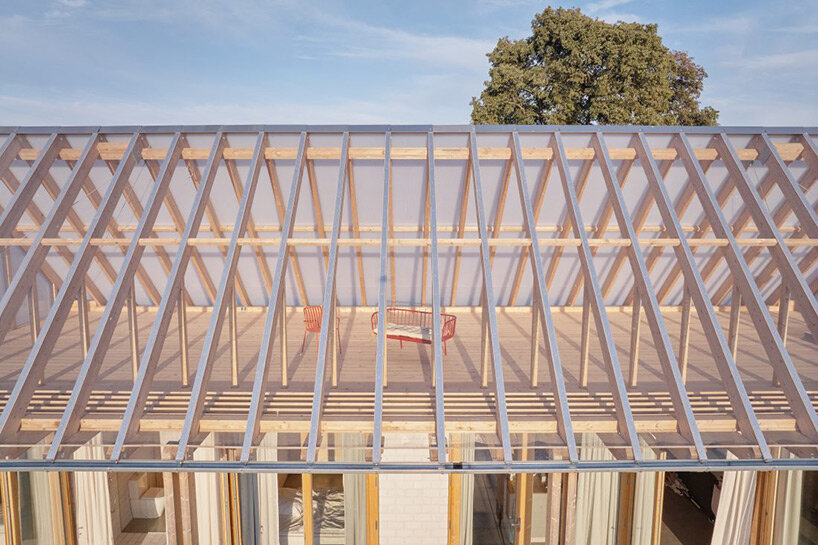 to the west, the entire roof surface is glass, allowing for a view of the green valley and sunset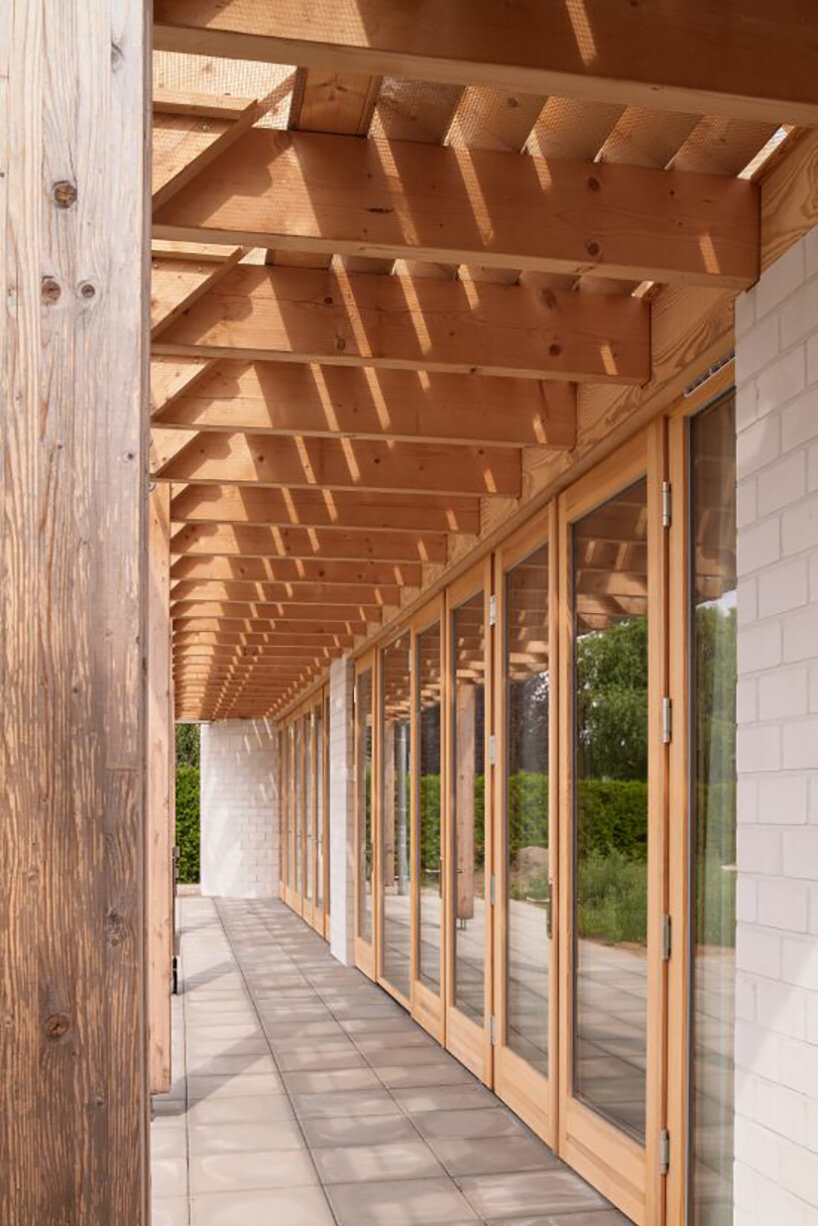 all rooms have access to the large protected terrace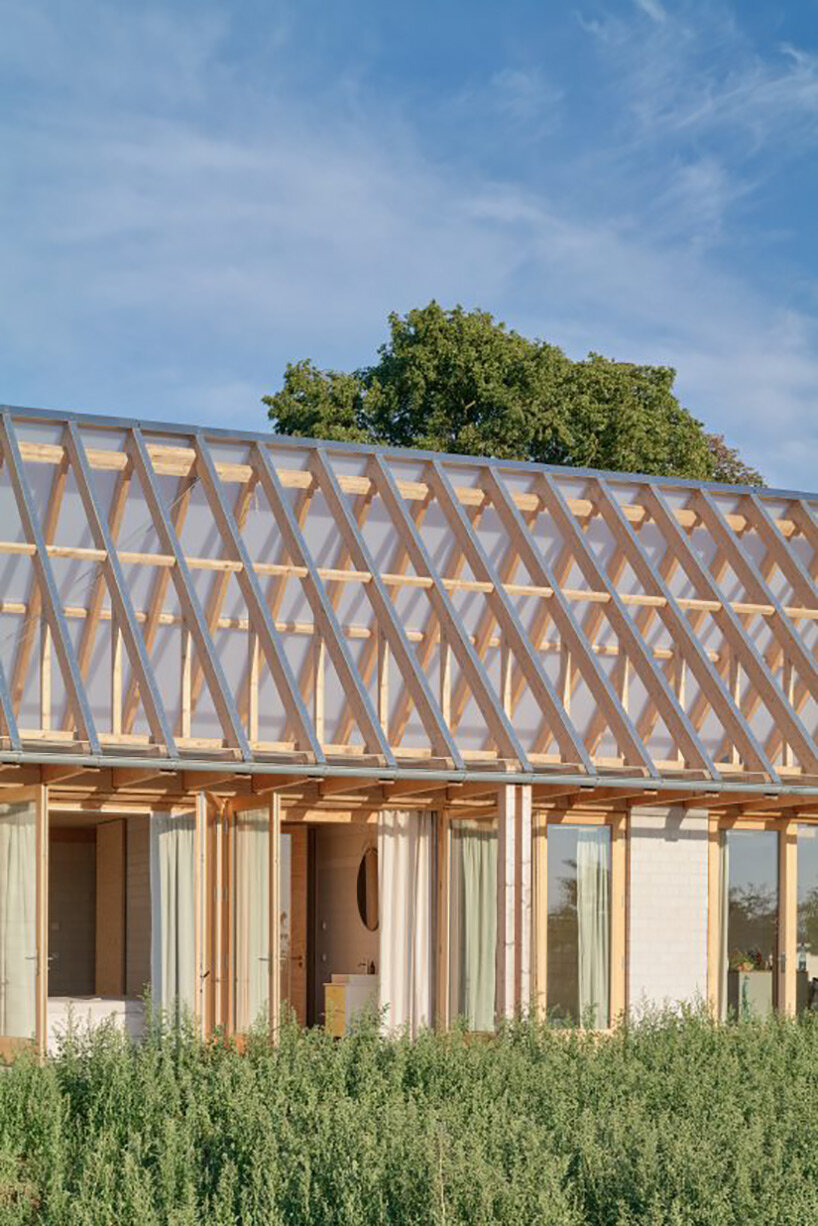 when the long row of glass doors is open, all of the bedrooms and the shower feel like alcoves along the terrace