steelcase brings camping into the office
Steelcase brings childhood core memories back by re-contextualizing the office with its Pod and Overhead tents. The sense of cozy comfort and protection is the company's goals as it puts up the lightweight, flexible structures. Easy to move around, the tents block visual distractions, but also create sheltered privacy, supporting the resilient changing norms of hybrid working.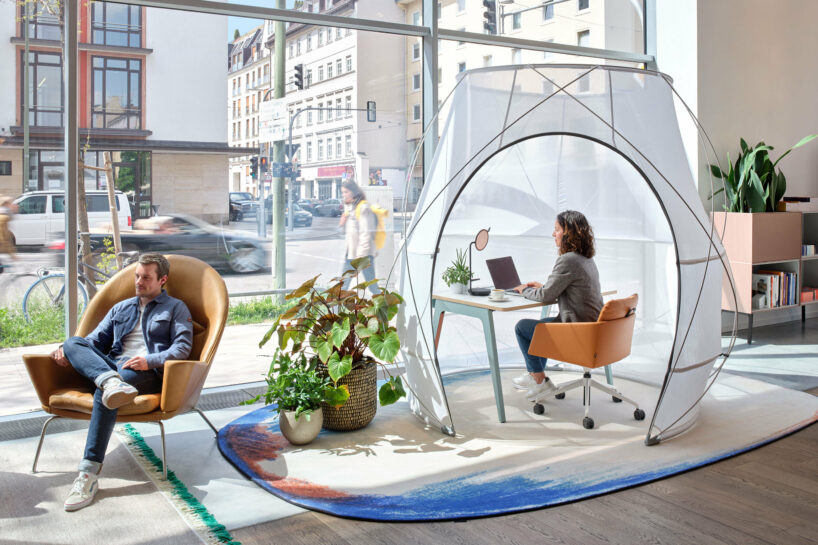 Steelcase brings the outdoors into the workspace with the Pod Tent (above) and Overhead Tent
all images courtesy of Steelcase
The initial study of the project began with researchers from the University of Wisconsin and revolved around privacy and finding solutions that were inexpensive and light in scale. Following extensive exploration on a variety of shapes and materials, the office furniture manufacturers reached out to Chris Pottinger – industrial designer of outdoors equipment for companies like North Face and Big Agnes. The collaboration led to the Pod Tent and Overhead Tent, which besides functionality also offer a trustworthy comfort and seclusion. 
'Tents inherently make you feel comfortable and safe when you're inside of them. The idea of bringing tents to the workplace is so innovative and something I had to be a part of,' says designer Chris Pottinger.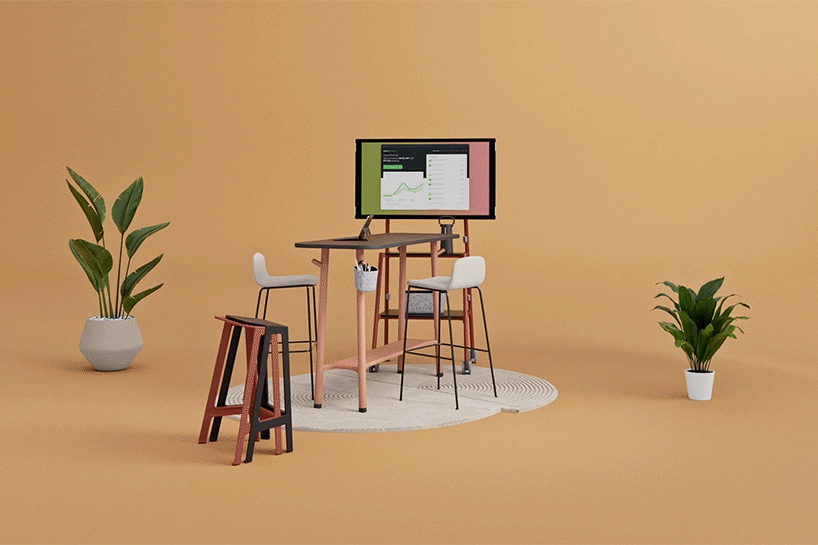 the Overhead Tent offers a lighter alternative to the work enclave
intense engineering and design experiments
Although simple looking, Steelcase soon discovered that creating a tent required a whole new approach. Intense design experiments, engineering testing, and construction trials on tensile stresses were a must to understand how the bending and compression can affect the entire purpose of the structure. Initially, the team crafted small scale prototypes using pipe cleaners, string and duct tape, which helped speed up the perception of how dynamic and flexible, shape-wise, the products would be.
'Steelcase is really good at designing objects with hard surfaces, such as wood ​and steel. This is different. Using new materials allowed for ​more possibilities in the design,' continues Chris Pottinger.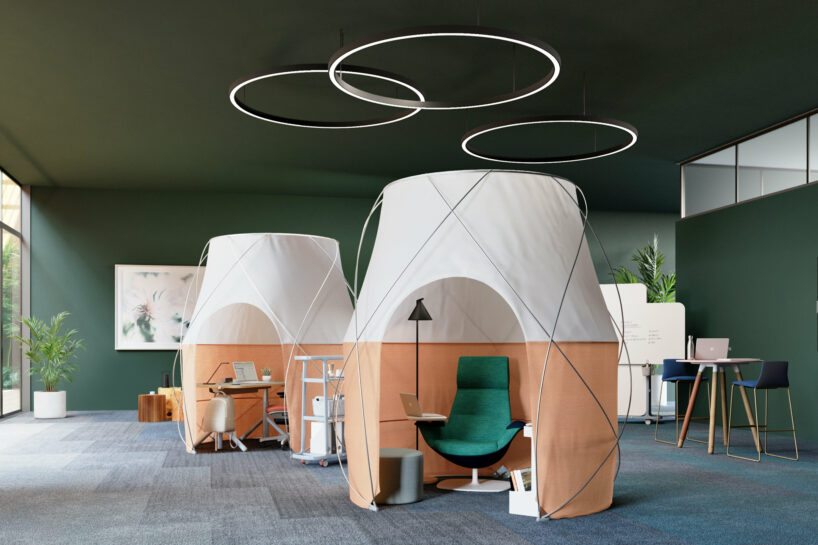 the Pod Tent was partially inspired by the Gherkin building in London, by Foster + Partners
the pod tend & overhead tent offer private comfort at work
The Pod Tent was specifically inspired by the iconic Gherkin building in London, England, by architects Foster + Partners. Similarly, the tent is fashioned with an aluminum exoskeleton overlaying the wide mouth, open-air roof, offering just the right level of visual privacy and comfort, while letting light coming in.