stefano arienti explores the sun's light and shadow
Stefano Arienti, dubbed as one of the most important Italian artists of his generation, toys with the shadow, the time, and the light of the sun through his new site-specific installation at Mirad'Or titled Meridiana. It displays the echo of light by the bounce of the sun rays within the walls and floor of the exhibition and the concept of drawing with light. On display from July 9th to September 30th, 2022 at Lago d'Iseo and promoted by the Municipality of Pisogne, Arienti observes the role of the sun and light by creating colored strips of paper and plastering them on the floor in laser-like forms. The lined rainbow strips resemble sun rays from above and afar, amplified by the reflection of the lake and its gentle laps. Six years after the work 'The Floating Piers' by Christo and Jeanne Claude and following the artistic intervention by Daniel Buren last summer, Lake Iseo confirms its focus on contemporary art with the new public art from Arienti.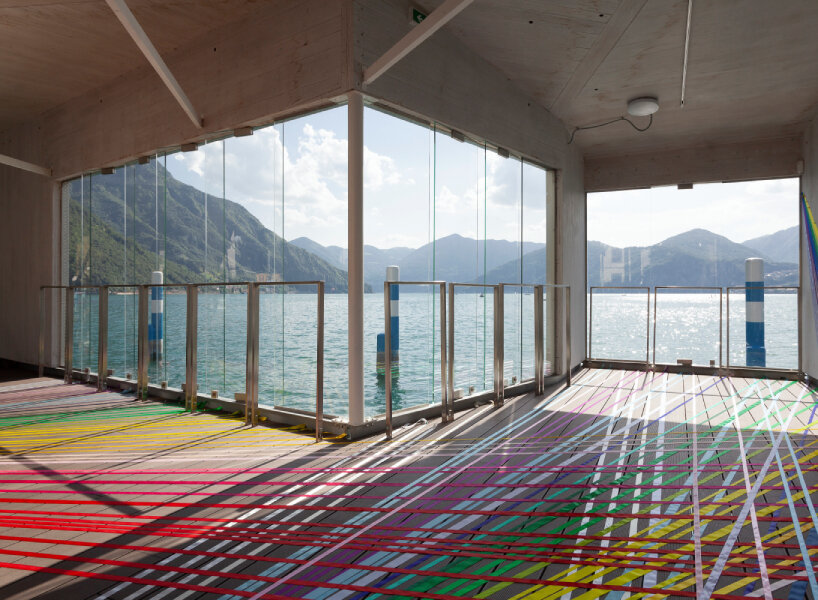 image by Walter Carrera (unless stated)
stefano arienti gives life to the changing light
Arienti's artistic mark in the exhibition space materializes and gives life to the natural phenomenon of changing light. Time passes, stars project, and the artist transforms what he sees and imagines them into a shifting work of art. He employs the concept of drawing with light and allows it to appear spotlighted as he painted paper strips with saturated colors, taking on a more in-depth production of three-dimensionality with paper as the primary medium. Meridiana invites people to step into quarters, play around with the rays of light on the floor and walls, and savor the light that passes through the horizontal windows, the thin barrier between the lake's reflection of the sun and Arienti's master craft. Meridiana also offers itself to the visitors and residents of Lake Iseo and Pisogne, a town that has an affinity with the artist's birthplace.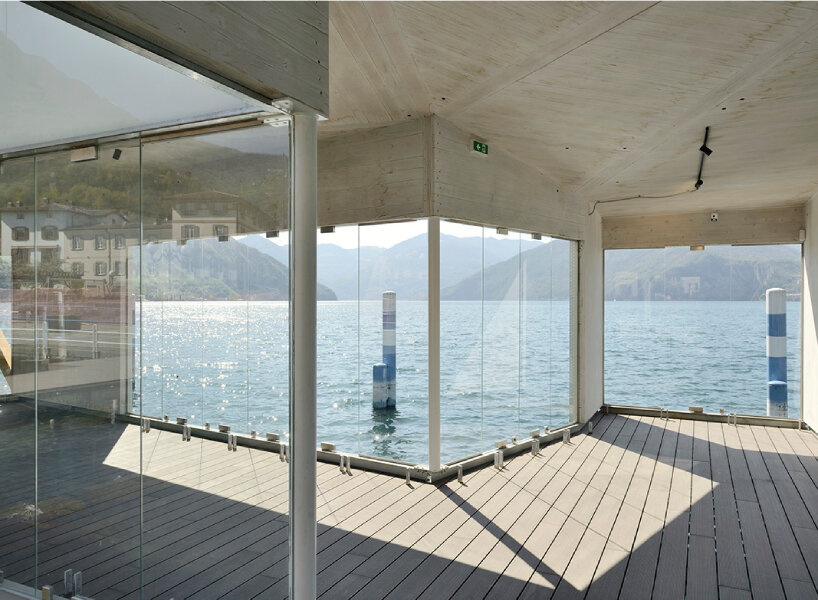 image by Michele Nastasi
stefano arienti at Mirad'Or
The artistic direction is by Massimo Minini and the project is in collaboration with Associazione BELLEARTI. After Daniel Buren's exhibition in Mirad'Or, the Municipality of Pisogne confirms its intention to recreate cultural platforms for art contemporary and to let it return, inhabit, and beautify places that seemed to have been abandoned at a first glance. Even a land of history and tradition like Lake Iseo and the Camonica Valley can and should host art forms of today. Mirad'Or, with its style of architecture by the sea, can be recognized as one of the artistic and architectural homes of this era.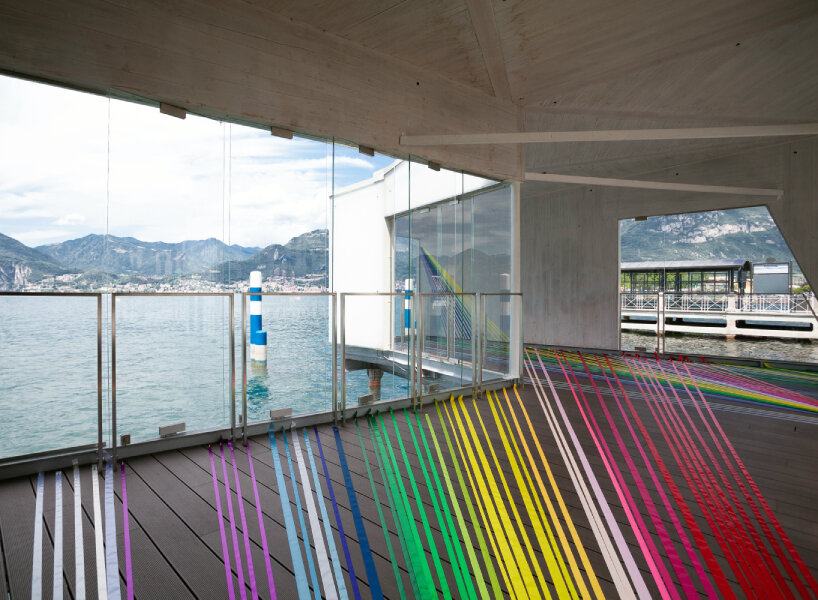 Stefano Arienti's rainbow strips explore the concept of drawing with light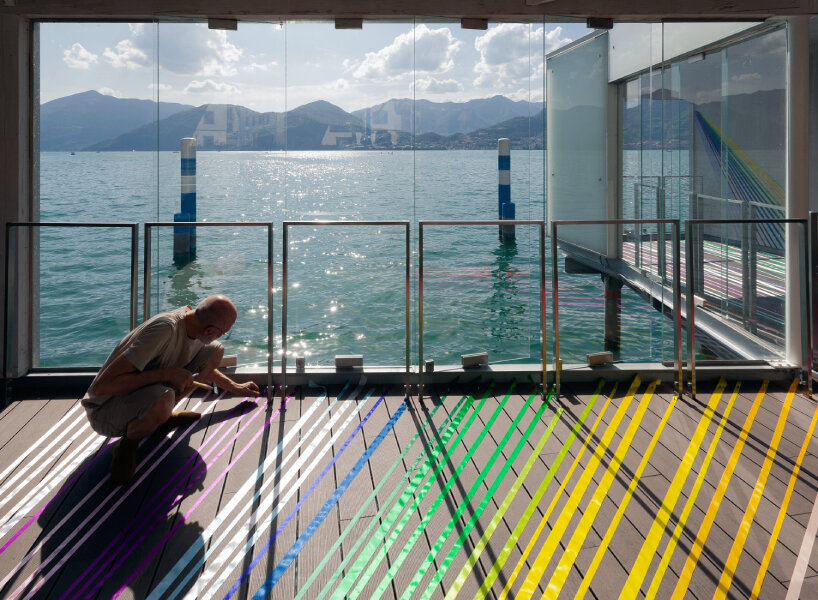 The artist at work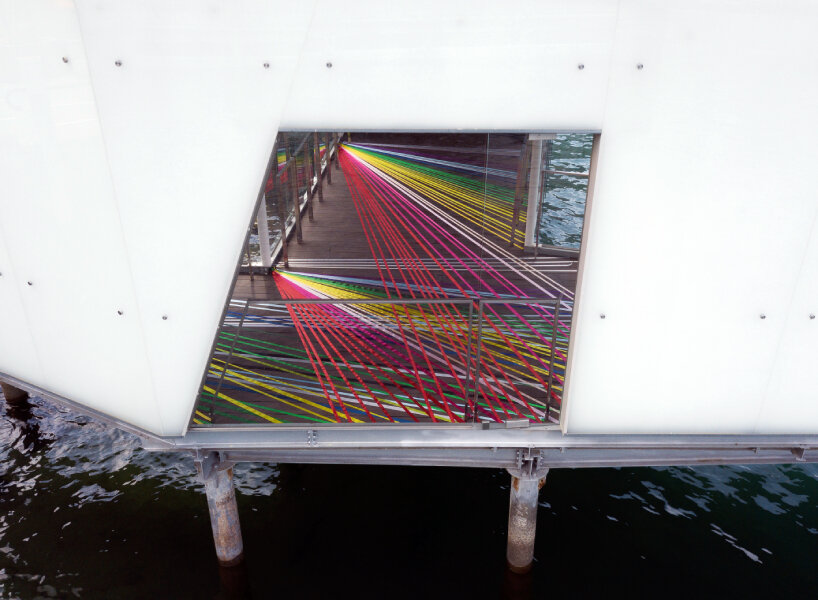 aerial view of the exhibition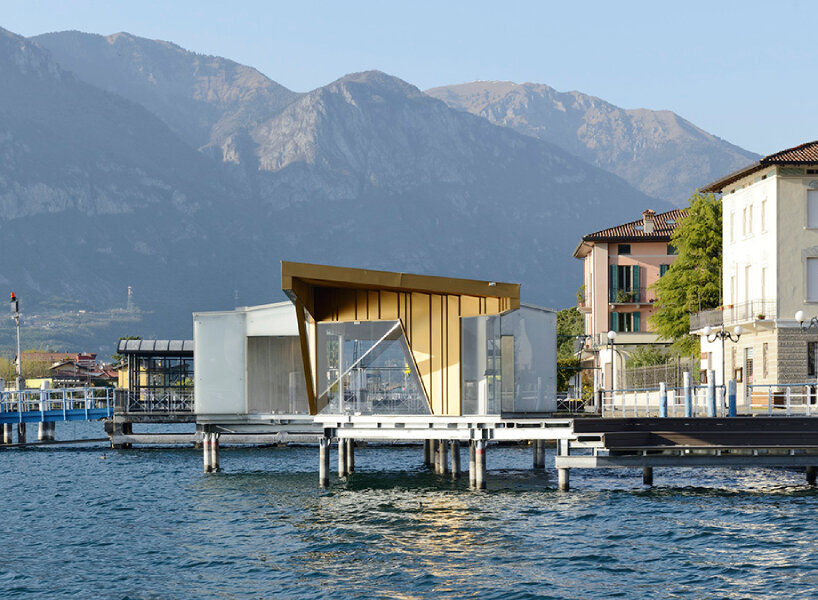 Mirad'Or museum at Lake Iseo