shu yin + shaw xu rest 'soul pastoralism' atop solitary ridge
Designed and conceived by Shu Yin and Shaw Xu, 'Soul Pastoralism' is a primitive installation perched atop a stone ridge overlooking a semi-nomadic pastoral village known as Kazakh in Altay, China. Adopting a grass-root approach, the duo makes use of minimal, locally sourced tools and materials to enhance the viability and appeal of Kazakh, particularly for youngsters, without new infrastructures or heavy investment. Its delicate wooden frame echoes the nomadic architecture of the village, revealing within it a shrine-like brass structure, which 'reflects the sunlight, becoming a shining spot from afar'.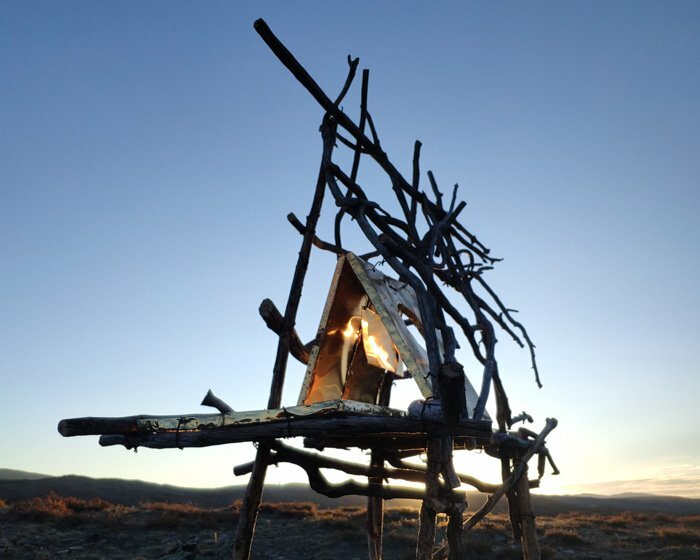 all images courtesy of the author
the structure recalls nomadic kazakh architecture in china
'Soul Pastoralism' is composed of natural wood found scattered around the Koldenen village meadows, and a roll of brass plates worth 80-yuan from a local horse harness shop. Using tools bought from the county, designers Shu Yin and Shaw Xu constructed the installation in just four days, and rooted it in its solitary ridge-top location with the help of a group of curious young locals. The resulting wood and brass structure draws on the village's nomadic log houses and yurts, and its shrubland plantation landscape. Appearing as a simplistic outline of a home on stilts, it holds within it a golden and robust triangular volume that starkly contrasts the fragility and temporality of the frame.
According to the designers, the symbolic golden shrine evokes a 'bronze mirror worn on the chest of a Shaman during a mountaintop ritual', and 'signals something more eternal like the gold in Altay or the primitive shelters in the aboriginal context'.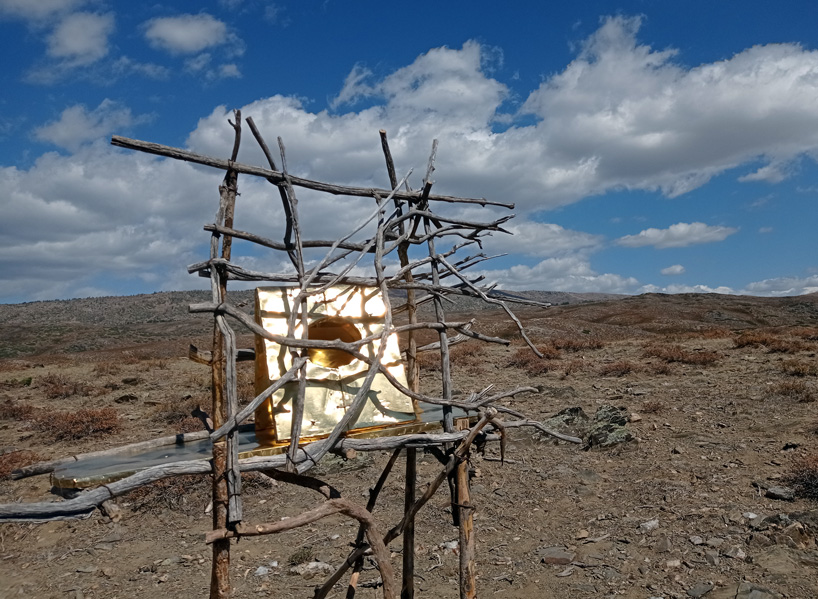 the installation shines from afar during midday
a symbolic structure for hope
The design duo was originally invited to the Koldenen village by a Rural Visualization team to renovate an abandoned cowshed into an artists' studio. Though after being cut off from the artist residency project, without government funding they were forced to adopt a primitive approach to enhance the attraction of the village suffering from a plummeting economy. In addition to the slow paced predatory tourism threatening Koldenen's pastoral charm, the three-year long covid travel restrictions and control policies, and decade-long drought have dramatically impacted the livestock market prices, lowering the pastoralists' incomes. 'We hope this tiny art work brings more rains next year', comment the designers.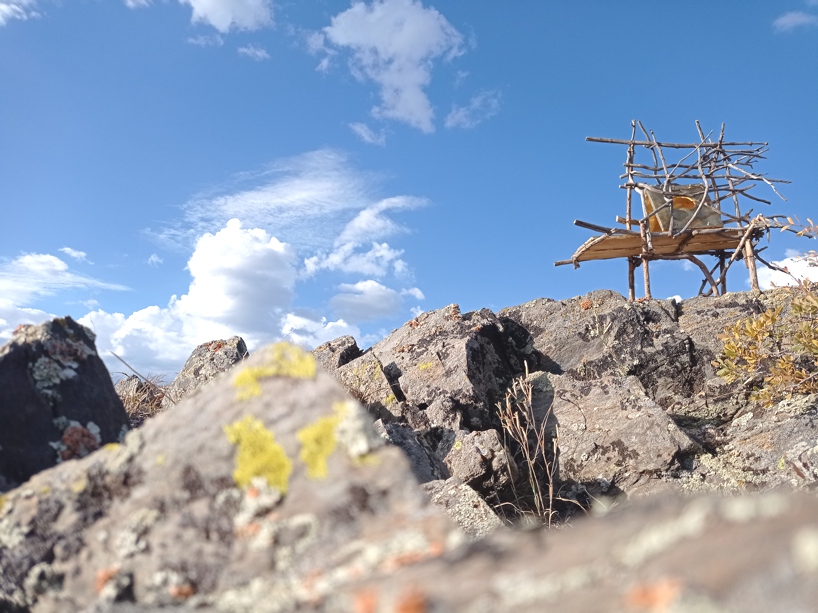 the structure is composed of wood from the meadows, and brass plates from a local horse harness shop